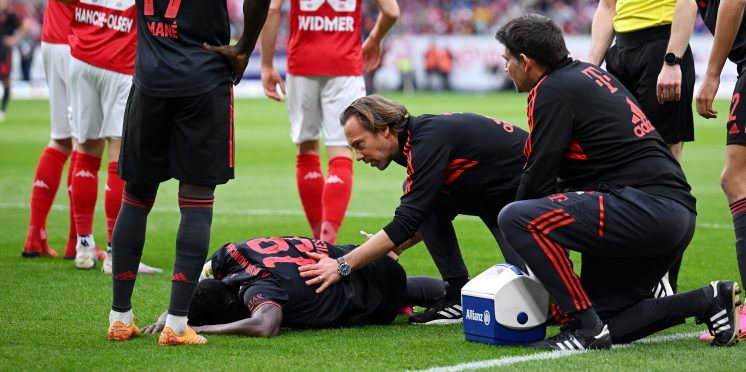 Canada star Alphonso Davies' season could be over after Bayern Munich hamstring injury
Updated April 23
The CONCACAF Gold Cup starts in nine weeks' time and club sides are entering the critical home stretch of their seasons. All in all, it's a bad time for a Canadian men's national team star to get injured.
On Saturday, Bayern Munich's Canadian star Alphonso Davies was forced to leave the Bavarians' game against FSV Mainz after only nine minutes of play. The 22-year-old pulled up suddenly while running down the left wing, clutching his left hamstring, and immediately motioned to the Bayern bench that he would need to be substituted. He was visibly upset as he left the pitch.
Davies' reaction had all the hallmarks of a hamstring pull or strain and on Sunday, Bayern confirmed that the Canadian will be out of action "for the time being" with a hamstring strain.
German outlet BILD reports that Davies is likely to be out for around six weeks. According to Bayern reporter Patrick Strasser, the best-case scenario is that he will return in mid-May, but if the recovery doesn't go as well as it could, his club season will be over.
Davies has three goals and eight assists over 38 games across all competitions with Bayern this season in his fifth year with the Bundesliga giants, but it has not been the most successful campaign of his career, as he has struggled for periods of the season to maintain consistent form.
Davies has also had some battles with injury already this season. He missed a game in August with a muscular injury, a UEFA Champions League clash with Viktoria Plzen in October with a head injury, and two Bayern matches and CanMNT's pre-World Cup friendly against Bahrain with a hamstring strain (this one in his other leg, the right) in November.
Meanwhile, there has been more than a little speculation about his future beyond the end of the 2022/23 season, with European giants including Real Madrid and Manchester City reportedly interested, although Bayern are thought to be keen on extending his contract. In all likelihood, Davies will want time this summer to assess his options.
The problem looked to be that he wouldn't get much time to think. In all competitions for club and country, Davies has already played in 45 games since the start of this season. The Bundesliga season ends on May 27; 19 days later, CanMNT play Panama in the CONCACAF Nations League semi-final. Three days later, they will play either the third place play-off or the final. TSN's Matthew Scianitti suggests that Davies "will evaluate his availability" for the Nations League finals.
Just nine days after the Nations League final, Canada's Gold Cup campaign begins at BMO Field.
Unfortunately, he may now have plenty of time on his hands to mull over his future. That could be a good thing for the next few years of his career, but it will leave him needing to play his way back into fitness and form to resume his starring role for John Herdman's Canada this summer.
Soccer is a long old slog these days. As Davies has found out, it's heavy on the hammies.
---