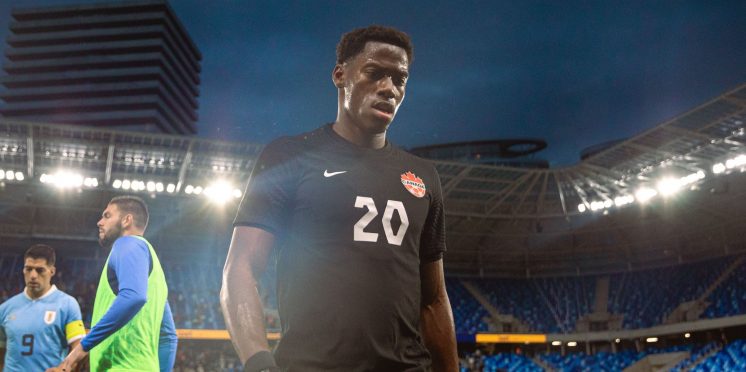 PSG inquire about Jonathan David as European transfer race for Canada star heats up
Jonathan David is one of the most sought-after players in Europe right now, that's an incontrovertible truth. Everyone from Paris Saint-Germain to Bayern Munich to a host of top Premier League clubs wants him.
And why shouldn't they?
The Canadian men's national team star has scored 21 goals in 31 Ligue 1 games this season for Lille, a club currently outside the top four in France's top division, a total which is second in the scoring charts only to Kylian Mbappé. He's racked up 79 goals across 166 league games in the top divisions of Belgium and France. He's also a proven international goalscorer.
He plays a vital role in his teams' attacks even when not on the end of chances himself. He can play anywhere along the front line. He's scoring more, creating more chances, keeping the ball better, putting more responsibility on his shoulders. In short, he's consistently producing better results now than ever before.
And he's only 23 years old.
If that sounds like the kind of profile that should attract top clubs from across Europe, it's for good reason. David will leave Lille this summer even if they do manage to qualify for the Champions League. It's time.
But where will he go?
French outlet L'Équipe's latest report is that Paris Saint-Germain are looking to steal a march on their rivals. The report claims PSG's sporting advisor Luís Campos, who served in the same role at Lille from 2017 to 2020, has already contacted his former club to inquire about a possible transfer.
However, PSG will be rivalled by clubs including Bayern Munich, Chelsea, Manchester United, Tottenham, and AC Milan, according to French and British reports. Chelsea and Spurs will likely want to wait to confirm who their next permanent managers will be before finalizing striker targets, but that could see them pipped to the post, particularly if the likes of PSG can help it.
David, who is contracted with Lille for two more seasons beyond this summer, would likely be available for around €65 million ($97 million CAD).
Provided that all of these clubs would be prepared to meet this asking price, this all likely means in essence that a Canadian striker will have freedom to choose from any one of a number of Europe's top clubs (and Chelsea) this summer. It's a remarkable situation, really, but one David entirely deserves to be faced with.
David had already said in recent months that "I don't know if I can find myself anywhere other than the Premier League." But the possibility of linking up with Alphonso Davies at Bayern could be very appealing — that is, if Phonzie doesn't move on himself this summer. Or does he want the untold riches and the undoubted domestic top dog status of PSG?
Wherever he ends up, this promises to be one of the stories of the summer in both Europe and Canada.
---