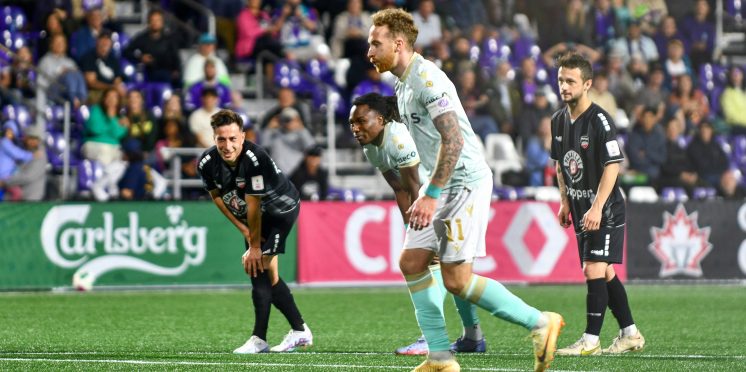 TSS Rovers' Canadian Championship dream run comes to an end at hands of CPL's Pacific FC
They say all good things must come to an end. For TSS Rovers, this season's magical Canadian Championship run ended on Vancouver Island with a 2-0 loss to Canadian Premier League powerhouse Pacific FC in the quarter-finals of the Canadian Championship. But what a good run it was.
The deck was always stacked against League1 BC's TSS Rovers, but the Burnaby, B.C. club can be proud of the fight they showed over two games against CPL opposition with far greater resources.
"I was extremely proud of the guys and what our club accomplished, in the stands and in this competition," head coach Will Cromack in his post-match press conference. "Every community should be aspiring to have a few hundred fans travel, pay hotel bills, get on ferries, get to a derby match. Whatever that layer looks like."
On the pitch, TSS Rovers certainly gave their travelling supporters a team to be proud of. Just like in their previous Canadian Championship match — when they became the first semi-professional club to eliminate a Canadian Premier League club, ousting Valour FC in the last round of action — the side from Burnaby stuck to their game plan playing their brand of football that made them League1 BC champions last season, and a side to be reckoned with.
"The philosophy of TSS Rovers really is to play Total Football," said OneSoccer colour commentator and former Canadian international Terry Dunfield during the match broadcast. "That's really impressed me. Just the different approaches defensively… There have been some really solid performances over both games. I think they could beat Pacific, but they ran into a really good Pacific team tonight."
They did run into a Pacific FC side very much in form, and a side whose professional experiences gave them a mental advantage as the match got tighter and the minutes on the clock ticked faster.
Pacific captain Josh Heard has been a game changer for PFC all season and his 65th-minute penalty completely turned the match on its head.
"I think we came out a little bit flat, I don't know if we were tired or we didn't have energy," Heard candidly admitted to OneSoccer studio analyst Jordan Wilson who, while engaging in some highly entertaining banter with his former CPL adversary, asked Heard directly if he thought the penalty was a soft call.
"You get in that position and you feel a nudge and you gotta go down. I've got to check the tape, but I felt a nudge," Heard replied.
"That goal happens and it's tough to come back from that, but we can hold our heads high," TSS Rovers captain Matteo Polisi said in the post-match press conference alongside his manager.
While Rovers supporters can be disappointed that Heard's use of football's 'dark arts' swung the match in Pacific's favour, there was no doubt the CPLers were the better side on the night. With the one-goal edge, Pacific made it impossible for the visitors to play from the back. And as is often the case when lower league opposition matches up against a side from the division above, the hosts showed their quality with a special finish from a player that will be looking to score many more highlight reel goals.
Adonijah Reid. Take a bow young man. What a finish.
It's the second time that Pacific FC have reached the Canadian Championship semi-finals, and they will host the Vancouver Whitecaps at Starlight Stadium at the end of the month — home to one of the most legendary upsets in Canadian soccer history in the summer of 2021 when PFC dumped the Caps from the Canadian Championship in a seven goal thriller.
TSS Rovers saw their wonderful run in this year's competition end, but they left their mark on the tournament and a clear message about how special this tournament is, and how much better it still can be as the sport continues to grow in this country and establish a firm identity, something very important to Rovers head coach Will Cromack.
"We need everybody to start committing to the idea that they're going to support their club at whatever level that is. It's not a form of entertainment only, it's a form of community and being apart of it. We're just a humble little club but that's what we want from people, out there, taking care of their own," Cromack said.
"Our crew was unbelievable. That's what we want in football in this country, and this is what this cup opportunity gives us. We hope we can grow it."
---