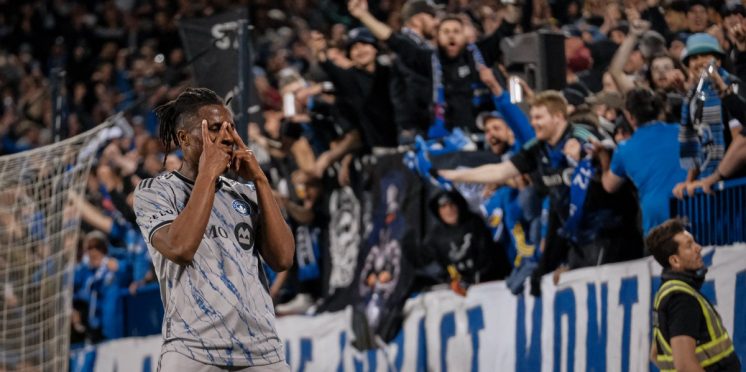 CF Montréal beat down Toronto FC for the second time in four days, tempers boil over
There's nothing quite like beating your biggest rival. Doing it twice in one week makes it all the more sweeter.
For the second time in four days CF Montréal defeated Toronto FC, this time shutting out the Reds with a 2-0 win on Saturday night at Stade Saputo. And like Tuesday night's Canadian Championship quarter-final, it wasn't without violence (but at the time of writing it was exclusive to the pitch.)
A month ago there may have been a few Montréal fans that would've wanted to throw objects in the direction of their team. A month ago, CFM looked like they'd struggle to win six games all season. Montreal have now won six in a row across all competitions. The turnaround under Hernán Losada since being outscored 10-0 in three straight losses — 5-0 in Vancouver on April 1, 4-0 in New England on April 8, and 1-0 at home to D.C. United on April 15 — has been quite remarkable.
After a lacklustre first half, that felt a bit like a final in the sense that neither side looked like they wanted to give anything away and was waiting on the other to show their cards first, Montréal showed their quality and competence in droves in the second half.
Due to a rash of injuries that has left Toronto FC head coach Bob Bradley with 10 players out of his squad just 12 games into the season, the veteran skip was forced to go with a top-heavy 3-4-3 that featured a back three of Mark-Anthony Kaye, trade acquisition Amié Mabika (making just his second start for the Reds) and Richie Laryea, who isn't afraid to mix it up when things get heated. And they certainly did.
Left-wingback Jahkeele Marshall-Rutty was the first TFC player to end up in referee Chris Penso's book after a hard foul on Chinoso Offor in the 26th minute. Perhaps forgetting about that first-half booking, Marshall-Rutty was shown a second yellow for time wasting just before the hour mark. It was a shocking move by the 18-year-old that surely had injured captain Michael Bradley throwing English snacks at his AppleTV as he watched his team capitulate in the middle of the night. (I am recklessly speculating here of course. I have no idea if MB would ever stay up past midnight, especially when he can just wake up and watch any MLS game on-demand with AppleTV's MLS Season Pass.)
Just six minutes before JMR's sending-off, Montréal opened the scoring thanks to a brilliant bit of running and a pass from centre-back George Campbell to set up Lassi Lappalainen for a tight-angle finish.
Finally rewarded for their hard work, Montréal kept the pressure on and found a second goal in the 68th minute that likely had every TFC fan yelling "Offor f*** sake!"
CFM would've had a few more goals on the scoresheet if not for TFC goalkeeper Sean Johnson. As he has been for so much of his first season with Toronto, the American was outstanding and made six saves as CFM pelted a beaten and hapless 10-man TFC as the second half rolled on.
At one point in the match broadcast — which to Apple's credit featured two Canadians, in bilingual play-by-play voice Matt Cullen and former TFC and CanMNT goalkeeper Greg Sutton — the first keeper to ever wear the gloves for Toronto FC suggested that Bob Bradley would be wise over the next few weeks to rest big money designated players Lorenzo Insigne and Federico Bernardeschi to "give the young guys a run out." I can only imagine Sutton looked at Cullen in the broadcast booth and grinned as he said it.
It's hard not to wonder what the two Italians are saying to each other now.
While the final whistle brought celebration in the stands — with many "F*** Toronto" scarves spotted by the TV cameras — it brought chaos on the pitch as the two sides exchanged some very heated words, plenty of shoves and even a few punches.
From the broadcast camera angle, a heated handshake between Bradley and Losada brought on an angry Richie Laryea, who despite being shoved back by his manager had a few more words for Losada before the Montreal bench, led by Romell Quioto, descended on the three-man argument. It appeared on the live broadcast that Quioto threw a slap punch at Laryea as the Honduran ran behind the Canadian. That brought a left handed shot from C.J. Sapong, and then complete chaos ensued.
One of the standout moments, again, involved Marshall-Rutty (he must've stormed out of the change room having seen the madness kick off on TV?) who had to be bear-hugged off the pitch and down the tunnel by goalkeeping coach Jon Conway and another TFC staff member.
At the time of writing no discipline had been handed down, but you can imagine there will be some by the time these clubs are back in the office.
For CF Montréal, Saturday's match was business as usual when they come up against TFC. CFM have lost just one of their last nine against their 401 Derby rivals, last year's Canadian Championship semi-final.
Another three points sees Montrèal surge up to seventh place in the MLS Eastern Conference standings with five wins from their opening 11 matches.
TFC on the other hand…
Funny enough, it's the Red Bulls that TFC face next when the third most important club in the Red Bull football pyramid travels north to BMO Field on Wednesday night.
Montréal visit FC Cincinnati on Wednesday. Captained by former TFC defender Nick Hagglund, the Ohio outfit sit tied atop the Eastern Conference with a game in hand on the New England Revolution. The Revs fell 2-1 away to Kamal Miller's Inter Miami on Saturday night. Former TFC hero Jozy Altidore played the last six minutes after also seeing action last weekend at BMO Field against his old club.
New England manager Bruce Arena and TFC head coach Bob Bradley have a lot in common, but their fortunes this season certainly aren't similar. Losada on the other hand is making an early case for Coach of the Year.
---