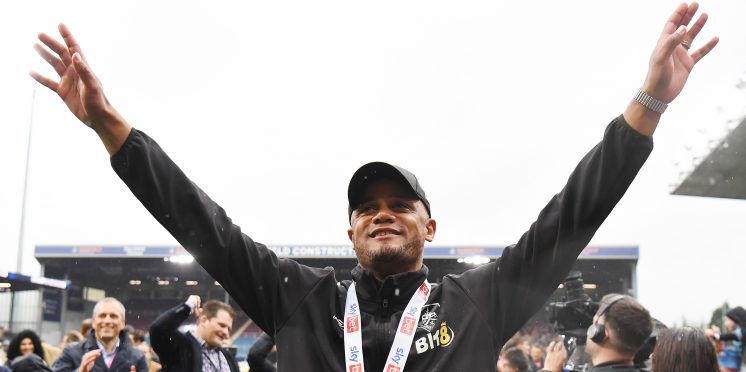 Peak of the Week: European title race developments & 'beautiful girl' Vincent Kompany
Legendary Manchester United manager Sir Alex Ferguson used to call it "squeaky bum time."
The European season is drawing to a dramatic conclusion, and this edition of Peak of the Week features season-defining performances and some Hollywoodian quotes as things get tenser by the week.
Game of the week: Brighton vs. Arsenal
Every Arsenal player must have felt like a Toronto waterfront native when they got harassed for 90 minutes by the Seagulls at the Emirates on Sunday.
With their Premier League season on the line, the Gunners were gunned down at home, falling to an demoralizing 0-3 loss to Brighton.
Roberto De Zerbi was mocked by many when he announced that fans would see the true Brighton against Arsenal after a 1-5 humiliating loss against Everton in the previous week. But he proved all those detractors wrong with a tactical masterclass to outdo Mikel Arteta on his own playground.
A season-defining result for both sides: virtual confirmation that Arsenal's title race has fizzled out and another step towards the first-ever European football campaign for the visitors.
Team Performance of the Week: Bayern Munich vs. Schalke
After 10 Bundesliga titles in a row, it had seemed like Bayern Munich might be taking an unplanned year off this season with their midseason struggles, giving Borussia Dortmund a chance to go for the silverware.
But with BVB faltering multiple times, Bayern managed to climb back on top after all and they're refusing to let go. They showed they are not playing around anymore with a thumping 6-0 win against Schalke 04 on Saturday.
Five different goalscorers with 14 shots on target, all while allowing zero shots on target for the opposition; it was complete domination at the Allianz Arena.
With no other competitions left to play in the season's run-in, Bayern are going all out to prevent a first trophyless season since 2011-12. Good luck stopping them.
Honourable mention: Borussia Dortmund vs. Borussia Mönchengladbach
Bayern's title rivals Dortmund will certainly try, though.
BVB may have left it late to resurrect their title campaign, but at least they are doing it in style.
During their recent win against Borussia Mönchengladbach, Dortmund ran riot with a 5-2 scoreline, as they continue to apply the pressure on Bayern who are one point ahead with two gameweeks left.
Grab your popcorn Bundesliga fans, this is going to be an exciting finish!
Player of the Week: İlkay Gündoğan
With a squad boasting the likes of Kevin De Bruyne and Erling Haaland, how many people would have expected İlkay Gündoğan to be Manchester City's hero in their late Premier League title charge?
Well, if they watched City's Premier League campaign last season, a lot of people might well have predicted that. Gündoğan is a clutch player for Pep Guardiola, and he came up big again this weekend.
After scoring a brace against Leeds United last week, the German midfielder was hungry for more, leading City to a 3-0 win against Everton on Sunday, where he had another brace and an assist as well. 78 minutes of running the midfield at Goodison Park, which featured a nonchalant but brilliant free-kick goal as well, title run-in Gündoğan is certainly undefeated.
Goal of the week: Evander vs. Vancouver Whitecaps
Brazilians and flair, name a better combo. I'll wait.
A nasty spin to turn his defender followed by a shot from outside the box is how Portland Timbers' new arrival Evander put the Vancouver Whitecaps away on Sunday.
The Brazilian noticed Whitecaps goalkeeper Yohei Takaoka's poor positioning and fired it quickly into the bottom corner to catch the usually alert Japanese keeper flat-footed.
With his first goal coming during an away loss to LAFC, Timbers fans were eagerly waiting for their new signing to score in front of the Timbers Army. And he did it twice on Sunday. After a slow start to his maiden MLS season, it seems like Evander has finally turned it up.
Quote of the Week: Alan Pace on Vincent Kompany
"It's like dating the most beautiful girl in town and knowing there's zero chance she'll marry you. But everyone else wants to marry her. So how long can you date, how long can you stay together? I hope it's for a very long time. But it's up to her."
That was the somewhat unusual analogy Burnley owner Alan Pace used to describe his relationship with his manager Vincent Kompany this week.
Big clubs feeding on smaller clubs for players and staff is how the cycle of football goes, and it's an inevitable pattern that Pace is unfortunately preparing himself for.
His Clarets, who were relegated from the Premier League last season, had an immediate turnaround in the Championship this season, led by new manager Kompany. A dominant campaign featuring a title win with 101 points has Pace fearing his new love will pack his (her?) bags and leave, and he wasn't shy in expressing his feelings about it.
Known for years for their dreadful defensive football, Burnley's tactics changed overnight when the Belgian took over, transforming them into one of the most exciting teams to watch in England's second tier.
Pace, like the rest of the Burnley fans, will be hoping that Kompany sticks around for as long as possible for similar performances in the Premier League. If not, he'll always have the photos and the memories.
Honourable mention: Javier Tebas on Real Madrid
La Liga President Javier Tebas can never stay out of the headlines and it seems that not once has it been for good reasons. This time, it was his open admission of his Real Madrid fandom when he said "of course, I'm picking Madrid to win against City. I'm very Madridista, but not very Florentinista."
It's perhaps unsurprising, but it's probably the last thing that any non-Real-supporting La Liga fan would want to hear from their league president. Hope he's doing ok after Barcelona sealed the La Liga title…
---