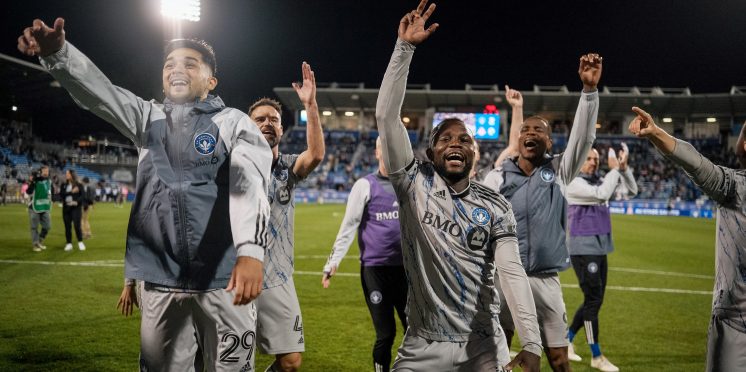 With winning habit and record-setting defence, CF Montréal are suddenly MLS's most in-form team
It's fair to say not many people would have seen this coming a month ago.
Unthinkably, given a start to the 2023 season which saw them lose six of their opening seven games, CF Montréal's defeat of rivals Toronto FC on Saturday cemented their status as Major League Soccer's most in-form team. The on-field wilting and off-field controversies of the last week have thrust TFC into the spotlight after back-to-back Canadian Classique defeats, but it's high time for their rivals in blue up the long Highway 401 to get the credit they deserve.
Hernán Losada's men have won all of their last four league games by a 2-0 scoreline, meaning they have taken 12 points from a possible 12 and haven't conceded a goal in league play since April 15, racking up four straight clean sheets for the first time in club history. No other MLS team has taken more than 10 points from their last four games.
It's a run that has taken CFM from a laughing stock to a team who are starting to get the plaudits and recognition that their recent displays have thoroughly deserved. Throw in two Canadian Championship wins (2-0 over League1 Ontario's Vaughan Azzurri and 2-1 away to TFC), and Losada's side have six wins from six games with 12 goals scored and only one conceded. It is imperious, imposing form.
The mood couldn't possibly be different from a few weeks ago, when Montreal looked desperately ill-equipped to come close to replicating the success they had last season under Losada's predecessor Wilfried Nancy.
In all likelihood, we should have known that CFM's hapless start was a warped reflection of their position.
After all, it was an off-season of the kind of turbulence that would see most commercial airline flights grounded before take-off. The departures of Nancy and key players, the Kei Kamara drama, the lengthy adaptation process that is to be expected when changing coach and coaching philosophy, the injury list that seemed never-ending and potentially fatal at one stage: all of these factors more than played their part in the Saputo-owned franchise's stuttering start.
Now, though, Montreal fans and neutral observers are seeing what can happen with a little patience and a lot of hard work.
Losada is a good coach, that has never been in question. His tactical plans and in-game adjustments have risen to the fore and reaped reward over the last few games. Without Kamal Miller, CFM's defence has become the most miserly in MLS over the last month. Bryce Duke is showing exactly why Olivier Renard wanted him so much. Mathieu Choinière has blossomed into arguably one of Canadians most impressive central midfielders right now. Goals, of which the team were desperately short a few weeks ago, are now flowing from all areas of the pitch.
Whether it can all continue in the same spectacular vein remains to be seen.
Big tests are on the horizon, none more so than on Wednesday night when Losada's men travel to FC Cincinnati, who are level on points at the top of the Eastern Conference and of the overall Supporters' Shield race.
But if the last month is anything to go by, Montreal will be well-equipped for the fight. Their rise up the table from basement dwellers to playoff contenders is indicative of their progress.
---