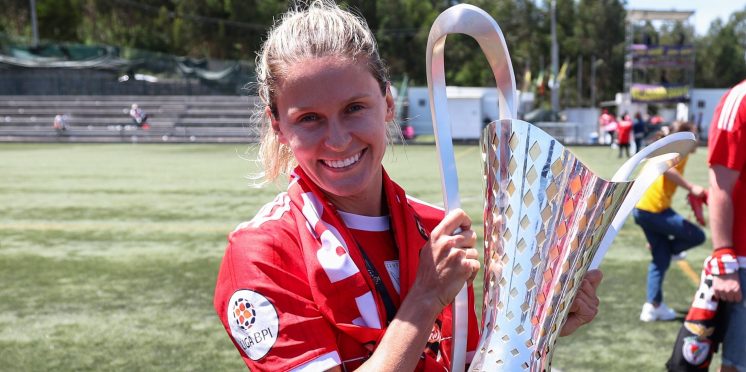 Benfica's standout Canadian star Cloé Lacasse reportedly close to Arsenal move
Cloé Lacasse is too good for the Portuguese Liga BPI. And, by the sounds of it, she could be pitting herself against some of the best women's soccer stars in the world on a weekly basis in the English Women's Super League next season.
Arsenal are known to have held keen interest in the 29-year-old from Sudbury, Ontario for months now, and things are gathering pace.
The latest report, from renowned Portuguese outlet Record, suggests it is only a matter of time before Lacasse makes the switch to North London. Arsenal are reportedly in "firm advanced negotiations" to sign her, and the forward appeared to say farewell to the Benfica Femenino fans after her team's last home game at the weekend, in which, of course, she scored.
That made it 21 goals from 34 Liga BPI games this season for Lacasse and was followed by the Canadian being named officially the best player in the division. Add in the fact that she has netted against the likes of Bayern Munich and Barcelona in the early stages of the UEFA Women's Champions League this term and she is clearly ready for a new challenge.
It's clear to see why Arsenal would want her.
She's prolific, she's fast and savvy in her attacking movement, she's versatile and able to play anywhere across the front line, she doesn't just score goals but create them (she has added 13 assists to her 21 Lige BPI goals this season), and not yet 30, she is pretty much in the prime of her career right now.
She has a year left on her Benfica deal and spoke a few months ago of how happy she is at the Lisbon club, thanking them for their role in her becoming established on the national team scene. But there comes a time when even most happy and settled players must move on to further their career, and it is unlikely that anyone affiliated with Benfica would begrudge her a move with a Women's World Cup on the horizon this summer.
We're tipping Lacasse to have a big role for CanWNT down under in July and August. By then, she may well be the WSL's newest Canadian import, joining compatriot Sabrina D'Angelo at the Gunners.
---