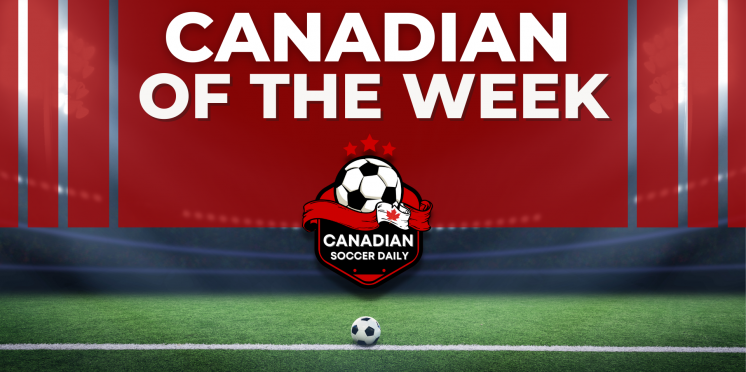 Canadian of the Week: Choinière sinks rivals, Farsi delivers, Lacasse locks down MVP
It was a quieter week than we've become accustomed to when it comes to Canadians balling out in Europe. Luckily for us, a number of those in Major League Soccer feasted during the past seven days of action, with midweek activity allowing for even more fun.
One such Canadian, who starred in two wins this week, has been crowned the newest Canadian of the Week!
Mathieu Choinière
It was a week to remember for Mathieu Choinière. The CF Montréal midfielder had two stellar games, winning both of his team's two contests with Canadian Classique rivals Toronto FC in the span of five days.
To get things started, Choinière and his team travelled to BMO Field on Tuesday, May 9 for some Canadian Championship quarter-final action. Montreal rolled out to a 2-1 victory during what was a chaotic evening in the Ontario capital. Fans were fighting, megaphones were thrown. Not great scenes.
On the pitch, however, Choinière painted a much lovelier picture. He bossed proceedings in the middle of the park, completing six tackles, winning seven of his eight ground duels, and sending in the cross to Chinonso Offor which would end up as the match-winner.
Choinière snuck past Richie Laryea on the play and then put the ball between Sean Johnson and his Toronto centre-backs so that Offor could head it into the goal and silence the crowd.
The Montreal win means that Choinière will go up against his brother David when CFM host Forge FC in the Canadian Championship semi-finals later this month.
Choinière played another 83 minutes later in the week on Saturday, May 13 when Montreal played host to Toronto in MLS action. It was another victoire for Hernán Losada and his team, with Choinière again influential in the 2-0 result.
He didn't pick up an assist this time but he made 95 percent of his passes and created quality looks in the second half for teammates Offor, Ariel Lassiter, and Zachary Brault-Guillard. Choinière himself had a shot on target that was denied by Johnson as Montreal piled on the pressure with the Reds down to 10 men for most of the second period.
Montreal seem to have turned a page following a rough start to the season and Losada's ability to get the most out of Choinière's creative capabilities is paying dividends in his first season at the helm.
Last week, we talked about Jacob Shaffelburg's great performance and the chance he makes an international roster this summer. We should be asking the same questions of Choinière at this point. He's been that good.
Honourable mentions
Let's now turn to a former CF Montréal star who is doing alright since being shipped by the club just over a month ago.
That would be Kamal Miller, who also played twice this week, registering two wins with Inter Miami in both the U.S. Open Cup and in MLS. On Tuesday, Miller kept it solid at left centre-back, making three clearances and the second-most touches of the ball as his squad knocked Charleston Battery out of the tournament. On Saturday, Miller played 90 minutes in a 2-1 win over the New England Revolution. He and his team did well to hang onto the win after Miami midfielder David Ruiz was sent off with 10 minutes remaining.
Mohamed Farsi also had himself a busy week. The Crew wing-back continues to wreak havoc down the right flank and show a knack for getting forward to set up his team for success in the opponent's box.
After starting in a dominant 5-1 win against Loudoun United on Wednesday to advance to the U.S. Open Cup Round of 16, Farsi notched an assist on the weekend to double Columbus' advantage against Orlando City in what would finish as a 2-2 draw at home. Farsi connected with his compatriot Jacen Russell-Rowe on the first half goal, making a killer first touch around the Orlando backline before guiding his cross to the young striker.
And finally, it wouldn't be 'Canadian of the Week' without a Cloé Lacasse segment.
I'm happy to share that Lacasse's Benfica have been officially crowned as Portuguese champions and that the 29-year-old Canadian international provided a goal in her team's most recent win over Torreense on Sunday, May 14. Also of note, Lacasse was named the best player in Liga BPI for the 2022-23 season. I guess getting 21 goals and 13 assists in 21 matches will do that for you.
---