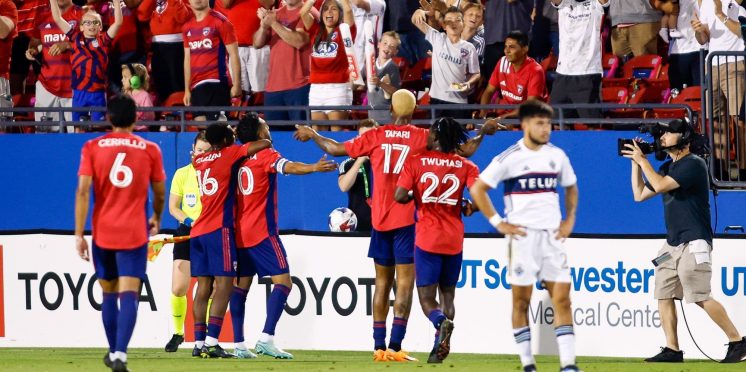 Vancouver Whitecaps' atrocious away form continues in 2-1 turnaround defeat to FC Dallas
They say you're only as good as your last game. That's bad news for the Vancouver Whitecaps. They also say it's a game of two halves. That's also bad news for the Vancouver Whitecaps.
Though they took a first-half lead through a Pedro Vite goal in an eventual 2-1 defeat to FC Dallas, two Jesus Ferreira goals consigned the 'Caps to a second defeat running in league play. The Whitecaps haven't won away from home since they beat the same opponents 2-0 on June 18 last year, 11 long months ago.
Briefly, it looked like that run might end.
Both teams capitalized on defensive mistakes to score on Wednesday night, first as the visitors took the lead on Wednesday night, Vite taking advantage of a wayward pass out from Maarten Paes.
The joy was to be short-lived.
Ferreira struck twice, once soon before the break and once soon after, to leave Vanni Sartini's men's previous eight-game unbeaten run in MLS a fading memory. Ferreira's second goal was a calamity, with Ranko Veselinović caught on the ball and Ferreira nutmegging Yohei Takaoka to complete the turnaround.
In truth, the 'Caps looked sluggish for the majority of the game, whether that was in contesting duels or loose balls, tracking Dallas runners, or their own attacking plans. They were sloppy off the ball and profligate in front of goal.
Perhaps those are the inevitable effects of all the recent air travel and quick turnarounds in games? After all, in the last month, the Whitecaps have played in Texas, in Vancouver, in Vancouver, in Toronto, in Portland, and in Texas again.
There were other mitigating factors too. The likes of Ryan Gauld and Tristan Blackmon stayed in Vancouver as Sartini rotated his side due to heavy fixture pile-up. The 'Caps have already played four games in the last 12 games and they continue at that breakneck pace for the next few weeks, with Canadian Championship and MLS games clogging up their midweeks. There were also some odd decisions, such as Sartini's choice to drop Javain Brown in at centre-back and push central defender Mathías Laborda out to right-back. Out wide, Laborda was one of Vancouver's better performers, but it hardly sounds like playing to your strengths, does it?
To their credit, the Canadian visitors did rally. There was no penalty — inexplicably, not even a VAR review — for an apparent foul on Alessandro Schöpf shortly after the hour mark, before Simon Becher was denied by Paes from point-blank range soon after coming off the bench in the best chance of the second half.
"They played better in the first half, we played better in the second half," Sartini assessed post-game. "I think it was probably an honest tie game. Unfortunately, we conceded a bad mistake on the second goal; [but] we have to be honest, they made a bad mistake for our first goal… We had a lot of chances, to be honest, with Simon, with Brian [White], Mathías, the penalty because it was a penalty for us. Unfortunately, both the referee and the VAR didn't see it. Yeah, it's very frustrating because last week we lost and we deserved to lose. This week we didn't deserve to lose."
Ultimately, those are the key moments. But, despite Sartini's fair assessment that there was great improvement in the second 45 minutes, the truth is that for the second game running, it was simply not good enough from the 'Caps.
From 10 games undefeated in all competitions to two underwhelming and uninspiring performances. As far as Canadian teams' seasons go so far, it's hardly a catastrophic slump (what Toronto FC wouldn't give for only two poor performances in a row) but the dip will need to be arrested before it becomes a genuine slide in form.
Thankfully, given their abhorrent away form, four out of their next five league games are at home. It's a huge chance to get things on track, and it starts with a massive Cascadia Cup clash with near neighbours the Seattle Sounders this weekend before another derby, the Canadian Championship semi-final against Canadian Premier League side Pacific FC.
"We need to start the game better," said Sartini of that upcoming game. "We need to play like we played the second half, being the best team on the field, trying to play in between lines, trying to play wide for the crosses for our striker creating chances. That's the only medicine we have in order to win Seattle and win on Wednesday in the semi-final."
---