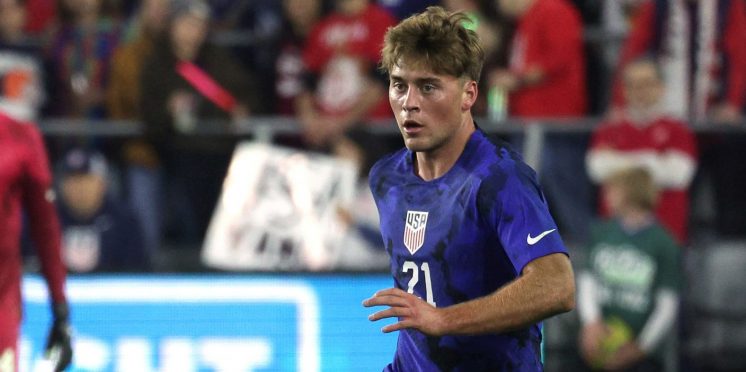 CONCACAF drops stacked Canada preliminary Nations League roster with some surprise names
Published: May 19, 11:49 a.m. ET
Updated: May 19, 1:12 p.m. ET
The Canadian men's national team have a huge summer of competitive action ahead of them.
In just four weeks, the 2022-23 CONCACAF Nations League semi-finals get underway in Las Vegas, with CanMNT facing Panama on June 15, before a potential final against either the United States or Mexico three days later. Nine days after that, their 2023 Gold Cup campaign begins at BMO Field.
On Friday, CONCACAF announced John Herdman's preliminary roster for the Nations League finals, and alongside all of the usual suspects, there were some surprise names on the 53-man list.
Chief among them is Aidan Morris, a dual national who played for the United States men's national team during their recent domestic camp against Mexico and Serbia. He made his senior debut in the 2-1 defeat to Serbia on January 25 but as he is yet to play for the U.S. in a competitive game, he is eligible for a one-time switch to Canada. The Athletic's MLS insider Tom Bogert confirms Canada reached out to Morris this spring about potentially switching his allegiance.
Fascinatingly, the 21-year-old Florida-born Columbus Crew midfielder, who has three goals and one assist in 14 games in all competitions for the Crew this season, has also been included on the U.S. preliminary roster, suggesting that he will soon have a pretty big decision to make. Morris was born in Ft. Lauderdale, Florida, but has Canadian citizenship through his father and also has Italian citizenship.
Then there's Luca Koleosho, an exciting young winger who plays for Espanyol in Spain's La Liga. Born and raised in the U.S. to a Nigerian father and an Italian-Canadian mother, the 18-year-old is eligible to represent any of those four countries. He has previously played at youth level for the USA and is currently an Italian Under-19 international.
The inclusion of these multi-national players follows comments from Herdman after the 2022 World Cup, when he said that enticing that bracket of players to declare for Canada rather than their other countries of origin is an important avenue to improving CanMNT's player pool.
"I think there are definitely some players with dual passports who we will continue to pursue behind the scenes that we feel have got high potential," he told Andi Petrillo for CBC Sports in December. "We've got to look at developing in some of those areas… A player could be arriving on our shores with an African or European passport who is emigrating here that we've got to lock into our system. I feel like those players are falling in love with Canada."
Other notable selections include several uncapped talents who are enjoying breakout seasons in Major League Soccer, such as Moïse Bombito of the Colorado Rapids, Mathieu Choinière and Sean Rea of CF Montréal, and Vancouver Whitecaps' trio Ali Ahmed, Ryan Raposo, and Thomas Hasal.
Goalkeeper Tom McGill, defender Dominick Zator, and midfielder Victor Loturi, the uncapped trio who were included in Herdman's March squad, all retain their places on the roster. Nashville SC winger Jacob Shaffelburg and St. Louis CITY centre-back Kyle Hiebert, who were somewhat surprisingly overlooked in March (although Hiebert was ultimately called up as a replacement), are also among the names this time around.
While Morris' Crew teammate Jacen Russell-Rowe is also on the list, the omission of Mo Farsi, arguably one of the best right-backs in MLS so far in 2023, is sure to raise eyebrows. The 23-year-old is also eligible to represent Algeria, and questions will likely arise over his future allegiance given you'd have thought he was nailed-on to be included given his impressive season to date.
Other notable absences are Diyaeddine Abzi, who has impressed this season in the French second division since leaving the Canadian Premier League's York United, and Sheffield United's Canadian-born England Under-20 international striker Daniel Jebbison.
Canada's 40-year-old captain Atiba Hutchinson has been included, suggesting March's 4-1 win over Honduras may not have been his last appearance for his country after all.
Toronto FC and CF Montréal have six players each, with three Whitecaps players completing the MLS contingent. While clubs from Canada, the U.S., Mexico, and 14 different European countries are represented on the list, it's notable that no currently active Canadian Premier League players have been included. Six former CPLers — Loturi, Zator, Rea, Lukas MacNaughton, Jonathan Sirois, and Joel Waterman — are there. National teams were able to select up to 60 players for the rosters, but Canada have named just 53.
The squad will be cut down to 23 a week prior to the semifinals on June 15, with injury changes allowed up until 24 hours prior to the semi-finals.
The full 53-man preliminary CanMNT roster: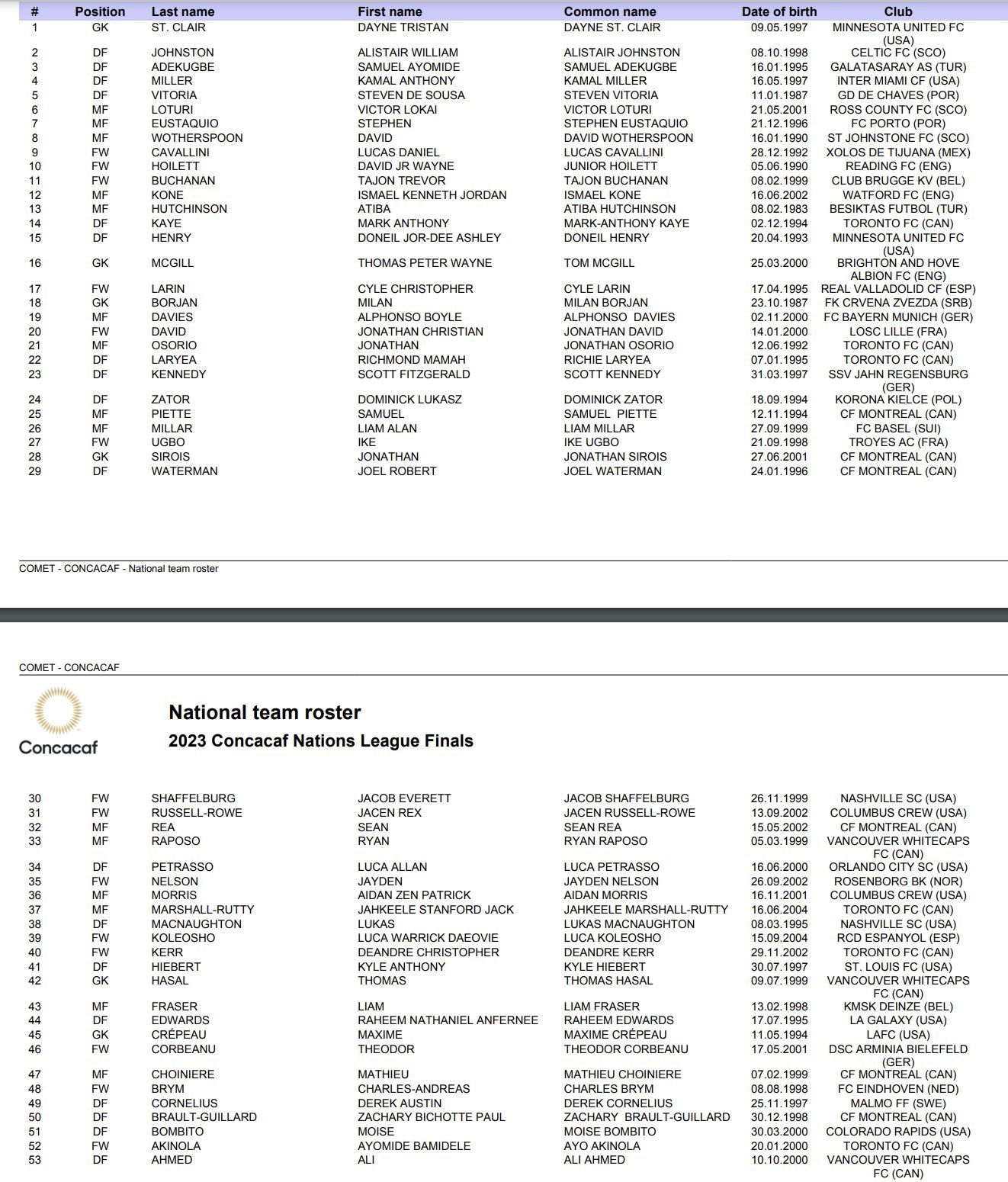 ---