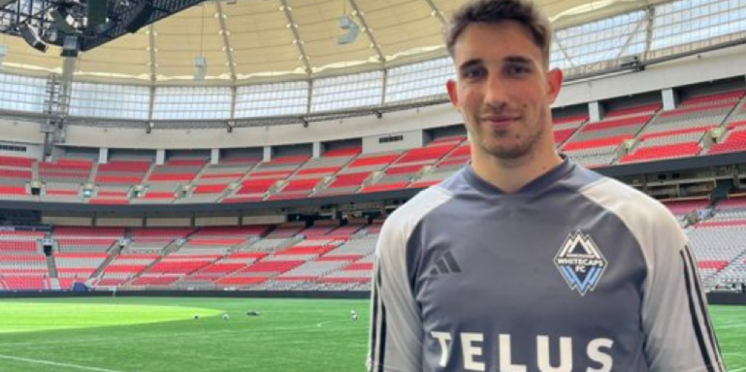 Exclusive: Vancouver Whitecaps goalkeeper Thomas Hasal on adjusting to life as a No. 2
Vancouver Whitecaps goalkeeper Yohei Takaoka has had a remarkable start to the season after making a move to the west coast from the J-League. Takaoka has started all 12 of the Caps' MLS matches this season and picked up four clean sheets.
The 3-4-5 (14 points) Whitecaps will return to the pitch on Saturday night as they battle the Seattle Sounders in the first of three meetings between the Cascadia rivals.
Takaoka is expected to earn the start in net as he has done for the majority of Whitecaps competitions this season. Takaoka's success has meant that Canadian Thomas Hasal has had to watch from the sidelines as the team's second option in net.
After taking over the role as the Whitecaps' No. 1 goalkeeper last season following the trade of Max Crepeau to LAFC, Hasal hasn't been able to find consistent playing time this season.
How is Hasal handling a different role this season?
"I think being a footballer you're going to go through different periods of time, different roles," Hasal told Canadian Soccer Daily following training at BC Place on Friday. "Whatever role you're in at the time you want to just do your best to help the team. That's what it's about, it's a team sport. No matter if you're playing, the backup, the third, if you're injured, you're doing whatever you can to help the team. That's the biggest thing."
The Whitecaps' hectic schedule has resulted in a flurry of matches this season as the club navigates four separate competitions.
The Caps are currently on a stretch where they will play seven matches in 22 days.
Hasal has yet to make an MLS appearance this season, but he was called upon to play in both of the Caps' road matches during the CONCACAF Champions League tournament.
In both cases, the result of each leg looked to be in hand following the first leg at BC Place.
When can Hasal expect to earn his next start in net?
"Yeah for sure he will have a chance to play," head coach Vanni Sartini told Canadian Soccer Daily following training at BC Place on Friday. "I don't have an idea, I don't want to say he's going to play that game or that game, because it always depends on the state of form and everything. For sure you will see him in between the sticks soon, I would say."
The 23-year-old Hasal just wants to play football. He's patiently waiting for his next opportunity while at the same time supporting his teammates as best as he can. It's a testament to his ability that even while not playing regularly, he has been named as a goalkeeping option in John Herdman's preliminary Canadian men's national team squad for next month's CONCACAF Nations League.
Hasal has set big goals for himself, but he needs an opportunity in net if he is going to reach them.
"As a footballer you want to play," Hasal said. "That's what we love to do, that's why we work so hard to play these games. I would be lying if I said I didn't want to play. That's my goal, it's what I want to be. I want to be the best goalkeeper in the league. That's something that I've set for myself and to do that you have to play. You have to get those minutes. You have to get more time, you have to play. The most important is the team. I've got my personal stuff, but the team comes before that."
If Hasal isn't going to earn regular playing time with the Whitecaps would he request a move?
"I haven't at this point in time, no," Hasal said.
Has he thought about requesting a move?
"I would say as a professional footballer it's not something you don't think about."
Would he like a move elsewhere that could help him play more?
"I want to play," he said when pressed on the topic. "As a professional in your career you have to take a look at that, but at this point in time I'm just trying to help the team."
If the opportunity to earn more playing time with Vancouver isn't going to be there this season, would the Whitecaps and Hasal entertain the possibility of a loan move?
"Look, I cannot say anything to this because this is also something he needs to ask about," Whitecaps Sporting Director and CEO Axel Schuster explained to Canadian Soccer Daily. "Over the last years, we have not been very lucky with goalkeepers being healthy. At the end of the day, you need somebody else who at any time is able to start to play.
"We know what we have with Thomas. He definitely could immediately play if necessary and give us a solid performance. If a player at some point comes to us and says 'look, I need to do this for a next step,' we would sit down with him and discuss. Again, it's not our first thing to do because we would need another goalkeeper."
While a loan move would have to be something that both sides feel is in the best interest for Hasal and the club, there is some level of interest in Hasal from across the pond.
"There's been interest from two clubs in Europe at the end of the transfer window in Europe," Schuster revealed. "We were not open to doing that at that point because obviously we were heading into our season and Yohei had just arrived and we wanted to be best prepared for the season after we dressed six different goalkeepers last season. We didn't want to end up in another scenario like that."
In four seasons with the Whitecaps first team, Hasal had made 33 MLS appearances, earning six clean sheets, and making 104 saves.
Hasal is currently earning a salary of $222,412 this season, as per the MLSPA salary report this week. He signed a contract extension with the Whitecaps on February 22, 2022 through the 2023 season with club options on the Canadian keeper for the 2024 and 2025 seasons.
---