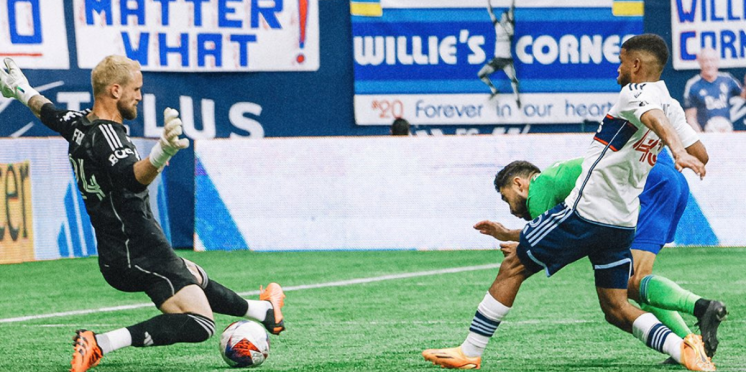 Vancouver Whitecaps continue impressive home form by seeing off Cascadia rivals Seattle Sounders
There's often talk in soccer of teams needing to make their home stadium "a fortress," an impenetrable stronghold where visiting teams turn up in hope but leave with nothing.
The Vancouver Whitecaps have done a pretty good job of doing that since returning to the Lower Mainland after the pandemic relocations that turned the franchise on its head. Believe it or not, the Caps are second only to LAFC in home wins in Major League Soccer in 2023.
Just four days after a second consecutive away defeat, Vanni Sartini's side returned to winning ways with a 2-0 victory over their Cascadia Cup rivals the Seattle Sounders on Saturday night. Goals from Pedro Vite, his second in four days, and a Stefan Frei own goal forced by the great play of Ryan Gauld led the 'Caps to their fourth win in the last five home league matches.
In front of 19,000 fans and a cauldron of noise from both sets of supporters, Vancouver showed no fear whatsoever of their opponents, who began the day in first place in the Western Conference, and played with a verve and a swagger that delighted the home fans and Sartini.
"It was a fantastic performance," said the head coach post-game, visibly glowing with enthusiasm. "A fantastic victory. We smashed the best team in the western conference [aside from] LAFC. It reminded us how good we are when we are doing the things we are supposed to do. I think the two goals is even generous for them, because we could have had even more. I'm very happy because we played really, really, really well."
Vite's goal just before half-time — the first shot on target in the game for either side — broke open the contest at a crucial time. Not long before the hour mark, Luis Martins set up Gauld, whose shot rebounded off the post and into the net via Frei's hand. It was the second time this season Gauld had a goal snatched away and credited as an own goal.
On the scoresheet or not, Gauld was a key driving impetus for the 'Caps all night. Sartini, who called the decision to denote an own goal as unfair on both Gauld and Frei, declared the Scottish midfielder's display to be his best performance of the season so far. Throw in the fact that the hosts had 17 shots to Seattle's eight and Yohei Takaoka picked up a fifth clean sheet of the season and it was a pretty good Saturday night.
Late in the match broadcast, colour commentator Warren Barton applauded Sartini and the players for their attractive style of soccer, imploring more fans to come out to support the club. It's not lost on anyone that stays up late to watch the 'Caps that the crowds in Vancouver simply do not rival those in most other MLS markets. There's a myriad of issues why a once raucous fanbase has shrunk in size and visible passion. But Barton is right that this season, the Caps play an exciting brand of football that is worth staying up for more often than not.
"We've proven we're capable of being the best [Western] team so far," added Gauld post-game. "We're going to have to show a lot more consistency if we want to be considered one of the better teams in the West. Not just one-off games, we're gonna have to show it consistently over the season."
The win also established an unprecedented level of home domination for the Whitecaps against their Cascadia rivals.
"It's always sweet to beat your rival…" Sartini added. "I don't know who's the king of Cascadia, but we are there for the throne, for sure."
Unfortunately, given their contrasting home and away form in MLS this year — four wins and just one defeat at BC Place, no wins in six games on the road — Sartini's side's next game is at another team's stadium. But it's no long voyage; the MLS side will hop over to Vancouver Island to face Canadian Premier League outfit Pacific FC in the Canadian Championship semi-final on Wednesday afternoon.
After that all-Vancouver clash, they travel down to Missouri to play St. Louis City SC on Saturday, May 27. Beating such a strong Sounders side so convincingly was great; drastically turning around their away form would make their bounceback week nothing short of fantastic.
---