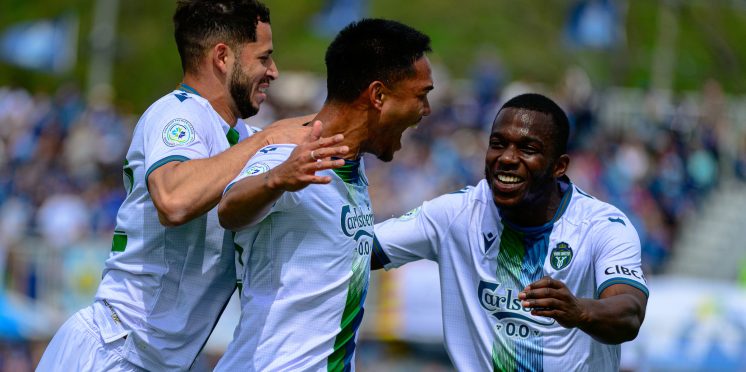 Canadian Premier League weekly roundup: CPL Matchday 6 — York feast out east, Cavalry get first win
It wasn't quite the goal fest we were gifted last weekend, but match week 6 of the Canadian Premier League gave us a number of surprises. This season's two standout sides in Forge FC and Pacific FC both stumbled, while York United pulled off a remarkable win on the road to dig themselves out of last place.
Let's get into all of that plus more in the latest edition of the CPL weekly roundup!
Match of the Week: Halifax Wanderers FC 0-3 York United FC
I didn't see this one coming. York United were the only team that turned up at Wanderers Grounds on Saturday, thrashing the hosts to extend their winless run to six after five-straight draws to kick off the campaign.
Midfielder Matthew Baldisimo was allowed to waltz right through Halifax's spine, striking from outside of the box to stun the home crowd just 11 minutes in.
Outnumbered on the break, the Wanderers conceded a second as Oussama Alou gave York a healthy lead in the 31st minute.
Brem Soumaoro made the most of another counterattack kickstarted by Austin Ricci to make it a 3-0 game right after the halftime break.
The early onslaught from Martin Nash's side was too much for Halifax to overcome, as the East Coast outfit were outclassed in front of their passionate supporters.
Halifax keeper Yann Fillion will probably want two of the goals back, but it was an all-around uninspiring performance from Patrice Gheisar's side, who are unfortunately struggling on both sides of the ball through the opening weeks of the season. The Wanderers are now bottom of the pack and the only team without a win. It was always going to be a rebuilding season, but you'd still like to see more at this point
On the other side of things, three points in the bag will do Nash's Nine Stripes a world of good. Injuries to Roger Thompson, Jérémy Gagnon-Laparé and Mo Babouli have tested his team's depth, but individuals have stepped up in their place, with Baldisimo and Alou particularly impressive. A 3-0 win on their travels should give York a big boost of confidence and it was a positive response after losing by three to Pacific last week.
Player of the Week: Sean Young
Pacific midfielder Sean Young has simply been a revelation for James Merriman this year. One of the league's standout performers through six weeks, Young was again at his best this past Saturday, scoring for his side as Pacific got a 1-1 draw away to Valour FC.
Young blasted a rebound from teammate Ayman Sellouf to open the scoring at IG Field, giving a heavily rotated Pacific team a good point on the road before they host the Vancouver Whitecaps on Wednesday at Starlight Stadium in the semi-finals of the Canadian Championship.
Aside from his goal, Young also had a first-half shot on target denied by Valour's Rayane Yesli, and later in the half created a terrific look for forward Djenairo Daniels, who hit the crossbar as Young looked for his third assist of the season. Young had another two key passes in his 90 minutes on the field.
Goal of the Week: Oussama Alou
We're going back to Halifax for this one. Surprisingly, there weren't a ton of gems this week in a league that has made a name for itself for its banging goals. Oussama Alou's curling effort in the first half at Wanderers Grounds was probably the best of the bunch.
An outstretched Fillion couldn't get to Alou's ball, as the Dutchman put the game out of reach. Fitting, really.
An honourable mention to Pacifique Niyongabire's equalizer for Valour as well. His finish wasn't picture perfect but his run down the right ruined Pacific, giving Valour a well-earned point.
Stoppage time
After getting thumped by Atlético Ottawa last weekend, Vancouver FC withstood Forge FC in a scoreless draw at Tim Hortons Field. Missing Kadin Chung and Gabriel Bitar to injury, and Rocco Romeo to suspension, Vancouver became the first side in CPL history to record a 0-0 with Forge in Hamilton, according to the CPL's Kristian Jack. A very decent record for the league's newest club.
As with Pacific, Forge had one eye on their own midweek encounter, as the Hammers ready for a huge Canadian Championship semi-final in Montreal. Bobby Smyrniotis will hope that his forwards can make better use of their chances on Wednesday evening. Jordan Hamilton in particular wasted a handful of opportunities against the Eagles on Friday. They'll have to be a lot more clinical against their MLS opposition in the upcoming match.
Wrapping up the weekend's action, Cavalry finally got into the win column, putting Atlético Ottawa away with a comfortable 2-0 victory at ATCO Field. It was a timid display from the visitors just when you thought their attack might've turned a page. Sam Salter was left chasing the game up top, while Ollie Bassett was neutralized in the midfield.
Ottleti will have some work to do if they have any chance of repeating as regular-season champs in 2023. The club from the nation's capital have five points through six matches, only above Halifax in the table because of goal difference.
---