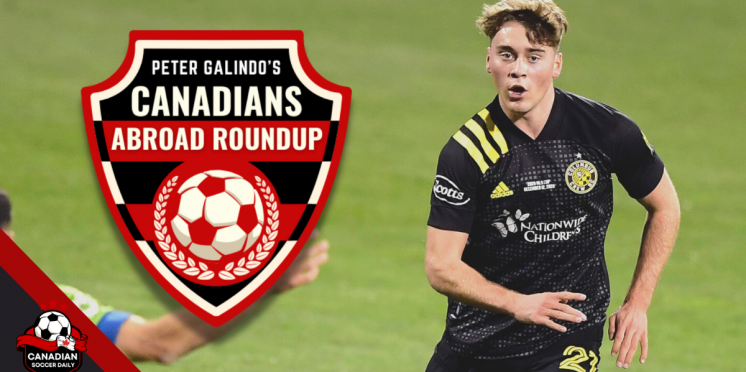 Canadians Abroad Roundup: The Aidan Morris hype train has left the station
As it turns out, the Columbus Crew have a Canadian trio. In a pleasantly surprising twist for fans across the country, Aidan Morris was named to the Canadian men's national team preliminary squad for the CONCACAF Nations League Finals, which dominated the headlines on Friday.
Morris, a 21-year-old deep-lying playmaker, is also eligible for the U.S. and Italy. He's been capped twice for the USA in friendlies – versus Serbia in January and Mexico in April – but isn't permanently tied to any country.
However, if Morris wanted to change allegiances, he would have to file a one-time switch of nationality.
To add even more intrigue, Morris told ESPN's Jeff Carlisle that Canada initially made contact "a couple months ago" and seemingly indicated that he'd play a vital role on the national team.
Sounds like we've got another dual-national drama on our hands.
While all of this played out, Morris and Columbus had a game to play. He went the full 90 in an entertaining 3-2 loss to FC Cincinnati in the 'Hell is Real' Derby on Saturday, completing 56 of 64 passes – including two key passes, five of six dribbles, two tackles and two recoveries.

It becomes obvious why Morris would be a great fit just from watching one game, let alone several. Let's start with the obvious: his vision and composure under pressure in possession, as exhibited in this sequence where Morris singlehandedly bypasses Cincinnati's line of engagement.
The defensive instincts are there, even when position is lost or he's facing the most dangerous player on the pitch (Luciano Acosta in this case).
Then you start to notice the finer details of Morris' game, like how he always surveys the pitch to prepare for defensive transitions, or to check his passing options before receiving the ball.
Morris passes the eye test and if there was any doubt, the underlying numbers check out as well.
Whether it's with the U.S. or Canada, there'll always be use for a deep-lying midfielder who shows these all-around traits. May the sweepstakes begin.
OTHER UPDATES AND ANALYSIS
• Jonathan David converted a penalty for Lille in their 2-1 win over Marseille. That being said, he still has just one goal from open play since returning from the March international break.
• Ike Ugbo started back-to-back matches for Troyes for the first time since September. He finished the full 90 in a 1-1 draw with Strasbourg after getting 79 minutes versus Paris Saint-Germain the previous week. Troyes are already relegated, so add Ugbo to the list of potential Canadian transfers this summer.
• Suddenly, Cyle Larin and Real Valladolid are in serious trouble. They lost 2-0 to Cádiz in a relegation six-pointer on Friday and are in the relegation zone on goal difference with two matches left.
Despite receiving praise from O Fenômeno, Larin couldn't get that decisive goal. He had two decent chances at 0-0 and 2-0, respectively, but couldn't hit the ball cleanly.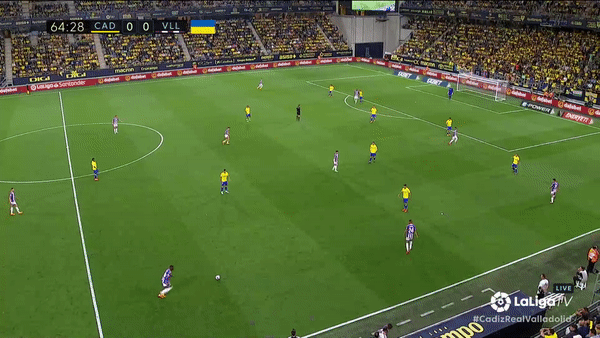 • Speaking of dual nationals, Luca Koleosho was in Espanyol's matchday squad for a second consecutive game. He saw the final eight minutes against Barcelona last week but didn't enter the pitch versus Rayo Vallecano over the weekend.
Not for the first time, Koleosho showed some sizzle but no steak when playing for the first team. Yes, it's difficult to be dropped into the odd game for a 10-15 minute cameo in a La Liga match, let alone against the champions. But it's a constant theme and one Koleosho needs to correct if he wants to be a regular member of the first team next season, whether that's with Espanyol or another club.
In other news, Koleosho made Canada's preliminary squad for Nations League, although this comes after representing Italy's U-20s in a pair of friendlies. Perhaps there'll be more clarity on his international future in the coming weeks.
• Somehow, Stephen Eustaquio didn't convert either of these two chances versus Famalicao.
It didn't matter because Porto won 4-2, but Eustaquio was heavily involved in every facet of the game, including those two shots. Sometimes, though, it's nice to play the hits.
• For the first time this season, Steven Vitoria failed to score a penalty for Chaves. The veteran centre-back skied his attempt over the bar as Arouca edged it 1-0 on Saturday.
• In Scotland, Victor Loturi and Ross County suffered a heartbreaking 1-0 loss to Harry Paton's Motherwell on Saturday. They are still within touching distance of automatic safety in the Premiership, thankfully, but a draw would've really boosted their efforts.
As for Loturi's performance, there was a lot to like. He was spraying the ball around nicely and even set up two shots for County.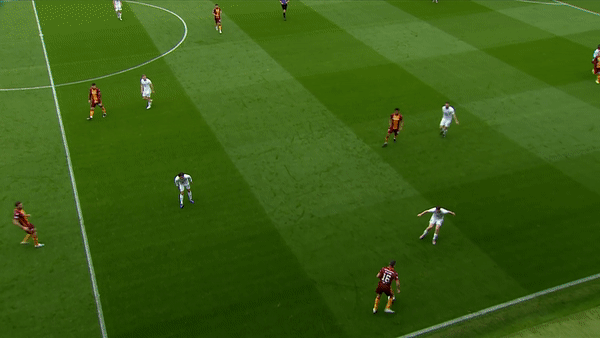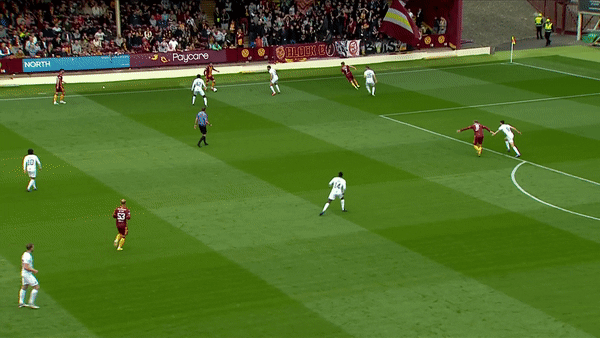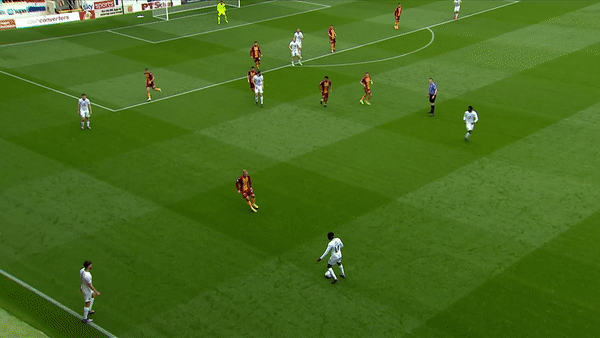 Talk about ice in the veins.
• Scott Kennedy returned to his usual left-sided centre-back role for Jahn Regensburg as they edged Eintracht Braunschweig 2-1. Despite being three points behind Theo Corbeanu's Arminia Bielefeld, it'll take a 16-goal swing in goal difference for Jahn to stay up, so they're all but relegated from the 2. Bundesliga.
Kennedy will likely have suitors – he reportedly captured the interest of some clubs last summer – and performances like Saturday's will bolster his stock even further. He completed 90 per cent of his passes, including a few under pressure.
It's positive to see him improving in that area.
• After last week's injury scare, Derek Cornelius was back in the lineup for Malmo as they drew 2-2 with Swedish champions Hacken.
Cornelius was mighty active in this game. You can argue he was responsible for the second goal after committing too early, but on the flip side, his centre-back partner was responsible for tracking the goal-scorer. Regardless, the Canadian also created Malmo's second goal, so he redeemed himself.
Overall, though, Cornelius was brilliant. He was relentless with his pressing, sometimes to a fault as seen on the second goal, but it was also imperative to shutting down numerous transitions.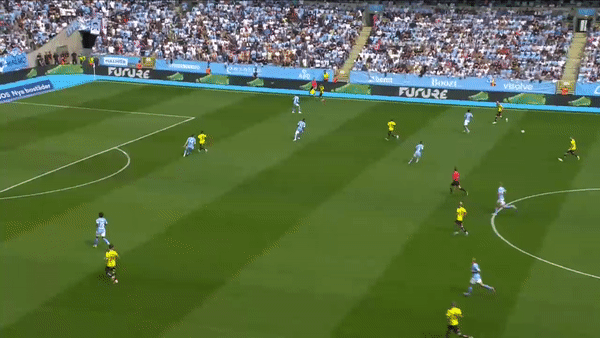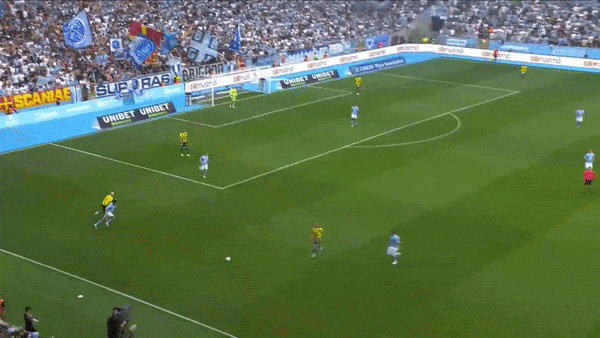 • The other two members of Columbus' Canadian trio saw the field on Wednesday and Saturday. Mo Farsi played the entire second half on Wednesday before going the full 90, while Jacen Russell-Rowe had 17 and nine minutes off the bench, respectively.
Farsi was not included on the Canadian preliminary squad, as the 23-year-old is still mulling his international future, according to Apple TV's Vincent Destouches. Russell-Rowe did crack the 53-man roster, though.
Farsi struggled to make an impact in the final third for Columbus against Cincinnati, who were magnificent at closing down space on that flank. The former CPL star didn't complete a single dribble or pass into the box, which has been a rarity this season. Chalk it down to three games in a week because he was quite solid in midweek.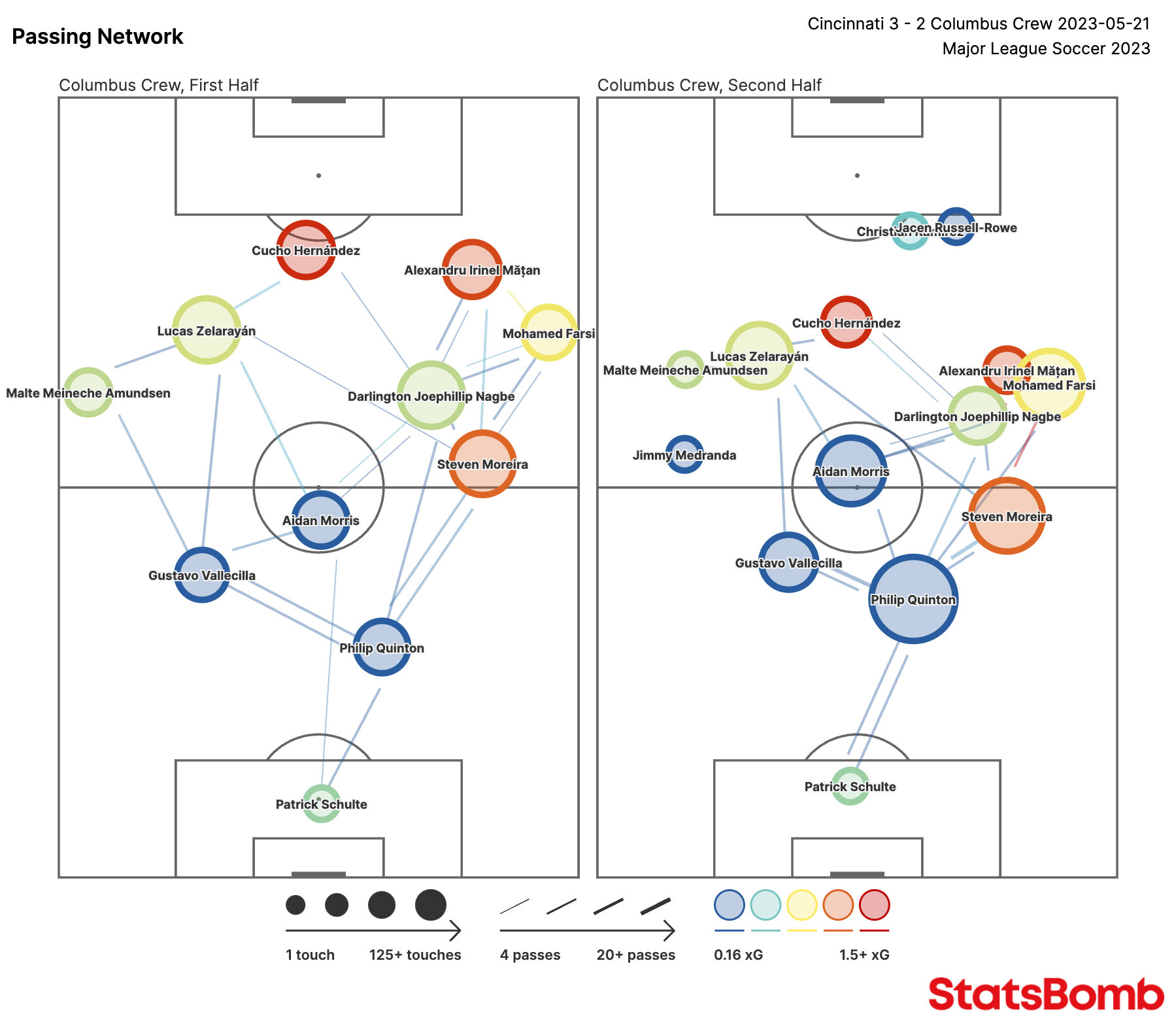 • In a bizarre twist, Kyle Hiebert started at left-back for St. Louis as they finally returned to winning ways against Sporting Kansas City. He was solid defensively, although it is a slight disappointment to see his offensive qualities stunted due to the positional change.
• After a four-game winning streak in all competitions, Kamal Miller's Inter Miami have lost consecutive games to Nashville and Orlando City. Miller played the full 90 in both games,
• Lukas MacNaughton scored his first MLS goal in that win over Miami and went the full 90. He started again as Nashville edged Charlotte over the weekend as well.
MacNaughton also earned a well-deserved preliminary spot for the Nations League. He's played in five games for Nashville since the trade from Toronto FC and looks very comfortable in that system.
The way Gary Smith sets up his side in compact blocks means that the centre-backs are hardly isolated and everything stays in front of them, which suits MacNaughton's strengths.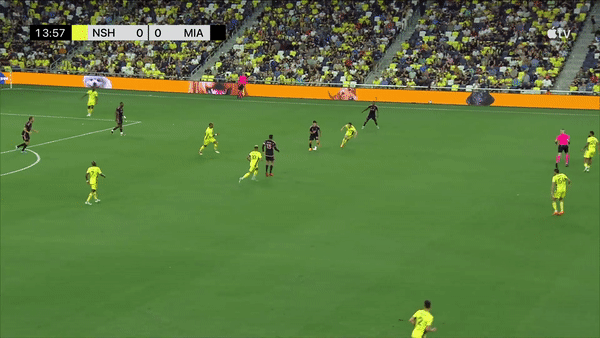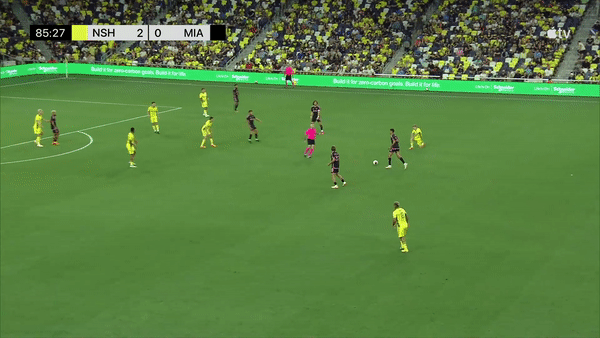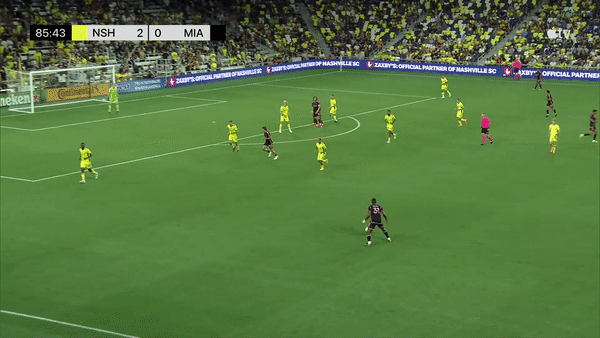 That, in turn, enables MacNaughton to get on the ball more often, an area in which he's surprisingly comfortable.
• Keep an eye on Moise Bombito over the coming weeks. Bombito was also named to that preliminary squad and if not for an early injury, the rookie centre-back could have a few more appearances under his belt for the Colorado Rapids.
Bombito caught the eye in college with his on-the-ball attributes, but the defensive potential was on full display against Atlanta in midweek. Playing out of position at right-back, the 23-year-old was dominating one-on-one duels.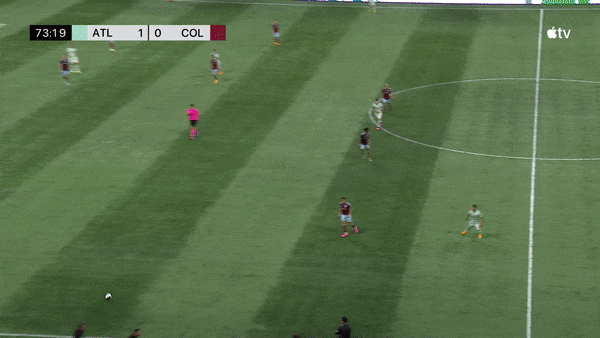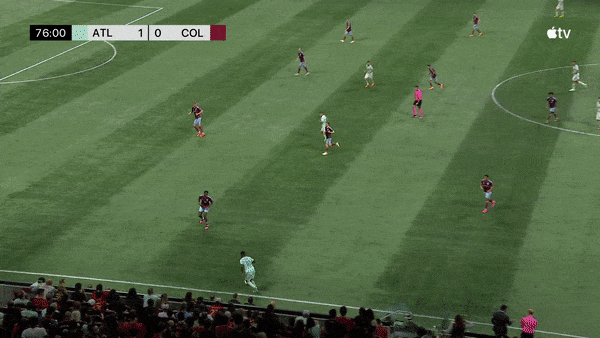 That being said, there are times when he takes risks off the ball. For example, he stepped inside here and made the intervention, which he timed well. But if he failed to do so, the whole right flank would've been open.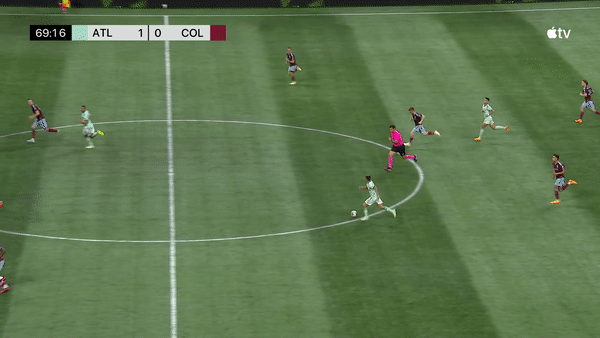 There was also this sequence where he failed to track the man in time, which enabled Atlanta to get into the box with relative ease.
Bombito only has a few professional games to his name and he was playing out of position, so hiccups like these are expected. These can easily be coached out of him, plus he did grow into the game as it continued.
• How about a fourth uncommitted dual national in the same roundup?
Thanks to Charlotte, we saw Canadian-American striker Brandon Cambridge make a significant impact off the bench by completing a brace in a come-from-behind victory over Chicago on Wednesday.
It's obviously very early, but having another Canadian striker thriving in MLS could be a boon for the player pool.
---