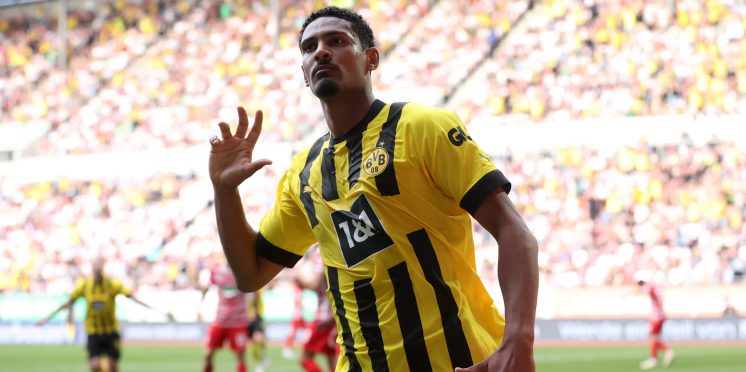 Peak of the Week: Bundesliga title race is far from over, Olivier Giroud is far from old
The Bundesliga is the only title race that is still ongoing…just like we all predicted!
This edition of 'Peak of the Week' features a dramatic week in Germany along with some iconic players who continue to prove that age is just a number.
Game of the week: RB Leipzig vs. Bayern Munich
Bayern's 10-year Bundesliga trophy reign could come to an end thanks to a stellar performance by RB Leipzig over the weekend.
The Bavarians entered the weekend with a one-point lead over rivals Borussia Dortmund with two games left. Bayern had their destiny in their own hands, but complacency got to the Bayern.
Despite controlling the first half and leading after the first 45 minutes, a listless second half performance from Bayern combined with a spirited comeback by Leipzig led to a complete turnaround, ending in a 3-1 win for the away team.
How bad could that half-time speech have been from Thomas Tuchel? The appointment just keeps looking worse and worse.
Ball is in your court now Dortmund…
Honourable Mention: FC Cincinnati vs. Columbus Crew
The 'Hell is Real' derby lived up to the billing as FC Cincinnati recorded their first-ever MLS win over their state rivals beating Columbus Crew 3-2 at TQL Stadium on Saturday.
Cincinnati's dominance has been the story of the season so far and after taking down their interstate rivals, they sit top of the Supporters' Shield standings with a league-best nine wins from 13 games.
The Orange and Blue now have more home wins in their last 11 home MLS games (10) than they did in its first 57 (9). 
Talk about progression.
Team Performance of the week: Dortmund vs Augsburg
Borussia Dortmund have crumbled under pressure multiple times in recent history.
After the infamous 2018-19 season season where BVB basically threw away the title, this season, they have had multiple opportunities to go top or build a lead and have failed.
But with two games left, and Bayern giving them the biggest opportunity of the season to climb the Bundesliga standings, the Black and Yellow stood tall.
After Bayern fell 3-1 to Leipzig, Dortmund had a chance to build a two-point lead with a win against Augsburg and Edin Terzić's side came away with a resounding 3-0 win.
The prospect of playing Augsburg may not seem the toughest based on the league table, but it's easy to forget they beat Bayern at home and kept Dortmund on their toes in their previous encounter.
A goalless first-half against ten men may have worried some BVB fans, but a second-half double by Sebastien Haller along with a Julian Brandt strike meant that Dortmund now control their own fate.
The upcoming Bundesliga matchday promises to be one for the books.
Player of the week: Olivier Giroud
Olivier Giroud may go down as one of the most under-appreciated players of his era, but this section is an attempt to change that.
Despite being 36 years old, Giroud is still a key player for AC Milan, and showed that over the weekend with his maiden hat-trick for the Rossoneri.
Coming into the game with a six-game scoring drought, the Frenchman was a fox in the box against rock bottom Sampdoria. With three goals in the box with two more big chances, Giroud led his side to a 5-1 win with his treble.
He also became the first No. 9 to score a hat-trick for Milan since Filippo Inzaghi did it back in 2009.
After finishing his last four Premier League campaigns with less than ten goals, Giroud now has double digit goals in both of his Serie A seasons, along with five goals in the Rossoneri's UCL campaign.
Aging like fine wine!
Goal of the week: Luis Suárez vs Internacional
Scoring a trivela goal from outside the box would be the best career goal for most footballers. But only Luis Suárez could do that and follow it up with a better goal in a span of three days.
After his game-saving trivela against Cruzeiro in the Copa do Brasil on Wednesday, Suárez showed off his technical ability once again during Grêmio's 3-1 league win over Internacional.
Despite being turned around by the defender, the Uruguayan took just a second to analyse his position on the pitch, before making room for himself and curling the ball beautifully into the top corner.
Players often flock to random clubs towards the end of their career, most likely for the retirement paycheck. But it seems like Suárez has really sunk his teeth into this stint in Brazil. He may not have the legs to compete in Europe anymore, but his technique is still second to none.
Moment of the week: Manchester City winning their third consecutive Premier League title
Despite looking up at Arsenal for almost 250 days at the top of the Premier League table, there weren't many critics who felt Manchester City could not win the title.
As Arsenal collapsed once again against Nottingham Forest on Saturday, the Citizens lifted their third Premier League trophy in a row, and their fifth in seven seasons under Pep Guardiola. Man City marked the occasion with their twelfth league win in a row against Chelsea on Sunday. They started the game by receiving a guard of honour from their rivals and ended it with a trophy celebration with the home fans, who are getting used to the end of season party.
With talks about this being the greatest PL team ever, Guardiola's side have a chance to solidify those claims as they gear up for a Champions League final clash against Inter and an FA Cup final battle against archrivals Manchester United.
Legacy stuff from the Sky Blues.
Honourable Mention: Domenico Criscito's farewell heroics
Domenico Criscito couldn't have asked for a better script for his final game as a professional footballer.
The former Toronto FC star came off the bench in the 93rd minute for Genoa before scoring a 95th minute penalty to seal a 4-3 win over Bari.
The Italian had come out of retirement to help the team where he began his career, and now he leaves after playing an enormous part in their promotion back to Serie A.
Thank you, Mimmo!
---