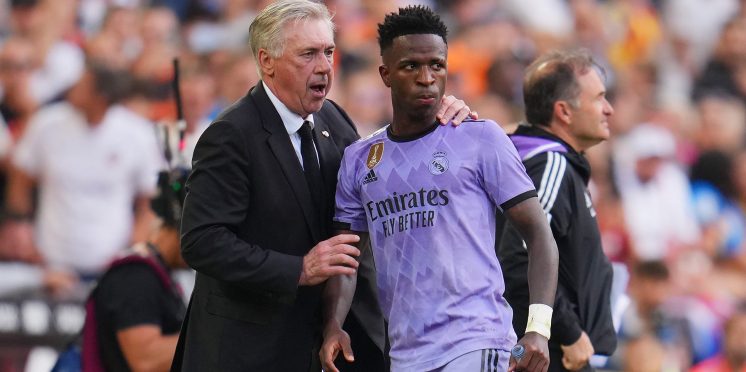 'Real Madrid players should've showed solidarity with Vinícius': ex-CanMNT head coach Stephen Hart
Racist incidents have become far too common in the European game over the last two decades, and Sunday's attack by Valencia fans on Real Madrid star Vinícius Jr. had the whole soccer world talking.
Real Madrid's 1-0 win at the Mestalla was stopped for almost 10 minutes during the second half after Vinícius identified a fan behind the Valencia goal that had been racially abusing him.
Referee Ricardo De Burgos Bengoetxea activated La Liga's anti-racism protocol, warning fans during the stoppage that any more racist comments from the crowd would see the match suspended. Vinícius did not wish to continue playing but after several serious-looking discussions with head coach Carlo Ancelotti, he decided to carry on.
After the match, the Brazilian international posted a long and candid message on Instagram that went viral on social media.
"It wasn't the first time, or the second, or the third. Racism is normal in La Liga," Vinícius' IG caption read. "The competition thinks it's normal, the [Spanish Football] Federation does too, and opponents encourage it.
"I'm so sorry. The championship that once belonged to Ronaldinho, Ronaldo, Cristiano and Messi, today belongs to racists. A beautiful nation, which welcomed me and which I love, but which has agreed to export the image of a racist country to the world.
"I'm sorry for the Spaniards who don't agree, but today, in Brazil, Spain is known as a country of racists. And unfortunately, with everything that happens each week, I can't defend it. I agree. But I am strong and I will go to the end against the racists. Even if it's far from here."
La Liga president Javier Tebas did not take kindly to the criticism, insisting that his organization have tried to meet with Vinícius on two occasions to discuss the racial abuse he has faced since moving to Spain in 2018, tweeting:
"Since those who should have, haven't explained to you what LaLiga is doing and can do in cases of racism, we have tried to explain it to you, but you have not shown up for either of the two agreed dates that you requested. Before criticizing and insulting LaLiga, it is necessary that you inform yourself properly."
Former Canadian men's national team and HFX Wanderers head coach Stephen Hart couldn't disagree with Tebas more, tweeting that Vinícius' teammates should've shown solidarity and that La Liga and UEFA have to do more to protect players and to stop this repeated racism.
The 22-year-old has had another brilliant campaign at Real Madrid after helping lead Los Blancos to the Champions League title last season. Some reports suggest that Vinícius has asked his representatives to look for clubs outside of La Liga that would be interested in a move for the supremely talented forward. Transfer guru Fabrizio Romano has refuted those claims.
A frustrated Ancelotti was angered post-match by one journalist's persistence to talk about the game and Real Madrid's victory, rather than what Ancelotti thought was the most important talking point.
"LaLiga has a problem [with racism]," Ancelotti told the Movistar reporter. "I don't want to talk about football. I want to talk about what happened here. It's more important than a defeat. What happened here today shouldn't happen. … There's something bad happening in this league.
"[Vinícius] didn't want to continue. I told him it isn't fair that you have to stop the game. You're not responsible, you aren't the guilty one, you're the victim. And he carried on playing."
Several other prominent figures offered their support to Vinícius Jr. Former England and Manchester United defender Rio Ferdinand said on Instagram, "Bro you need protecting….who is protecting @vinijr in Spain? How many times do we need to see this young man subjected to this s***??
"I see pain, I see disgust, I see him needing help…and the authorities don't do s*** to help him. People need to stand together and demand more from the authorities that run our game. No one deserves this, yet you are allowing it. There needs to be a unified approach to this otherwise it will be swept under the carpet AGAIN."
AC Milan forward Rafael Leão tweeted, "When will it end?" in response to Sunday's scenes in Valencia.
Real Madrid have three matches left to play in this La Liga season, and after losing the title race to Barcelona are battling Atlético Madrid for second place.
---