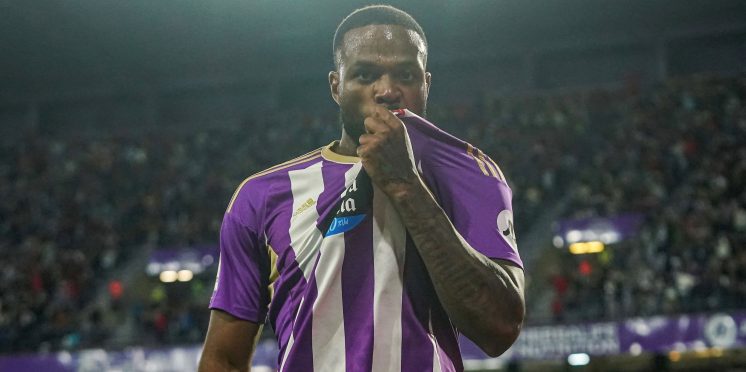 Cyle Larin becomes first male Canadian player to score against Barcelona, leads Valladolid to historic win
Published: May 23, 5:49 p.m. ET
Updated: May 25, 1:11 p.m. ET
Cyle Larin has proven himself to be a player for the big occasion.
Having already made decisive contributions in key times for the Canadian men's national team, the 28-year-old has quickly built a reputation at Real Valladolid for coming up with the goods.
With seven goals and two assists under his belt in just 16 previous La Liga appearances before Tuesday, Larin added another feather to his cap by both scoring and assisting against newly crowned La Liga champions Barcelona.
Larin led Valladolid to a stunning 3-1 win over one of the biggest clubs in world soccer, their first victory over Barca in nine years and a result that will not only make headlines but lift them three points clear of the relegation zone. For now, at least.
The man we like to call the 'Brampton Benzema' converted from the penalty spot after a dubious call to double Valladolid's first-half lead after an early Andreas Christensen own goal — an own goal which, incidentally, Christensen inadvertently scored while trying to mark Larin.
By scoring the penalty, Larin not only became only the 11th opposition player to score against Barca in La Liga this season, but he also became the first-ever male Canadian player to score against the famous Spanish club.
It should be noted he is not the first Canadian to score against Barcelona; in fact, SL Benfica Fem's seemingly Arsenal-bound scoring sensation Cloé Lacasse scored against Barca Femení in the UEFA Women's Champions League just earlier this season.
Former CanMNT captain Julian de Guzman, the only other male Canadian international ever to play in La Liga, scored against Real Madrid in October 2005. Now, Larin's strike means canucks have struck against both of the two most famous and storied Spanish sides.
Then, with less than 20 minutes remaining in the second half, Larin set up Gonzalo Plata with a perfect cross to the back post to put Valladolid 3-0 up, his 11th direct goal contribution in 17 games so far in Spain since his January move from Club Brugge. Only 2018 World Cup winner Antoine Griezmann and 2021 and 2022 Ballon d'Or Striker of the Year Robert Lewandowski have contributed more total goals and assists than Larin since his transfer.
Barcelona may be on the beach, league title secured and their season effectively over, but that doesn't diminish the fact that Larin ran the show against the champions. Leading the line both physically and mentally, he was a livewire all game, making excellent runs, getting in great positions, and wreaking havoc in the Barca defence.
No wonder legendary Brazilian striker and Valladolid president Ronaldo loves him.
Veteran world-class striker Robert Lewandowski pulled one back late on, but this game was all about a Canadian star at the top of his game right now.
For Larin, the game was the latest high-water mark of a remarkable career upswing in 2023. From being inexplicably frozen out on the sidelines in Brugge under multiple managers in the first half of 2022-23, he has now scored against not only La Liga champions Barca but also second-place Atlético Madrid, fourth-place Real Sociedad, sixth-place Real Betis, seventh-place Athletic Bilbao, and Valencia (twice).
Always reserved in interviews, Larin was not shy in making his disappointment known at being left on the bench against Real Madrid earlier this spring, in an eventual 6-0 defeat that ended up being his former manager Pacheta's final game in charge of Valladolid. Given that context, Tuesday was not only a statement of how far he has come but also a redemption of sorts. One goal, one assist, one indirect goal contribution, one man-of-the-match performance.
The CONCACAF Nations League finals are just three weeks away. It's a remarkable truth to say out loud, but in Larin and Jonathan David, Canada have two of the hottest strikers in Europe right now in their side. What a time to be alive, indeed.
---