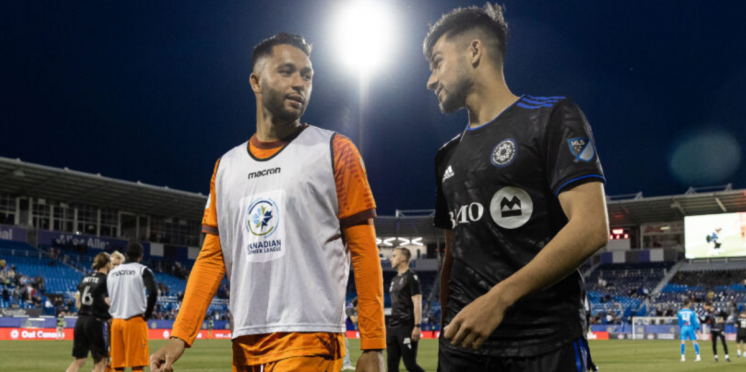 Canada's best go up against CPL's best as CF Montréal meet Forge FC in Canadian Championship semi-final
Hello, old friend.
CF Montréal and Forge FC crossing paths in the Canadian Championship has become one of the sport's few guarantees.
The two sides meet in the Canadian Championship for the third year in a row Wednesday night when they square off in the semi-finals at Stade Saputo.
There's no denying that the Hamilton dynasty are a force to be reckoned with in the Canadian Premier League and in CONCACAF, where they reached the CONCACAF League semis and the Champions League quarter-finals in their first four years of existence.
However, there's one team that's always stood in their way in the Canadian Championship.
The semi-final clash between Forge and CFM in 2021 is regarded as one of the most dramatic in the tournament's history. A hard-fought scoreless draw at Tim Horton's Field was decided in an 11-round penalty kick shootout that ended with Forge keeper Triston Henry failing to score from the penalty spot.
Then, last year, CFM ran Forge off the pitch at Stade Saputo thanks to a hat-trick from forward Sunusi Ibrahim. Forge head coach Bobby Smyrniotis called those first 45 minutes "the worst half of football" his side had ever played.
Third time's a charm for Forge FC? They certainly hope so.
"Things are quite different in our team, not so much personnel but in how much further forward we are [than last year]," Smyrniotis said on Tuesday. "Things are a lot different in what Montréal looks like compared to 2022 with a different playing style. I think you put all that behind you; you usually look at the past as your guiding light in important matches of what your performance can be, and for the most part our performances have been very good. That's the same thing we need [Wednesday]."
Forge defeated PLSQ side FC Laval and fellow 2022 CPL finalists Atlético Ottawa on penalties to reach this stage. CFM dumped League1 Ontario's Vaughan Azzurri and then 401 Derby rivals Toronto FC, in a match that will likely be remembered as the beginning of the end of TFC's season.
After rifling off six straight wins in all competitions, CF Montréal have lost two in a row in MLS play and Wednesday night's semi is a great chance to find their footing again.
"Each match is a new opportunity," CF Montréal manager Hernán Losada told the media on Tuesday. "To us, this game is more important than MLS because it's an opportunity to win a trophy… Forge said it's their most important game of the year. It's just as true for us."
It's a game that's just a little more important to anyone in the Choinière household as well. Mathieu Choinière, one of the standout Canadian players in MLS this season, will face his brother David in the second instalment of the "Choinière Bowl."
"I think it's special to face your brother. I never had that experience, it might be something beautiful and it's not the first time," Losada said. "I remember seeing his proud mother in the stands. It's a beautiful moment for the family and it will be the same thing tomorrow."
The timing of this clash, especially being in their hometown certainly makes it even more special. Mathieu was recently named to John Herdman's 53-man preliminary roster ahead of next month's CONCACAF Nations League finals tournament in Las Vegas. David is without a doubt one of the most lethal wingers in the CPL and a key piece in Smyrniotis' machine.
"It's always fun [to face my brother]," Mathieu told La Presse's Justin Vezina. "Especially for our family, everyone is going to be there. It's a special event, we talked about it when we were little and that we can repeat it three years in a row, it's fun.
"The more I watch the games, the more [David] surprises me. He plays really well, he plays regularly too… His progress with Forge has been very good… They're a big-name team in the CPL. I watch almost all of their games because of my brother. It's a good team. We expect good opposition."
Forge are a side that have plenty of experience in big matches. Full-back Ashtone Morgan has won the competition five times and was part of three straight Canadian Championship triumphs between 2016-2018.
In Wednesday's other semi-final, the Vancouver Whitecaps look to banish the demons of their 2021 Canadian Championship loss to CPL side Pacific FC when the Caps take the ferry across to Langford to visit the Tridents.
Both matches can be seen live on OneSoccer and FuboTV.
---