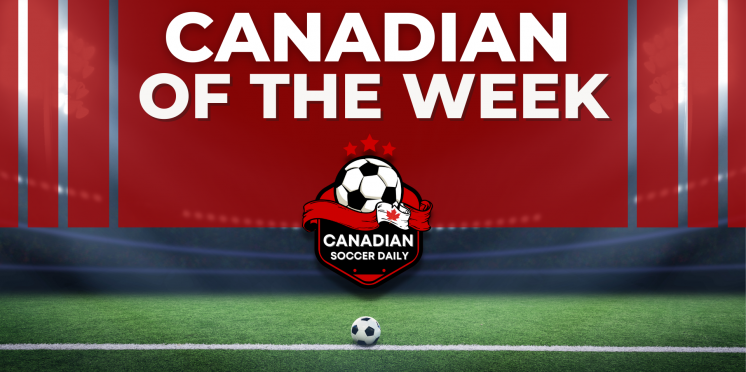 Canadian of the Week: Viens shows value, Larisey unleashed, David delights
Welcome to the 20th edition of Canadian of the Week. I know. It's hard to believe we've already come this far.
Since the start of 2023 we've already spotlighted 11 different 'Canadians of the Week' and this week that becomes a perfect dozen. Let's meet our newest recipient!
Evelyne Viens
Welcome to the club, Evelyne Viens!
A well-deserving candidate, Viens showed off her goalscoring prowess during the past seven days, netting three times in two matches for her Swedish club Kristianstads DFF.
Away to Vittsjö to begin the week on Monday, May 15, Viens opened the scoring early with a sensational strike. After snagging the ball after a poor opposition throw-in, Viens took it upon herself to get forward and unleash from way out. Her looping shot flew over the goalkeeper to give the visitors an early lead in the 1-1 draw.
Four days later, Kristianstads returned to winning ways, thumping Djurgården 4-1. Viens scored once on either side of half-time to leave an undeniable mark on the contest.
Her first of the day was a striker's goal from close range, guiding the ball into the net with a first-time finish just before the break.
Viens added another tally in the 86th minute, this time putting her technique and ball-striking ability on full display. Her late curler put the result out of question for the home side as they picked up all three points.
Kristianstads currently occupy fourth in the Damallvenskan through nine matches played. For her part, Viens has scored nine in the league as she pushes for a decent role up top at this summer's Women's World Cup in Australia and New Zealand. The 26-year-old has four goals and an assist in 18 caps for Canada, dating back to her CanWNT debut in February 2021.
Honourable mentions
Another forward option who should be giving Canadian women's national team head coach Bev Priestman much to think about is BK Häcken's Clarissa Larisey.
Also plying her trade in Sweden, Larisey scored one and assisted another as her side came out 3-0 winners over Linköping on Friday, May 19. Deadly down the left, Larisey used her speed to get to the goal line and find an open teammate to extend her side's lead.
Shortly after, Larisey got her own goal, with the former Celtic player turning on the jets again to latch onto a through ball. The finish was sublime as she calmly tucked the ball around the flailing keeper.
Meanwhile, Jonathan David has maintained a scorching goalscoring record in Ligue 1 this season, with the forward now the third-leading scorer in the division.
David nabbed his 22nd of the season with a well-taken penalty in Lille's 2-1 win against Olympique Marseille on Saturday, May 20.
A special shoutout must be given to Charlotte FC's Brandon Cambridge who came off the bench to score his first two MLS goals against the Chicago Fire on Wednesday, May 17, earning an important 2-1 victory at home.
The 21-year-old, who was born in Brooklyn, NY, but lived in Chilliwack, BC, and was on the books of Vancouver Whitecaps until last December, is a name to watch for the rest of the season after his breakthrough performance.
---