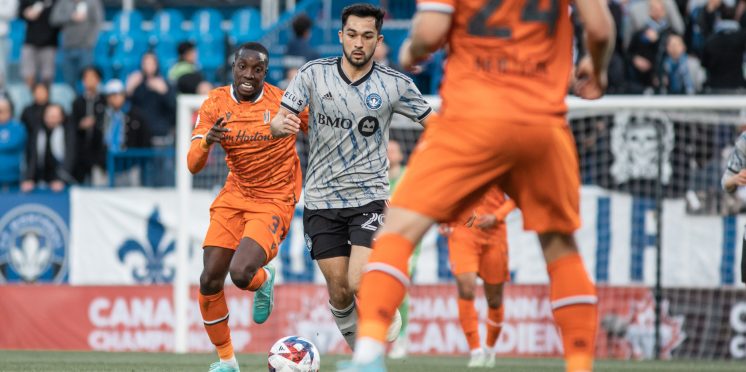 CF Montréal bounce Forge FC from Canadian Championship for third year in a row
The third time was not the charm for Canadian Premier League dynasty Forge FC Wednesday night at Stade Saputo. For the third year in a row, the powerhouse from Hamilton saw their Canadian Championship dreams come to an end at the hands of CF Montréal.
Once again the MLS side were just too much for the CPLers, and despite a horrendous start to their MLS campaign and a run of two straight losses in league play, CFM supporters can cheer on their club in the Canadian Championship final for the third time in the last five years thanks to Wednesday's 2-0 win over Bobby Smyrniotis' men.
"I think the first 45 minutes were very good and the game was under control," said Forge head coach Bobby Smyrniotis. "We had the more clearcut opportunities in that half and in our low block we were very good at pushing them to the outside and making sure we limit the space inside."
It was a game of two halves, though, and CF Montréal's quality shone through in the second half when a fortunate deflection saw the ball find its way past Triston Henry.
it was Lassiter's first goal since arriving in Montréal in the trade that shipped Canadian international centre-back Kamal Miller to Inter Miami last month.
Fielding a strong side was the only option in Losada's mind knowing how determined Forge were to pull off a semi-final cupset.
"The cup is very important and we wanted to put in a very competitive eleven and we are proud to play in the final," Losada said.
Many wondered if Losada would hand the goalkeeper gloves back to No. 1 goalkeeper James Pantemis who has fully recovered from injury, but according to the CFM gaffer, isn't ready to come back in to the team.
"We will keep our confidence in [Jonathan] Sirois who did very well and James Pantemis needs more time," Losada told reporters.
Sunusi Ibrahim is a player that hasn't been trusted much this season. But, after scoring a hat-trick against Forge FC in this tournament last year, the 20-year-old picked up right where he left off, rewarding Losada's faith for giving him 84 minutes of action on Wednesday night.
Ibrahim's goal sealed the deal for the hosts who were impenetrable in the second half.
"The objective is to win trophies and we will have this chance soon," Mathieu said after his side punched their ticket back to a Canadian Championship final.
It was the third instalment of the "Choiniére Bowl" pitting the two Montréal-born brothers against each other, dividing a household and family allegiances just for one night. Perhaps there will be more in the future?
"There are several interesting players in the Canadian Premier League and David Choinière was very interesting, fast and tough like his brother," Losada said after the match.
Established as one of the most lethal wingers in the CPL, don't be surprised if MLS clubs come calling in the near future. Mathieu has been called up to the Canadian men's national team's 53-man roster ahead of next month's CONCACAF Nations League and he too may be playing his football in a new destination next season.
Up next for CF Montréal in the Canadian Championship is the Vancouver Whitecaps in the cup final which will be played on June 7.
---