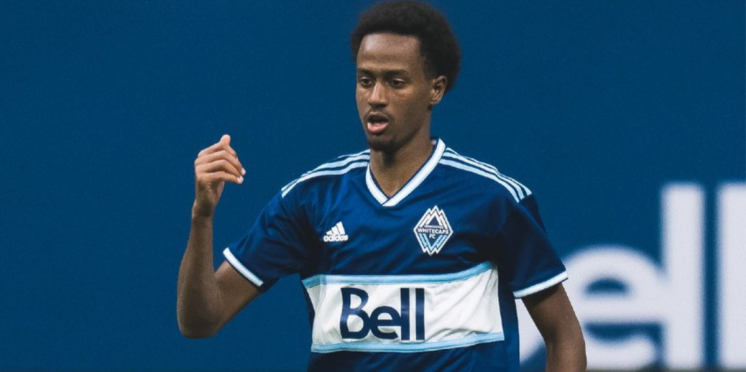 Ali Ahmed posts thank you message, insists he'll be back on the pitch with Vancouver Whitecaps soon
Published: May 25, 8:03 p.m. ET
Updated: May 26, 4:25 p.m. ET
Wednesday night's Canadian Championship clash on Vancouver Island between Pacific FC and the Vancouver Whitecaps was about so much more than football. Until the Whitecaps were certain that Ali Ahmed was going to be okay, the football really didn't matter at all.
Just a minute after scoring to double the Whitecaps' lead over their provincial rivals, Ahmed left the pitch on a stretcher and was rushed in an ambulance to Victoria General Hospital after a hard challenge from Pacific midfielder Cédric Toussaint.
It was a terrifying sight as the 22-year-old lay motionless on the turf at Starlight Stadium. Paramedics attended to Ahmed, pausing the match for 17 minutes, and then his teammates were tasked to see out the half with their two-goal advantage intact but their minds elsewhere.
Fortunately, shortly after the match concluded, news came through that Ahmed was conscious in hospital and after further evaluation, which diagnosed a concussion, was cleared to travel home to the Lower Mainland with his teammates.
Thursday evening, Ahmed posted his appreciation on Instagram for the love and support he received in the near-24 hours since his frightening injury.
His head coach Vanni Sartini provided a further updated on Friday.
"He's fine. Of course, he's concussed [but] nothing broken," Ahmed's manager, who was visibly shaken by the incident during the game, said at Whitecaps training, per Har Johal. "With concussion protocols and everything we need to wait first that he doesn't have any symptoms and then he needs to go on the tests and the protocols."
Fingers crossed we'll be seeing Ahmed, who has been a revelation for the Caps this season, back in action soon.
The Vancouver Whitecaps have taken 17 points from 13 games so far this season.
On Saturday night, the Caps travel to St. Louis to face Canadian men's national team defender Kyle Hiebert's red-hot expansion side St. Louis CITY.
---