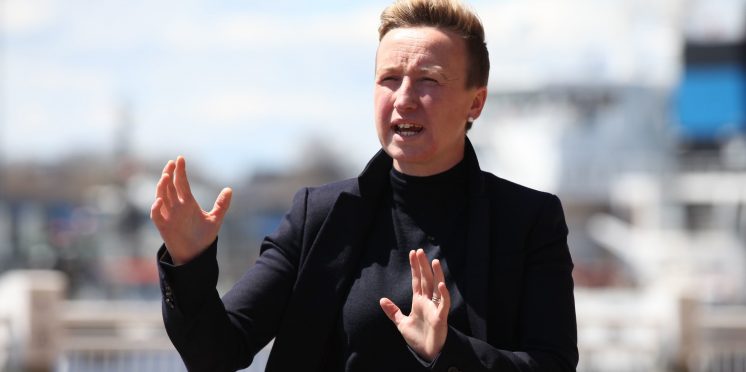 Christine Sinclair is 'Canada's Michael Jordan' in CanWNT head coach Bev Priestman's eyes
You're not wrong there, Bev. You're not wrong there.
In an exclusive interview with FIFA.com, Canadian women's national team head coach Bev Priestman dropped a bunch of gems ahead of this summer's World Cup in Australia and New Zealand. The gold medal-winning coach spent a great deal of the chat waxing lyrical about Christine Sinclair — who wouldn't, in the circumstances? — and labelled the Canadian jewel as "Canada's Michael Jordan."
"For me, Sinc epitomizes what it is to be Canadian: humble, hardworking, respectful," Priestman said. "But she's also an absolute winner, and I think sometimes when you've got a quiet, shy character, you can sometimes mistake that.
"She's like the Michael Jordan of Canada and she has a massive impact on this team. It's not just on the pitch, either. She brings a level of calmness and simplicity, and she can say and do things that other players can't."
Sinclair has been a major voice in the women's team's fight with Canada Soccer for pay equity and improved conditions and preparations for the entire women's program, leading the campaign vociferously and eloquently.
On the field, we don't need to recap her remarkable record-setting career here. But it's safe to say that, aside from a World Cup triumph, she's pretty much achieved all there is to achieve after the Olympic success in Tokyo in 2021, when Canada upgraded their back-to-back bronze medals in 2012 and 2016 to gold.
Priestman admits that due to Sinclair's longevity and successes, she wasn't sure her captain, who turns 40 on June 12, would elect to play on after that success.
"I honestly didn't know," Priestman admits. "Christine had spent all her career trying to beat the US, and she'd done that [in the Tokyo 2020 semi-finals] and won a gold medal. But we sat down after the Olympics and I said, 'We still need you to start and play for this team'. She said at that time, 'I don't want to be that player that hangs around too long'.
"But for me, we need her… To be able to still deliver at her age, you've got to do everything right on and off the pitch, and she does. And I think when you've got new players or young players coming through and you have Christine Sinclair leading the team and doing everything right, and doing it humbly with the right values, it's an incredible thing to have…
"I know if we'd lost Christine and she decided to hang up her boots, it would have been a massive, massive loss. And I needed her to know that. We had a couple of camps where she hasn't been part of the squad, and you feel it. You feel it right the way through from team meetings to out on the pitch and in training. For me, she's an absolute pleasure to coach and to work with. I also think [in Sinclair] I also have a player who's extremely hungry going into this World Cup. And I'm really excited to see what version of Christine we get."
Now with the tag of Olympic champions at this year's Women's World Cup, the squad is driven to give Sinclair the only thing she hasn't won in her illustrious career.
Much of how they perform this summer will depend on how they can adapt to being dubbed one of the favourites after their Olympic success. Priestman notes that this is a new situation for her group, who are used to being overlooked and underrated.
"They've always thrived on being an underdog – the team that no-one expects anything of, with no Ballon d'Ors," said the Englishwoman. "You've got players like Ashley Lawrence, who is arguably one of the most underrated players in the world, and that's probably because she plays for Canada. I hate to say that but it's been a reality.
"So, now it's a shift in mindset. We're not used to being hunted; we're normally hunting everybody else. I don't mind [being seen as title contenders] but I also don't mind being written off because I think that's what can get the best out of the likes of Christine Sinclair and players who've seen that happening to them their whole careers."
One player who won't be there, of course, is Janine Beckie, whose season-ending ACL injury in March "devastated" her teammates.
Priestman was bluntly honest about the loss to her team. "She's irreplaceable. I don't actually think people realize how big a loss she'll be. Janine can run all day for one, and in tournament football to have someone that fit is huge. Then you add the tactical flexibility – she can probably play in three or four positions – and her quality."
Another key factor in Canada's performance will be overcoming the obstacles in their preparation.
As well as the often all-consuming nature of the off-field fight for equality in recent months, Canadian-based Irish writer Joe Callaghan pointed out on Twitter that Ireland — who Canada will face on July 26 in their second game of the group stage — have three World Cup tune-up matches confirmed.
CanWNT currently have zero scheduled, although there have been whispers of behind-closed-door matches down under before the competition kicks off.
All in all, it's hardly been ideal preparation. The Olympic champions have had more than their fair share of adversity to overcome in order to succeed in Australia and New Zealand this summer.
But just what is success at this World Cup, by Priestman's definition?
"I think we've been dealt some challenges. But on our day we can beat any team in the world. If we can get on the podium at this World Cup, I think we've done a really good job under the circumstances. And we're here to climb that mountain."
Led by the likes of Priestman and Sinclair, even Everest would feel conquerable in CanWNT camp.
---