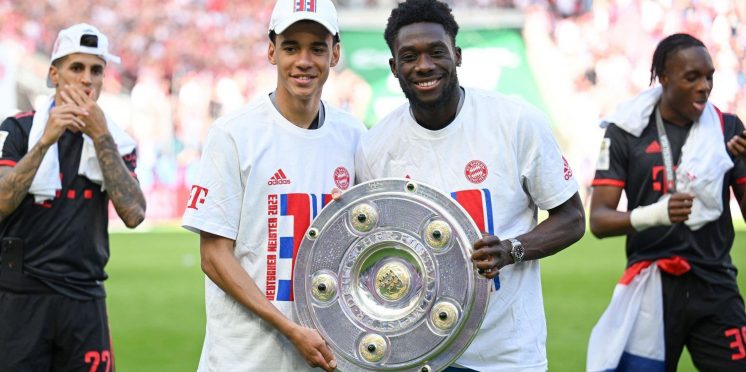 Alphonso Davies' Bayern Munich win Bundesliga title at the death after Borussia Dortmund choke
Football, eh? There's simply no drama quite like it.
In a quite frankly astonishing final day of German Bundesliga action, table-toppers Borussia Dortmund, who went into the day two points clear and primed to break Bayern Munich's decade-long monopoly on title wins, choked on their food on the last mouthful.
Jamal Musiala's last-gasp winner for Bayern, combined with Dortmund's failure to overcome Mainz at home, meant the Bavarian giants won their ELEVENTH straight Bundesliga title and made it five championships in five years in Germany for Canada star Alphonso Davies.
Davies may not have been fit enough to take part as he continues to recover from a torn hamstring, but he sure was fit enough to celebrate.
Over in Dortmund, a pre-emptive celebration of yellow-and-black euphoria imploded into despair, disbelief, and the knowledge that Dortmund have let slip what is likely to be their best chance in the foreseeable future of etching their name on the trophy for the first time since Jürgen Klopp led them to glory in 2011-12.
With the final-day games kicking off simultaneously, the situation was relatively simple: if Dortmund won at home to Mainz, they won the league. If Bayern won at Köln just an hour down the road, Dortmund's inferior goal difference meant they would have to win; a draw would not be enough.
Dortmund and their fans surely had to assume Bayern would get the job done; there would have been no question about going all out for the win.
But Bayern have won the German title so many times in a row that no other team, not even Dortmund, is familiar with the feeling of destiny being in their own hands. In a way, it was a more dramatic example of what happened in the Premier League this season with Arsenal, who were totally unused to being in the driving seat so late in a season. Sometimes, unfortunately, it shows.
With a Bundesliga title just 90 minutes of football away, Dortmund coach Edin Terzić called for calm on Thursday, saying the key for his team was "to do nothing special."
Unfortunately, it turned out to be a very special day indeed.
Here's a timeline of how the remarkable final-day climax played out:
8 minutes: Bayern go 1-0 up at Köln through Kingsley Coman to pile the pressure on Dortmund, who now know —if they didn't already — that they simply must win.
15 minutes: Dortmund concede, Andreas Hanche-Olsen heading Mainz in front from a corner to stun the home fans. The pre-emptive pre-match celebrations are silenced, replaced by shellshock and wide eyes.
19 minutes: Dortmund striker Sébastien Haller, supposed to be one of the day's feel-good stories after his testicular cancer trauma, misses a penalty. Whispers of "choking" on social media grow, the fear inside Signal Iduna Park intensifies.
24 minutes: Karim Onisiwo doubles Mainz's lead to send shockwaves around the stadium. For Dortmund, things have entered "worst nightmare" territory already, bringing their sweat-soaked Friday night terror dreams to life.
45 minutes: Bayern think they have gone 2-0 up at Köln as Leroy Sane, who had assisted the first, doubles their lead. But the goal is disallowed for a foul. The only thing that has not gone perfectly for them in these first halves.
69 minutes: Gio Reyna, off the bench, sets up Raphaël Guerreiro to pull one back for Dortmund. The stench of desperate hope lingers in the Westphalian air.
80 minutes: The drama, and everyone's heart palpitations, kick up a notch. Köln are awarded a penalty and Dejan Ljubicic converts to equalize against Bayern, sending Dortmund top of the table for the first time since the seventh minute of the day's games. The PA announcer at Dortmund reveals the news, and the place explodes in yellow-and-black euphoria.
89 minutes: The dagger in the hearts of Dortmund, and the climactic moment for Davies and Bayern. Jamal Musiala strikes with seconds of the 90 minutes left to put Bayern 2-1 up and vault them into first place again. In Dortmund, things turn funereal, the memories of moments ago now seeming a cruel practical joke.
90+6 minutes: The final whistle blows in Köln. Bayern have won 2-1 and are seconds away. But, wait! At almost the exact same moment 90 kilometres away, Borussia Dortmund equalize through former Bayern man Niklas Süle. Surely not? Surely not.
90+8 minutes: Nope, not. The second final whistle blows. Dortmund 2-2 Mainz. It's over. Bayern are champions on goal difference only.
Fußball, bloody hell.
What does all this mean? Well, Dortmund hearts are broken, of course.
But it means that Davies has now won five Bundesliga titles, a remarkable feat for a Canadian kid who is still only 22 years old. Astonishingly, it's the THIRTEENTH trophy he has won with the Bavarian club in just five years.
Like all of us who were watching or following along, he probably needs a lie down now.
Davies, who had three goals and eight assists over 38 games across all competitions this season for Bayern and was named at left-back in the Bundesliga Team of the Season for the third year in a row, will do his fair share of celebrating in the coming days, and so he should. Then, it will be more rest and recuperation and back down to business. In just 19 days' time, the CONCACAF Nations League finals get underway.
The grind never stops. At Bayern, neither does the trophy count.
---