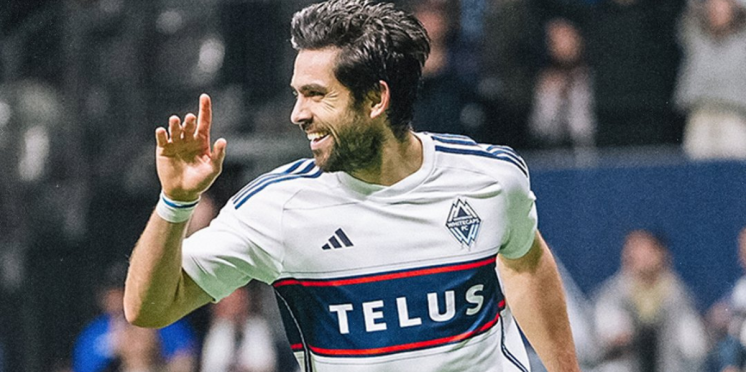 The Jersey Boys renew acquaintances in the Show Me State as Vancouver Whitecaps face St. Louis CITY
The Whitecaps are back on the road as they travel to the Gateway to the West for a date with MLS expansion side St. Louis CITY SC on Saturday night. There will be a sense of familiarity with several tri-state players set to feature at CITYPARK.
After spending six years playing for the Whitecaps, Jake Nerwinski is set to take on the team that drafted him for the first time as a member of St. Louis CITY SC.
Long Island native and CITY centre-back Tim Parker also started his MLS career in Vancouver and he will be looking to get the better of his former team.
New Jersey natives Brian White and Jared Stroud grew up playing against each other in the Garden State and will look to renew acquaintances along with Parker and Nerwinski.
How is the Whitecaps' co-leading goal-scorer preparing for a Jersey Boys reunion?
"It's exciting," White told Canadian Soccer Daily following training on Friday in Vancouver. "I get to see my friend Jared who I grew up playing soccer with in New Jersey, so that's going to be very exciting."
What about playing against a certain Lawrenceville, New Jersey native?
"It's exciting to see Jake," White said. "They've had a really good season so far, he's loving it there. I'm excited to have the chance to play against him."
The banter between White and Nerwinski has been flying this week with both players looking to come out on top with three points. Push could indeed come to shove if White and Nerwinski are in a battle for position in front of CITY keeper Roman Burki.
How is Nerwinski preparing for a showdown with White?
'I'll probably talk a little smack to him," Nerwinski told reporters earlier this week. "That's one of my good friends that I've been close with for a while. We've been texting this week leading up to the game. He's a good player, he's got a good work rate, good in behind. He's good off a long ball, but I think we just need to be aggressive with him. We need to make sure that we don't give him space. Yeah, maybe I'll hit him or something. Just a little check, you know."
In his first season with CITY, Nerwinski has become a vital part of coach Bradley Carnell's backline. Nerwinski has started 13 matches totalling 1,036 minutes of action.
How has Nerwinski helped St. Louis CITY SC this season?
"Jake is a great teammate first and foremost," Coach Carnell told reporters earlier this week. "He's been around the league, he has good experiences around the league and he's got a good engine on the field. He's got the ability to be a good one v one defender when we're defending and releasing into the channels and being on the front foot. He's an active player. With the ball in transition, he gets into good spots. He can play a very good forward pass to get his teammates in behind. He plays a really good quality cross."
"He's a dependable, efficient, smart soccer player," Carnell added. "I would put him at the top of his character because he's a really good teammate and a good human being. We spoke about what type of calibre person we're getting and he fits that mould and fits that model and then it's his experiences within the league. He knows what it takes to get a good start in MLS. We're happy to be calling Jake our own now."
The 28-year-old Nerwinski made 141 MLS appearances for Vancouver from 2017-2022. He contributed four goals and six assists during that time. The former vice-captain and Whitecaps MLSPA union representative was a mainstay on the Caps back line.
His final season with Vancouver featured 24 appearances and 1,810 minutes of play.
After the Whitecaps decided against picking up Nerwinski's option for the 2023 MLS season, he signed a two-year contract with St. Louis CITY SC with a club option for 2025.
Nerwinski is thriving with St. Louis CITY SC and most importantly he is playing in his natural right-back position. A spot that he didn't always find himself playing in during his final season in Vancouver under head coach Vanni Sartini.
"Am I glad that I'm not playing left centre back… maybe just a little bit," Nerwinski said. "I feel more comfortable playing on the right, but I'm not trying to look at it that way. I'm not trying to hype this game up too much where I get my emotions all messed up in my head. I'm kind of like a level-headed kind of guy. Would it be great to beat them, of course. Would it be great to get another three points and maybe be atop of the league, yeah."
If the Whitecaps are going to prevent CITY from experiencing FUN at home, the former Whitecaps full-back could be a potential target for the Caps' counter-attack.
As much as Nerwinski knows the ins and outs of the Whitecaps, they're also familiar with his strengths and weaknesses as a footballer and they could look to exploit those.
"We know the strengths of Jake," Sartini said. "Jake is very fast, he can attack the space. Jake is very good one v one defensively. He can get in trouble when he gets pressed, especially if he plays on the right because he needs to bring the ball on his left foot, so that's what we need to try and do."
CITY are 7-4-1 (22 points) this season with a 4-2-0 record at CITY Park. The Whitecaps are 4-4-5 (17 points) on the campaign with an 0-3-3 MLS road record this season.
The 27-year-old White has heard all the questions and criticism concerning the Whitecaps' inability to win an MLS road match and he's looking to put that talk to an end on Saturday.
"Everyone is aware that we need to win away from home," White said. "It's how you move up the ladder in this league and it's important for us to do everything we can to get three points."
Vancouver has not won an MLS road match since June 18, 2022 when they earned a 2-0 victory over FC Dallas. In that span, the Caps are 0-7-7 in MLS away from home.
Sartini and the Caps will be looking to break free of their road woes in a place where they have never suffered an MLS defeat.
"We're undefeated in our history in St. Louis," Sartini told Canadian Soccer Daily following training in Vancouver on Friday. "Let's keep it like this. We need to be very intense, we need to be really well and also we have to think about our game number seven in three weeks. We're doing a lot of rotation. The team is in a good moment."
In terms of rotation, Whitecaps co-leading MLS goal-scorer Simon Becher will return to the starting lineup as he gets the start for Vancouver in his home state.
The Saint Louis University product will have 30 family and friends in attendance. Becher's parents have flown up from Orlando, Florida. This will mark the first time that Becher's four siblings have been able to see him play in MLS in person. Becher's grandparents, aunts, and uncles, will also be there supporting him.
"I'm going back to where I went to college and a lot of my family are from," Becher explained to Canadian Soccer Daily following training in Vancouver on Friday. "It's obviously very exciting. To play an expansion team that has performed well and is one of the best teams in the league, it's another chance for us to prove ourselves. I'm looking forward to that and hopefully going on the road to pick up three points."
The 23-year-old Caps striker will be making his fourth MLS start of the season and looking to add to the four MLS goals he has scored in 2023. The Brooklyn, Connecticut native is looking forward to going up against a former UCONN alum in Nerwinski.
"Jake's obviously a very good player and a very good guy," Becher said. "He was here a long time. Again, it's just going out and playing how we want to play and imposing our will and being clinical in the box. Jake's obviously a very good player so it'll be good to see him as well."
Football has the ability to bring people together on and off the pitch, but for 90 minutes on Saturday night at CITYPARK, the friendships between White, Nerwinski, Parker, Stroud and Becher will have to take a pause as they look to lead their teams to a win.
To the victor goes three points and perhaps some postgame toasted ravioli.
"It's interesting," White said. "I actually haven't tried it. I've never been to St. Louis, maybe Jake can bring me some (toasted ravioli) for after the game."
---