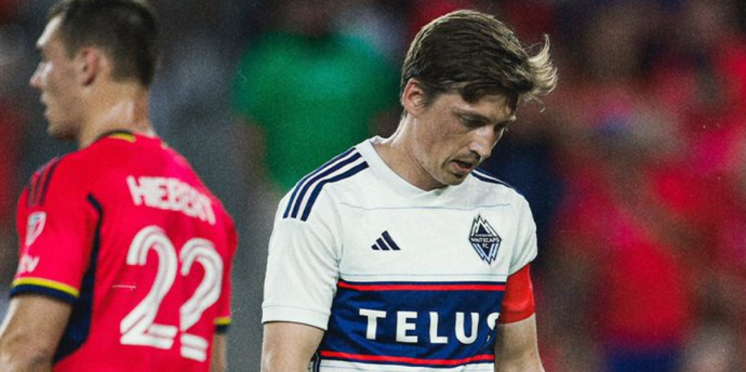 Vancouver Whitecaps lose in St. Louis, VWFC head coach Vanni Sartini loses it on MLS officials
While the Vancouver Whitecaps have turned BC Place into a fortress, their play away from home has left a lot to be desired.
The Whitecaps made their first trip to visit expansion side St. Louis CITY, which was a return to old stomping grounds for several Caps as Har Johal pointed out in her Friday preview, and Saturday's 3-1 loss was an expensive one for head coach Vanni Sartini, or at least it will be.
"I think it's a game that should be cancelled because the referee was shameful," Sartini said.
How many match recaps have you ever read with an opening quote like that?
Sartini was incensed by referee Sergii Boiko for what he felt was one egregious error — on top of many lower stakes mistakes — that lead to St. Louis' third goal and completely killed Vancouver's comeback.
"They (MLS) need to apologize for the shameful performance by the referee. It's something that the league can do, and should do, because it's for the good of the league because we export this product [overseas.] When there's something that's completely shameful, unfortunately, shameful because it looked like the referee was playing for them."
"We didn't have any foul, every foul for them was there. It was always two different measurements, it was never the same. Jake [Nerwinski] should have been sent off. The management of the game was one way," Sartini said.
Nerwinski, the former Whitecap, was more than fortunate not to have received a second yellow card after a nasty challenge on the touchline in the second half that surely would have changed the trajectory of the game.
Sartini started the night in St. Louis with a major change handing young Canadian Thomas Hasal the gloves for the first time in 2023. And it's hard not to feel like the 23-year-old was just thrown to the wolves. Perhaps a start against York United in the Canadian Championship would've been a better way to show Hasal he was still valued? Or, perhaps he isn't.
St. Louis midfielder Eduard Löwen caught Hasal off his line with a phenomenal free-kick to pick out the top corner in the 10th minute.
Hasal looked scrambled and nervous and, understandably given the lack of opportunities this season, like a goalkeeper lacking all confidence. The Canadian made several shaky moves and St. Louis quickly adjusted to put the ball on net from any position on the pitch because Hasal simply looked vulnerable between the sticks.
Vancouver nearly got to halftime down just 1-0 with a chance to catch their breath, but a rare mistake from Tristan Blackmon led to an own goal that neither he nor Hasal will ever want to see on video.
It was a frustrating night for the Whitecaps who had 64 percent possession and attempted 12 shots at St. Louis' Roman Bürki. The Swiss keeper was only forced to make two saves, and there are a couple of chances the Caps would've liked to have retaken.
Simon Becher made a real habit of getting in behind the two St. Louis centre-backs, Tim Parker and Lucas Bartlett, but Becher wasn't able to capitalize and send the 30 family members he had in attendance Saturday night into a frenzy. The Becher fan club only got to see the 23-year-old for less than an hour as Sartini turned to Brian White and Deiber Caicedo in the 57th minute with his side down 2-0.
It's still very early in the season, but the Sergio Cordóva experiment is really starting to feel like a flop. Yes the Venezuelan battled a hamstring injury that saw him miss nine games across all competitions, but as a Designated Player that's taking home $1.5 million this year and was brought in to replace the goals of departed Canadian international Lucas Cavallini, how is Cordóva not Sartini's first call off the bench?
Cordóva did come in replacing defender Javain Brown in the 65th minute. The Venezuelan had a prime chance to score his first goal in a Whitecaps shirt, but went for a power-minimized, acrobatic effort on net, rather than play it across the box for an awaiting teammate.
Ranko Veselinović had the Whitecaps' best chance of breaking Bürki's clean sheet when the Serbian centre-back got a head on Gressel's corner kick and narrowly put his effort wide, much to the disappointment of White who, just like you and I would have in that same situation at the far post, was ball watching.
But then the Caps did find a much-needed goal in the 83rd minute to cut St. Louis' lead in half and turn this match on its head.
Vancouver were threatening and looked likely to find an equalizer before a missed foul call that infuriated Whitecaps players and saw the referee, Boiko, dish out yellow cards to Gressel and Gauld for dissent, led to a St. Louis advantage that 18-year-old Miguel Perez — who literally graduated high school on Thursday — would not waste.
St. Louis have scored 29 goals already this season, more than any MLS club, and have been a force in their inaugural season. Legendary American soccer play-by-play man Max Bretos described the brand new CITYPARK as a ground that feels like it's been around for 20 years. St. Louis sure has fallen in love with their brand new club.
Whitecaps fans fell in love with Vanni Sartini a long time ago. It probably won't take long for the league office to dish out some expensive fines after his post-match comments Saturday night and one has to assume there's a very good chance he's not in the dugout on Wednesday night when the Whitecaps welcome the Houston Dynamo to BC Place.
---