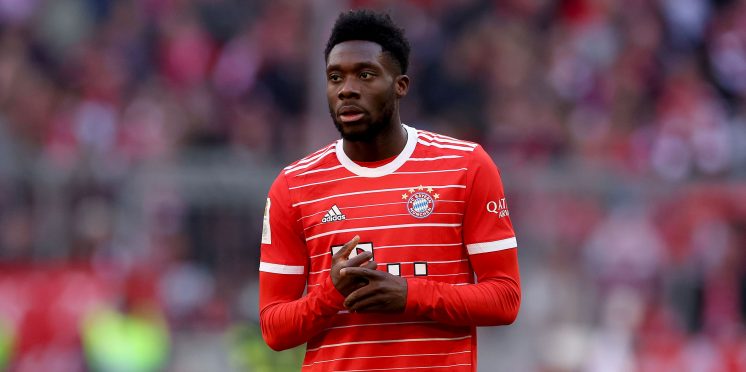 Alphonso Davies' agent Nick Huoseh casts doubt on new contract amid 'chaotic' time at Bayern
Published: May 29, 11:10 a.m. ET
Updated: May 31, 8:42 a.m. ET
It's been a wild weekend at Bayern Munich, so aptly dubbed "FC Hollywood" since the 1990s for the internal drama that often seems to follow the club.
Within minutes of winning an 11th straight Bundesliga title in the most dramatic of circumstances on Saturday, CEO Oliver Kahn and sporting director Hasan Salihamidžić left the club. Kahn, who had been CEO since the summer of 2020, will be replaced by current vice-chairman of the board, Jan-Christian Dreesen. A successor for Salihamidžić, who had been in the sporting director role since 2017, is still to be decided.
What does this all mean for Canadian star Alphonso Davies' future at the club?
Well, Salihamidžić was instrumental in signing Davies from the Vancouver Whitecaps back in 2018, and is thought to have retained a close relationship with the Bayern left-back.
Before this weekend, Bayern were well-known to be keen on handing Davies a new contract, negotiations which would have been fully supported by Salihamidžić. Now that he's gone, does that cast doubt on a potential extension?
Judging by comments from Davies' agent Nick Huoseh, it may have done.
"It's a chaotic time at Bayern München," Huoseh said, per German outlet BILD. "I'm not sure what's going on and who we'll be talking to. There seems to be too much instability and uncertainty about the direction of the club.
"Maybe it's better if we wait until 2024 and see how things develop with the club before we move on to a new contract."
Davies' current deal at Bayern expires in the summer of 2025.
BILD alleges that a new contract was ready and had already been verbally agreed between Davies' representatives and the old Bayern hierarchy, with only last details to be finalized. Just how much the departures of Salihamidžić and Kahn threaten to kybosh that deal remains to be seen, but it's clear that Huoseh feels he has lost an ally at the club.
"We're just going to see how things develop here over the next few months with Bayern," Huoseh added to The Athletic's Josh Kloke. "There's no need to rush things."
Transfermarkt's Manuel Veth adds that Bayern are still thought to be leading the race for Davies' signature this summer, but that there is a sense of confusion about who is in charge. With the main point of contact now gone, Veth says neither Davies nor Huoseh have heard any more from the club amid the current upheaval.
With all that said, it wouldn't be too surprising if Huoseh and Davies' camp began contemplating other options more seriously. It's certainly a critical period at Bayern. Davies, still only 22, would get into most starting XIs in world soccer; Huoseh will surely use the Bayern chaos as leverage, as any agent would do.
The likes of Manchester City and particularly Real Madrid have been repeatedly credited with a keen interest in signing the now-five-time Bundesliga winner, consistently rated as one of the best left-backs in the world.
Expect to see the links with a move to another top European side intensify in the days and weeks to come. The saga may only just be beginning.
---