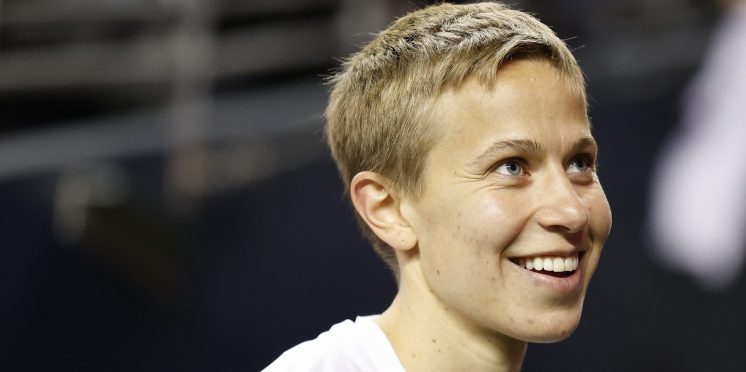 WoSo Canadians Abroad: Relentless with a display of finesse, fine goals, trophies, and focal presence
Canadians playing in the NWSL went unbeaten on Matchday 9, making one question whether they are the cheat code in avoiding losses.
Across the ocean in Europe, some Canadians experienced the thrill of silverware whilst a lone Canuck was left with the agony of relegation. This debut edition of Canadian Women Abroad marks another historic weekend of football.
Team Performance of the Week: BK Häcken vs. Piteå
It was a crucial battle at the top of the table in Sweden as BK Häcken handed Piteå their first Damallsvenskan loss of the season. With only a point separating the two sides prior to the game, and both undefeated in the last five, this was set to be a performance-demanding matchup. The 22 players lined up were the strongest possible, featuring 23-year-old Canadian summer signing Clarissa Larisey who started for the eighth consecutive game this season.
Swedish talent, 19-year-old Rosa Kafaji, opened the scoring 14 minutes in with two goals in five minutes, through mind-blowing shots with each foot from outside the box.
Achieving the highest amount of progressive carries and chaos-causing movement, Larisey sealed the deal at the final whistle with a pacey run and a fine goal which fans described as "very possibly the greatest 10-metre acceleration in women's football."
Not only was this Piteå's first loss of the season, but the first in six matches in which they couldn't find the back of the net. The youngster out of Ottawa reflected post-game.
"We executed all the details that we've been working on all week," Larisey said. "And it's always an honour to score."
This was certainly a strong showing for a World Cup spot on Bev Priestman's 23-player CanWNT roster.
Goal of the Week: Quinn's strike against Angel City FC
The highest-drafted Canadian in NWSL history, Quinn, got their first-ever league goal to help Seattle's OL Reign breeze past Angel City FC.
Struggling with a minor knee injury at the start of the season, the midfielder had only appeared in four games prior to Saturday. Looking for a consistency of minutes to build back fitness, Quinn had other plans, which included a finessed banger from outside the box.
Though rivals on the international stage, OL teammate Megan Rapinoe had three assists on the night and thought Quinn's goal was a special one.
"On the eve of Pride month, a big gay goal, I just love it," Rapinoe said post-match.
The NWSL's Top 4 teams are all tied with 16 points, with just goal-differential separating the teams. Quinn scoring OL Reign's fourth goal of the night places the Seattle club in second place.
Honourable Mention
Olimpico goals are unique and give the fans a flare of what a set piece can look like. Scotland international Claire Emslie scored the first Olimpico in the NWSL since Jordan Bagger for the Washington Spirit back in May 2019. Yes, aptly, she did it for the first time in four years.
Though Angel City went on to concede four goals after this, opening the night off with a special strike got the fans tuned in early!
Moment of the Week: WSL triumph
A fourth consecutive league title, a fifth double in club history, and a sixth WSL trophy for Chelsea took place on Saturday. Flying through this season with a 100 percent win record at home, Chelsea had one more task to close out the season: beat Deanne Rose's eventually relegated Reading FC.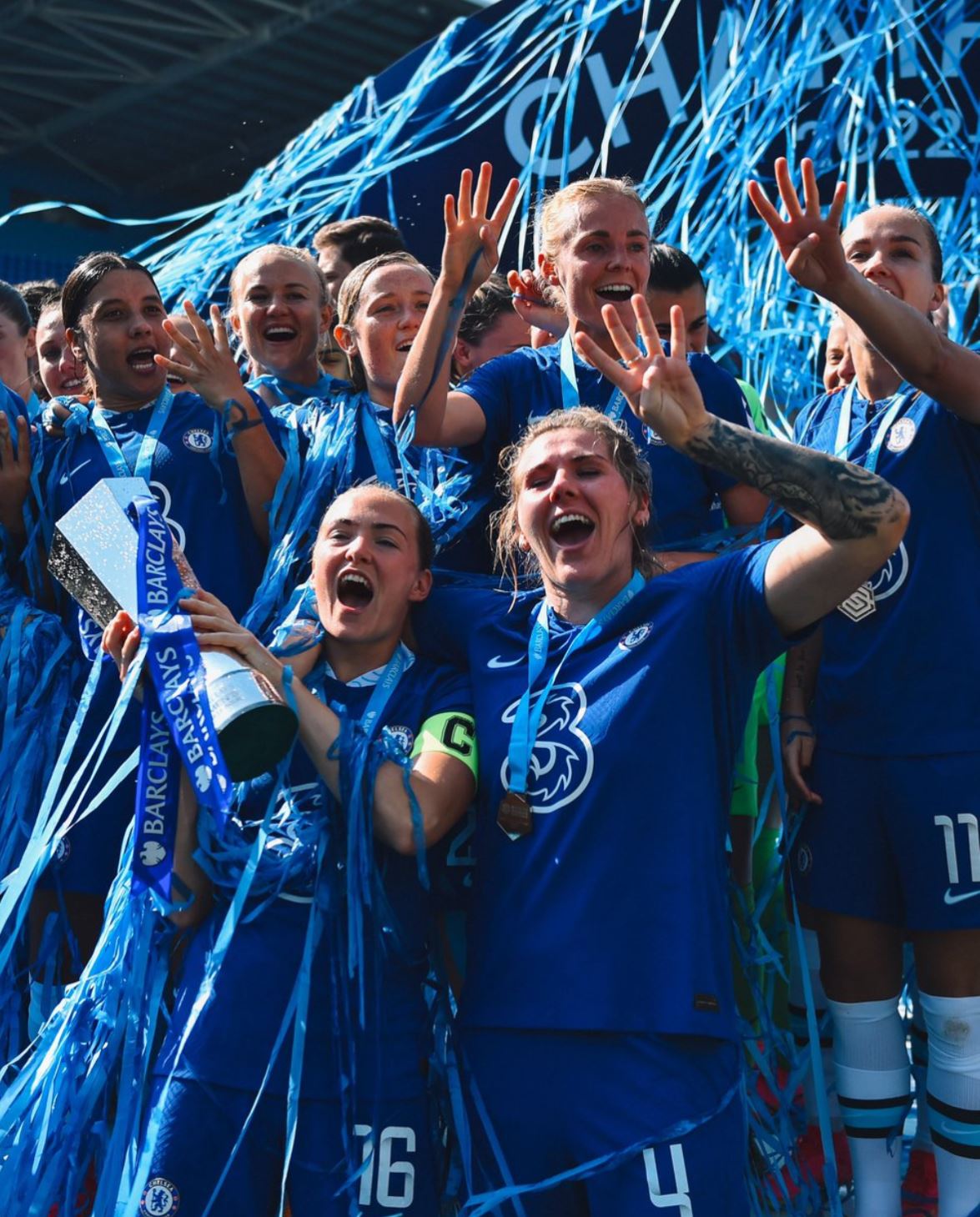 Canadian women's national team star Kadeisha Buchanan, who joined the Blues last summer as a free agent from Lyon, concluded her first season in England with an FA Cup and now a WSL title. Her CanWNT teammate, Jessie Fleming, who played 20 out of 22 possible league matches, is yet to experience a trophy-less year in West London, having now won eight overall honours in her three years at Chelsea.
The match featured the final game of the most successful Chelsea captain, Magdalena Eriksson. Having set a mountain of records, including being the first Swedish player to captain a side in a UWCL final, sources heavily suggest her next destination will be FBL reigning champions Bayern Munich.
Game of the Week: San Diego Wave vs. Portland Thorns
It was a busy weekend with the conclusion of the French, English, and German leagues where many games were crucial title deciders and settled UWCL qualification races. However, the NWSL is known to always put on a show and almost always have dramatic scenes take place.
The highly anticipated rivalry match between Kailen Sheridan's San Diego Wave and Christine Sinclair's Portland Thorns was everything a football fan could want.
With both teams coming off convincing results and tied on points in the top three, 18,130 fans filled out Snapdragon Stadium – a number that contributed to hitting an overall attendance of 500,000 thus far, a record which was reached on Matchweek 11 last season.
Stonewall 'keeper Sheridan started in goal for the Wave and recorded nine saves on top of nine recoveries across the 90 minutes. Sinclair was named as the lone striker in Portland's 4-2-3-1 starting lineup and made way on the 66-minute mark. With five minutes left til the final whistle, it seemed like it was going to end in a goalless draw despite a whopping 43 total shots between the two sides.
Sofia Jakobsson, who had arguably been San Diego's best player all game, found the back of the net after a beautiful run and an even better finish.
However, Portland was not done.
Reyna Reyes' powerful header and first NWSL goal levelled things out with the last corner of the game, which also happened to be the Mexican star's first full 90 minutes of action.

"I couldn't believe it went in, I was so happy," Reyes said. " This was a very important result [for us]."
Had the Thorns not equalized, the Wave would have topped the NWSL table. Are you entertained?
Low of the Week: Deanne Rose
It was not all smiles for Canadians in the WSL as Deanne Rose suffered relegation with Reading.
She started the first and last games of the season, returning from an achilles injury on Matchday 21 to play just 30 minutes against Chelsea on Saturday and leave with an injury concern that adds even more worry to Bev Priestman's World Cup preparations.
As the only WSL club this season to not have a Premier League backing on the men's side, there was not much room for improvement since Reading held the lowest budget, miles off those in the same relegation fight.
Head coach Kelly Chambers, who had kept her side in the WSL for the past eight years after getting Reading prompted, was in tears at full-time.
"As a club like us, we can't compete with the investment other clubs are putting in," Chambers said.
Chambers has spent her entire coaching career at the club, similar to Rose, who has only played professionally at Reading. For the Canadian, it is a race against time to get back to fitness and compete for a World Cup roster spot. It has been a tough season missing all international camps, dealing with an achilles injury, and now seeing her team relegated.
International Action of the Week: Baby Reds in action
Canada's women's U-20 team kicked off their CONCACAF group stage game with a dominant 4-0 victory over Jamaica on Friday followed by a bigger 5-0 win over Panama on Sunday. Two games, two clean sheets, and nine goals scored is a result head coach Cindy Tye called "a great start."
18-year-old Olivia Smith cannot stop scoring, with two impressive goals against Panama and a singular in the opening game, she tallies the most goals from the group. Amanda Allen, who last month signed her first professional contract with NWSL side Orlando Pride straight out of high school, scored a rocket from outside the penalty box.
Canada are set to face the biggest challenge in their group, the United States in the final group game on Tuesday, May 30. Despite only goal differential separating the two sides so far, both have secured qualification to the semi-final stage where they will either face Mexico or Costa Rica on June 1.
All CanW20 games can be streamed on OneSoccer.
---