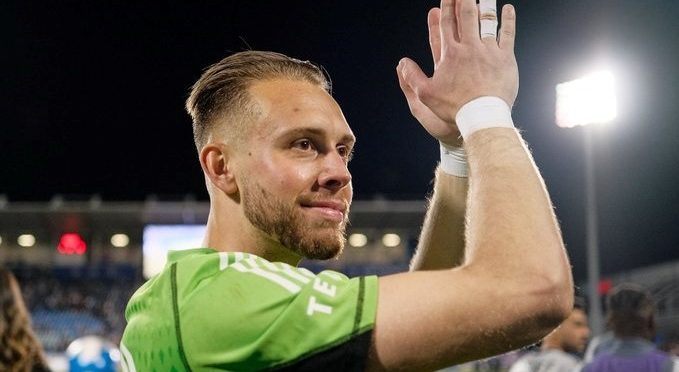 CF Montréal GK Jonathan Sirois, Toronto FC star Lorenzo Insigne named to MLS Team of the Matchday
CF Montréal goalkeeper Jonathan Sirois has been one of the breakout Major League Soccer stars in Canada in 2023, and he's starting to get attention from across the league.
Sirois was named as the lone Canadian in the latest MLS Team of the Matchday as recognition for his stellar performance in CFM's 1-0 win over Inter Miami on Saturday. The 21-year-old former Valour FC man put his team on his back, making five saves, some of them superb, to earn the home side the win.
In the process, the LaSalle, Que. native set a new club record, reaching 363 consecutive minutes of home action without conceding a goal. By the time the game ended, that had been extended to 405 minutes thanks to a fourth successive home shutout.
Sirois has more than earned the No. 1 spot he inherited upon James Pantemis' injury in the very first game of this season. He seems unlikely to relinquish it anytime soon.
"He hasn't stopped improving, he has a really good mentality," head coach Hernán Losada said of Sirois, per The Canadian Press' Tristan D'Amours. "Tip of the hat for all that Jonathan has shown. We haven't forgotten that this is his first season and he plays with a lot of confidence, with experience and I'm very happy for him."
Meanwhile, Lorenzo Insigne embarked upon a redemption arc for Toronto FC after one of the most turbulent weeks in the club's recent history.
In a 2-1 victory at home against D.C. United on Saturday, Insigne was the chief creator, setting up both goals. The 31-year-old Italian was rewarded for his efforts with a Team of the Matchday inclusion.
Insigne's corner set up Deandre Kerr for the opening goal in the 14th minute and squared for Kosi Thompson to net the clincher in the 72nd minute. Insigne has four previous Team of the Matchday nods, last receiving the honour back on Matchday 29 of the 2022 season after recording a brace against CF Montréal, but this is his first inclusion in 2023.
If he racks up more in the weeks to come, it can only be a good thing for TFC.
---