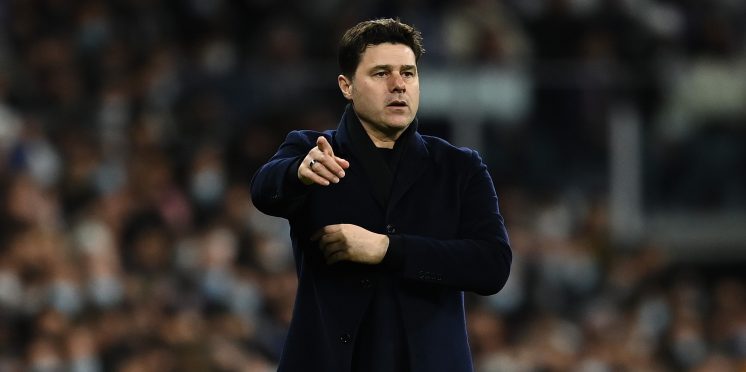 Nightingale: Chelsea hire Mauricio Pochettino, and they're lucky to have him
First published: April 25, 8:57 a.m. ET
Republished: May 29, 8:04 a.m. ET
Thomas Tuchel, Graham Potter, Frank Lampard. Up next on Todd Boehly's managerial wheel of (mis)fortune? Mauricio Pochettino.
After lengthy negotiations and no great secrecy, Chelsea have appointed Poch as the club's next head coach on a two-year contract, with the option for a third year. The Argentine had been in final discussions with the club for a month or so, quickly emerging as the frontrunner after former Bayern boss Julian Nagelsmann dropped out of the race.
The announcement came less than 24 hours after the end of the 2022-23 Premier League season, one which Chelsea and their fans will have seen not so much as underwhelming but near-unforgivable.
Under first Thomas Tuchel, then Graham Potter, and then Frank Lampard's hapless interim oversight, Chelsea ended up 12th in the league and 17 points off even a UEFA Europa Conference League spot. The Blues have had nothing to play for other than pride for weeks now, and they've been pretty much all out of that, too. The last time Chelsea finished in the bottom half was 27 years ago, and in every season since then except one, they have finished in the top six. All in all, in terms of both points accrued and goal difference, this was Chelsea's worst season since the Premier League's inception in 1992.
Now, Pochettino represents a desperately needed opportunity to reset.
The Daily Mail's Sami Mokbel adds that Pochettino has been a long-term target for the club and held talks with the club's American owners Boehly and Behdad Egbali last year following the dismissal of Tuchel, but Potter was chosen instead, an appointment that was deeply flawed from the start.
Boehly, of course, will now say publicly that Poch was first choice.
At any rate, it's evident why they believe the 51-year-old is a great candidate. It's because he is a great candidate, undeniably so. Better, in fact, than Chelsea's current on- and off-field situation deserves, some might argue.
Boehly and Chelsea's ownership group called him "a world-class coach with an outstanding track record," and they're right, that's exactly what he is.
Pochettino is a big name who has worked with top players and huge egos, both of which Chelsea certainly have. He can nurture and develop young players but also get established stars firing. A neat fact is that at each of the past two World Cups, both the winning captain and the tournament's top scorers were playing their club football under Pochettino at the time – Hugo Lloris and Harry Kane in 2018) and Lionel Messi and Kylian Mbappé in 2022. Coincidental? Yes, but not entirely; it's also indicative of his managerial prowess.
He also knows the Premier League well, and has taken on the pressure of leading clubs like Tottenham Hotspur and Paris Saint-Germain, where expectations, although different, are massive. A year or so ago, he would likely have faced significant hostility from Chelsea fans due to his former Tottenham connections. Now, they need him, and they can count themselves lucky that a manager of his calibre is still interested.
At Chelsea, he will have to lead a rebuild job. Taking the managerial reins at Stamford Bridge has never been easy since Roman Abramovich and all his money and high expectations took control of the club in the early 2000s. Arguably, it's only become a more daunting task over the years. Potter called managing Chelsea "the hardest job in football." He would say that, of course, but it's hard to argue firmly against it.
It's also hard to know how to describe the job that Pochettino will face starting this summer. It's not truly a rebuild, because he doesn't need to tear down and start again. But it's more than just a case of galvanizing the players. The truth is it's somewhere in the middle.
Poch must make firm decisions on whom he wants to build his team around, on what to do about the (lack of) striker situation, on which of Chelsea's innumerable fringe players can be cast aside. He doesn't tend to like a big squad; at Chelsea, he will inherit one of the biggest in the league. (Shout out to Nottingham Forest and their valiant effort at assembling a village.) Chelsea's group is a vast pool of talent, potentially symphonic when assembled properly. But it needs a conductor; someone to trim the fat, streamline the operation, and get the right tune playing. Pochettino can be that man.
The football needs to be exciting enough to please the fans but practical enough to solve the defensive issues. There need to be clear signs of recovery. And all of this will need to be done while the new manager soothes Boehly's ego and keeps his employers happy. Pochettino can be that man.
Pochettino will likely draw some parallels between the situation he is inheriting in West London and the one he inherited in North London at the time of his appointment by Tottenham in May 2014. Back then, Spurs were on the ropes, and Pochettino came in and turned them around through hard work, intense tactical and training-ground preparation, and the right mixture of warm love and tough love. (Incidentally, what Spurs wouldn't give for a similar treatment right now.)
For Chelsea, that would be just the ticket in the second half of 2023.
A parting message to Boehly, though. Pochettino, though different in many ways from Potter, has one big similarity: he is a project manager, not a short-term electric-shock inducer. If Chelsea aren't where you want them to be by Christmas, Todd, this time you'll need to suck it up and wait it out.
---