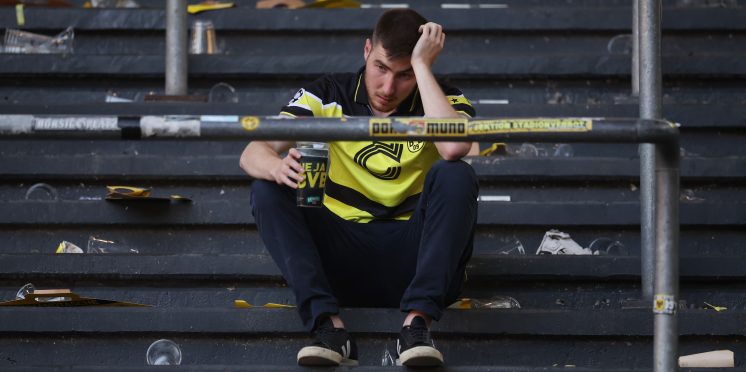 Peak of the Week: Ecstasy and agony in dramatic season finales in Germany and England
Football, bloody hell…
As the league seasons concluded in Germany and England, fans across the world were treated to some insane storylines and some heartbreaking results, highlighted in this week's edition of Peak of the Week!
Game of the week: Borussia Dortmund vs. FSV Mainz
The last time a Bundesliga game got this much attention was probably when Borussia Dortmund played Schalke in May 2020, in what was the first game since the COVID lockdown.
With the world watching on, BVB had the chance to win the league title in front of their home fans at the Westfalenstadion on Saturday if they could beat a struggling Mainz team.
But unfortunately, the 80,000+ fans cheering them on got all choked up as they watched their team choke on the pitch.
Chance after chance went begging as Dortmund stumbled to a 2-2 draw against a team that came in with a four-game losing streak.
The worst part about Dortmund failing to win is that the Bundesliga had already sent the original championship trophy to their stadium, while a copy was sent to Cologne, where Bayern faced FC Köln.
I apologize to Tottenham fans for having previously said that Borussia Dortmund are the German version of them. When have the Spurs ever bottled like this? To be fair, Spurs have never been in the position of leading the Premier League on the final day…
Team Performance of the Week: Sporting Kansas City vs. Portland Timbers
Only one team in the Western Conference of the MLS has at least three wins in their last five games: the 12th placed Sporting Kansas City.
Taking on a hobbling Portland Timbers side, Peter Vermes' men had no mercy as they went all out to treat the home fans to a dominating 4-1 win.
Despite conceding the first goal of the game, KC rallied back to score four in reply, which is only the first time they've managed four in a game since September 2022. They have now scored nine goals in their three wins, which is five more than the combined total of their other 12 games (Four draws and eight losses).
After taking 11 games to get their first win of the season, is this the turnaround that Vermes would've wanted? Only time will tell.
Player of the Week: Harry Kane
Harry Kane might be the most underappreciated player of his generation.
As the 2022-23 Premier League season concluded on Sunday, Kane finished with a bang, scoring twice and creating another in Tottenham's 4-1 win at Leeds.
He was everywhere for Spurs at Elland Road: winning duels, making clearances, and, as always, scoring goals.
With this brace, the England captain has registered his second 30-goal campaign, becoming the first player to achieve that feat since Premier League seasons have been 38 games long. It's crazy to think that neither of these efforts have resulted in a Golden Boot for him.
Now that Spurs won't be competing in any kind of European football next season after a poor campaign, this could potentially be Kane's last game in a Tottenham shirt with rumours of an exit growing stronger.
Despite all the social media chatter about not having trophies, it was still a special season for Kane. But, sometimes, you have to admit that's probably just not enough.
Goal of the Week: Alpaslan Öztürk vs Sakaryaspor
With a game staring at penalties in the 121st minute of extra time, Alpaslan Öztürk said "why not?" before blasting a Goal of the Season contender.
The 29-year-old scored the sole goal of the game as Arda Turan's Eyüpspor beat Sakaryaspor in the quarter-finals of the Turkish second-division playoffs.
We realize this is kind of a deep cut in terms of high-profile football, but it's a goal you simply have to see and a particularly special one given the high-pressure context. Öztürk may have been over 30 yards out, but he was given just the right amount of space for him to take a shot, and it couldn't have been any sweeter. Off the post and in, giving no goalkeeper in the world a chance to save it.
Moment of the Week: Luton Town getting promoted
As millions of football fans across the world lamented yet another Bayern Bundesliga triumph and another Manchester City EPL win, Luton Town, of all clubs, gave them a reason to smile.
After beating Coventry City on penalties in the final of the EFL Championship playoffs, the Bedfordshire club entered the history books by becoming the first club to climb from non-league status to the wild riches of the Premier League.
Being in the fifth tier as recently as 2014, it has been nothing short of a fairytale rise for Luton.
In what was their fourth year in the Championship, Luton were primed to be a promotion candidate. However, after Southampton stole their manager Nathan Jones at the start of the season, their promotion aspirations took a hit. But Rob Edwards, who was yet another victim of Watford's infamous revolving-door managerial policy, took over the helm and led the club to the promised land.
One of the highlights of Luton's campaign was their Congolese midfielder, Pelly Ruddock Mpanzu.
As the club celebrated being in the Premier League for the first time since 1992, Mpanzu became the first footballer to go from non-league to Premier League with the same club. The 29-year-old had joined the Hatters from West Ham back in 2013 and has been part of their meteoric rise since day one.
We can't wait to see Mpanzu and Luton create further history at their much-talked-about stadium, Kenilworth Road.
Honourable mention: FC Heidenheim's promotion
There was another fairytale promotion story over in Germany.
In 2007, FC Heidenheim separated from their parent club, Heidenheimer Sportbund, and started a new journey in the fourth tier of German football. They hired former player Frank Schmidt as their manager, reportedly for just two games, after firing his predecessor Dieter Märkle in September 2007.
16 years later, Schmidt is still at the helm, and he has just led his hometown club to the Bundesliga for the first time in club history.
An absolute Football Manager storyline and probably the biggest thing worth celebrating in German football this weekend…
---