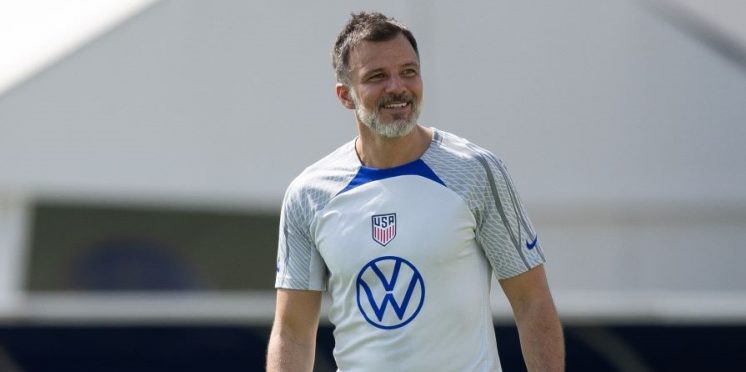 USMNT interim head coach Anthony Hudson leaves for Middle East gig midway through job hunt
United States Soccer are looking for a new full-time head coach. It's a long process. In the meantime, they've now got a new interim head coach.
Anthony Hudson, who had taken over as temporary boss in January after the expiration of his former boss Gregg Berhalter's contract, is leaving both the role and the federation for another job.
According to reports including that of The Athletic's Paul Tenorio and Tom Bogert, Hudson is leaving for a full-time permanent head coaching role with a club in the Middle East. He has previous experience in that area of the world, having spent three years coaching Bahrain from 2011-14 at first under-23 and then senior level.
Former Colorado Rapids and New Zealand national team head coach Hudson's interim deal with US Soccer was set to end on August 1 and it is reported that he was not being considered as a candidate to get the job on a permanent basis.
BJ Callaghan has been named as Hudson's replacement as interim head coach. Callaghan has been an assistant coach with the USMNT for the last four years. He is the longest-serving member remaining of the USMNT technical staff that was in place when the team won the 2021 Nations League and Gold Cup and reached the round of 16 in the 2022 FIFA World Cup in Qatar.
"I understand the responsibility of the job and am honored to have the opportunity to build upon the progress this group has made the last four years," Callaghan said in a statement. "Together, we have built a strong culture and a great understanding of how we want to play, and we expect to continue to build on that progress. Our goal is clear: defend both of our Concacaf titles."
As for how the changes the search for a permanent USMNT boss… well, it probably doesn't, really. U.S. Soccer hired Matt Crocker as sporting director on April 25 to replace Earnie Stewart, who left his job in February to become director of football at Dutch giants PSV Eindhoven. At that time, USMNT general manager Brian McBride also left his job in the wake of the Reyna-Berhalter family blackmail scandal that rocked the U.S. men's national team program.
U.S. Soccer have said they hope to have a coach in place by the end of August. Crocker is leading the search along with U.S. Soccer president Cindy Parlow Cone and CEO and secretary general J.T. Batson.
"After speaking to B.J., one main takeaway is that nothing changes for this group," said USMNT defender Tim Ream in a statement. "The messaging, goals, and ideas stay the same, with a new voice at the top. His is a familiar voice that we are all comfortable with and have been around for years."
U.S. Soccer have stood by their decision to take several months over their hunt. Names such as former Leeds United and New York Red Bulls manager Jesse Marsch have been repeatedly linked with the job, and when Crocker was at Southampton, the Saints interviewed Marsch for the vacant head coaching job in February and were set to appoint him before Marsch turned down the offer. Berhalter reportedly also remains a candidate to succeed himself as USMNT head coach.
Callaghan will be the first coach to face a competitive match in his first game in charge since 1976 when the USMNT take on Mexico in the CONCACAF Nations League semi-final in three weeks' time.
---