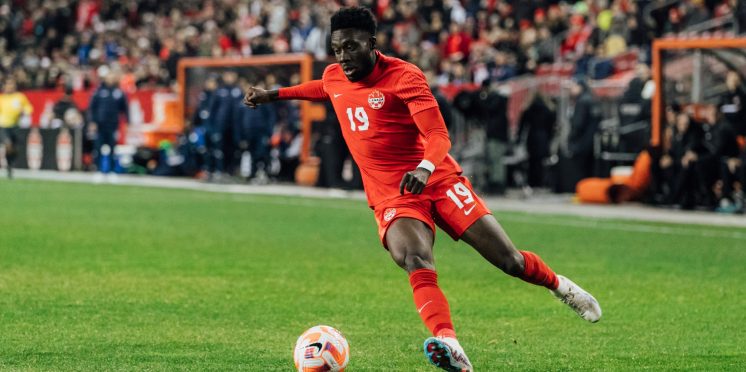 Canada star Alphonso Davies will be ready for Nations League finals but won't play at Gold Cup
The good news after his recent injury trouble is that Alphonso Davies will likely feature for the Canadian men's national team during this full summer of competitive action. The bad news for those who believe CanMNT are a worse side without the Bayern Munich man in the team is that his role will likely be fleeting.
Davies' agent Nedal Huoseh told The Athletic's Josh Kloke that Davies is now back in full individual raining after his hamstring tear and will be cleared to play for Canada in the upcoming CONCACAF Nations League finals. Canada face a semi-final against Panama in two weeks' time on June 15.
It is expected that Davies will be involved in some capacity at the Nations League. However, the 22-year-old last played on April 22, when he suffered his injury, and by the time he links up with John Herdman's Canada camp, he will not have trained as part of a group for seven weeks.
How that affects his involvement in Canada's games against Panama and then (hopefully) the winner of the other semi-final between the USMNT and Mexico remains to be seen, but with two games in three days after nearly two months out, Davies and those looking after him will have to be careful.
Huoseh admitted that Davies never really recovered fully from a hamstring injury he suffered in November before the World Cup. Perhaps it is not surprising, then, that the agent confirmed that Davies will not play at all in this summer's CONCACAF Gold Cup.
Herdman is expected to elect not to bring a full-strength squad to that tournament in the US, instead providing an opportunity for young and/or fringe players to get more game time and test themselves at the international level.
That could mean that many of the less familiar of the 53 names that Herdman selected for his preliminary roster for the Nations League finals could resurface later this summer for the Gold Cup. First, that large CNL group will be cut down to 23 players in the coming days. Davies' name will be among them.
But, with nearly 300 senior games under his belt already by the age of 22-and-a-half, and with little chance to get a meaningful extended break from action given the various requirements of the Bundesliga games and Canada's international calendar, Davies is already a player who needs to be carefully managed him.
Days will come when CanMNT need him and his game-changing, electrifying qualities more than they need them this summer. He has earned his status as Herdman's most important player, but with injury problems recurring for the former Vancouver Whitecaps man already, Canada need to keep learning to live without him. This summer will provide another opportunity to do just that.
---