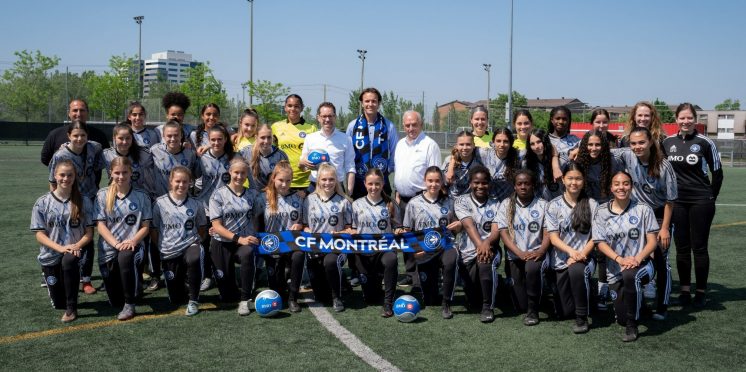 CF Montréal launch women's academy program
Women's soccer is coming to CF Montréal.
The Major League Soccer club announced on Wednesday that it is introducing a women's program to the CF Montréal Academy.
The program will see CFM take over the Women's Excel Program (WEP), a Soccer Québec national development centre that brings together the best 15- to 18-year-old women players in the province. The WEP is one of three Excel Super Centres in Canada and aims to feed the national youth team pipeline and elevate players to professional environments.
A release states the fundamental objective is to allow student-athletes "to achieve the best possible balance between their athletic and academic pursuits." The initiative will be similar to the existing Vancouver Whitecaps women's soccer development program.
The players will train and play their matches in CFM uniforms and will benefit from the sporting resources and platform of the CF Montréal Academy and the Quebec and Canadian soccer landscape.
The aim, adds the release, is to enable these players to "showcase their talents and achievements on the national and international scene, by enhancing the pathway offered by Soccer Québec."
It's a proud day for Amy Walsh, the former CanWNT centurion who joined CFM as a women's soccer development collaborator and ambassador in September last year.
"Today is a massive day, it's been a long time coming," Walsh told Canadian Soccer Daily.
"The current crop of young women in this province had the same offerings that I had growing up, so I'm pleased for them. I'm pleased for this next generation of young women who are super talented. Here in Quebec, we have a unique culture and a unique crop of athletes for whom the previous path of NCAA scholarships is not accessible; it's a barrier, really, for them to make the leap to the next level.
"Hopefully, providing this for them at the club goes a long way to springboarding them to future success. It also gives them the visibility and the investment that they sorely need and that has been sorely lacking up until this point. I'm proud of the club but really this is just the beginning for these young women and for investment into young women in this province."
Whether this suggests that CFM may intend on coming on board as a founding club of Diana Matheson and Project 8's new pro women's soccer league to launch 2025 remains to be seen.
Montreal has repeatedly been highlighted by Matheson and co. as a highly attractive landing spot for a team, but it has seemed thus far that CFM have not held a firm interest in launching a team under their own existing umbrella.
Joint initiatives between CFM and its primary sponsor BMO will be launched later this summer, including a week dedicated to women's soccer from July 10-15, with the goal of highlighting women in sport and raising public awareness of the work that still needs to be done to ensure gender parity and promote the sport among young women. That week will conclude with a special evening at Stade Saputo during the MLS match against Charlotte FC.
CF Montréal and BMO also intend to host the final of the Ligue1 Québec Women's Cup to allow as many people as possible to attend a women's soccer match, as well as hosting a Women's All-Star Game for the second consecutive year.
---