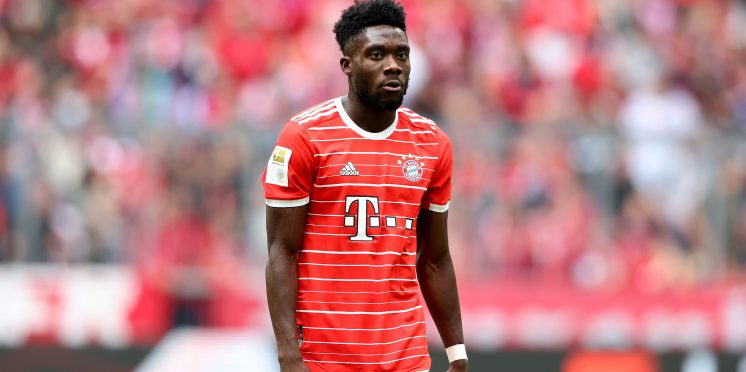 Alphonso Davies' agent tells Fabrizio Romano that Bayern Munich extension was nearly final, now they're waiting
It's amazing how changing a few pieces of furniture can really change your perspective on the entire house.
One of the biggest transfer sagas of the summer will surround Canadian superstar Alphonso Davies.
The 22-year-old has cemented himself as one of the best left-backs in the world, while collecting trophies at Bayern Munich that most players could only dream of accruing in their entire careers.
Naturally there are clubs dreaming of what Davies could do wearing their shirt instead, but Bayern are not a team that sells their stars and certainly not in their prime.
Speaking with transfer guru Fabrizio Romano, Davies' agent, Nick Househ, revealed that the Canadian was nearly across the line with an extension to remain at Bayern Munich for years to come before the club cleared house in the boardroom.
"We had some very good and positive conversations and discussions with Hasan [Salihamidžić] and Marko [Neppe]," Househ said. "We were almost there, but I wake up the next day and see all the news of the management changes and thought 'ok, no problem.' I was in Munich and waited a couple of extra days to handle some other business, but nobody had reached out at the time so I jumped on a plane and headed back to Canada."
Within minutes of winning an 11th straight Bundesliga title in the most dramatic of circumstances on the final day of the season, FC Bayern CEO Oliver Kahn and sporting director Hasan Salihamidžić left the club. Kahn had been CEO since the summer of 2020, shortly after Davies signed his first extension after a breakout start to what would end up being a Champions League winning season.
"[Bayern] came off track there at the end of the season with the management changes but they're a big club and they will figure it out. They'll get all their ducks in a row. We still have two years with Bayern and we're just taking our time right now to see how things develop over the next few weeks and months," Househ said.
Salihamidžić was instrumental in signing Davies from the Vancouver Whitecaps back in 2018, and is believed to have a close relationship with the left-back and his agent.
Davies' current contract runs until the end of the 2024-25 season. Rumours of a Davies departure started with Real Madrid's pursuit of the Canadian for a move next summer, when Bayern might be more willing to consider selling Davies rather than risk losing him for nothing at the end of the following season.
"I've always been a big fan of Real Madrid, as a fan in general, you know 14 Champions Leagues," Househ gushed to Romano. "It makes you proud when you see someone you manage linked with Real Madrid."
Los Blancos aren't the only club considering writing a massive cheque for one of the sport's brightest young stars. Just like Real Madrid, Manchester City have been without a proper left-back since selling Oleksandr Zinchenko to Arsenal last summer and loaning out João Cancelo to Bayern this past January. Although City moved to three-at-the-back in pursuit of their first European treble, adding Davies would give Guardiola an option to go back to a four-man defence or use the Canadian as a wingback, the way John Herdman wants to.
"Right now we haven't made any final decisions on anything and he has two years remaining on his Bayern contract and is part of the Bayern team," Househ told Romano. "So of course yeah there's a lot of things in the media about transfers to this team and that team and possible summer moves but honestly right now we can't confirm anything, and can't deny anything.
Bayern Munich maintain their position that Davies "is not for sale" and have reportedly set an internal valuation of €100 million ($143 million CAD) for the 22-year-old.
Transfermarkt's Manuel Veth believes that Bayern are still front runners for Davies' signature this summer.
"At the end of the day, he's with his club right now and we just have to wait and see how things play out."
Right now, Davies is actually with his national team in Las Vegas preparing for a CONCACAF Nations League semi-final against Panama on Wednesday, and a potential final against either the United States or Mexico. Davies is not expected to stay with the team to play in next month's Gold Cup.
---