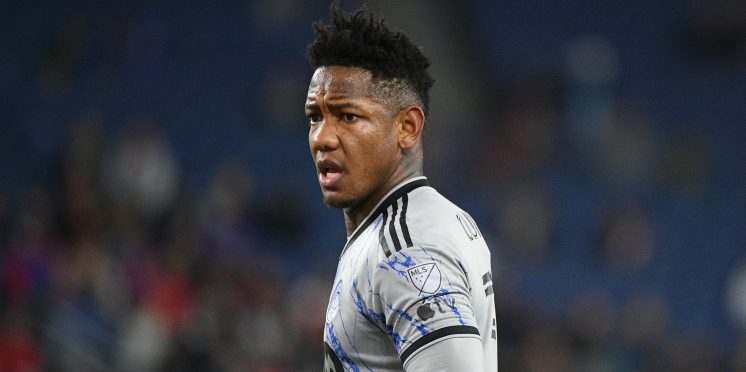 CF Montréal sporting director Olivier Renard questions striker Romell Quioto's attitude in injury rehab
Olivier Renard is not a man who minces words.
The CF Montréal sporting director gave a typically no-holds-barred assessment of the club's season so far when talking to media as CFM returned to training on Thursday after several days off during the international break.
One person who took a direct hit from Renard's frustrations was experienced striker Romell Quioto. Quioto has started just three Major League Soccer games for Hernán Losada's side in 2023 and has not played a single minute since May 14 after suffering a torn hamstring.
While injuries are unfortunate, it's important how you react to them. Renard is clearly unhappy with Quioto, who returned to his native Honduras for treatment and rehabilitation but — in Renard's estimation, at least — has not been looking after himself the way he should.
Renard told reporters, as quoted by La Presse reporter Justin Vézina: "He's doing a bit of a world tour here… Romell is out of contract. I will speak to you honestly and not as a sporting director. My advice to him is to do the best he can to get back to 100 per cent as soon as possible.
"In the end, he'll be playing for himself. He'll be playing for his next contract either here or for another club. I don't see why he would go out partying every day, I advise him to work and come back as soon as possible."
Quioto finished as Montreal's top goalscorer in each of his three seasons with the club prior to 2023. Things have gone very differently so far this year. His contract at Stade Saputo is set to expire at the end of the year and it doesn't seem too big a stretch to suggest that, if all things remain equal, it doesn't currently look likely it will be extended.
It sounds like Montreal would have preferred for him to rehabilitate from his injury at the team's base rather than in his home country. Quioto was the only player missing as CFM returned to training on Thursday after four days off.
Montreal don't play again until a home clash with Nashville SC on June 21. When that game comes around, they'll be looking to make it back-to-back wins after a 4-0 thrashing of Minnesota United last weekend.
CFM's season has been hard to assess thus far. After an offseason of turbulence and change, they started disastrously, losing seven of their first eight MLS games of the season to nil. Since then, though, they have rebounded well, winning nine of their last 14 games in all competitions.
Renard, ever a straight-shooter, acknowledged that the club haven't been hitting the level they aspire towards so far this season, although he noted the improvement as Losada and his men have progressed.
"You saw it as we did: there was bad, very bad, and better," he said Thursday, per Vezina. "We are in a much more positive phase. In the last 14 games, we have nine wins, four losses, and a draw. If we had been able to have this record since the start of the season, it would have been much better. 
"We had a complicated start to the season. We had good young people who seized their chance. It is true that they were launched into the heat of the action a little too quickly, but it was enforced with the departures and the injuries… We're starting to get used to it: every start of the season, it's the same kind of questions and the same kind of stress. We also had a bad start to the 2022 season…"
Renard doesn't sound like the easiest man to please. Former coach Wilfried Nancy managed it last season with an often swashbuckling brand of football that lead CFM to finish second in the east.
Changing managers always brings certain teething problems. From Renard's perspective, it's not just been about results; he wants to see his club play with a certain attractiveness.
"I don't hide from you that I expect to see better football…" Renard added. "I hope the players will find the style of play that the club and I want to achieve. The coach came up with ideas that were a little more direct and forward, but he agreed with me too. These are things we discussed before he was hired. It goes beyond winning and losing. It's a particular style of play we want to have."
Ultimately, though, it's a results business. Thankfully, the results are looking much better in recent weeks.
"We're still in the picture for the playoffs, which is the club's No. 1 objective," Renard told Vezina.
The challenge will be keeping that momentum going after this week's break.
---