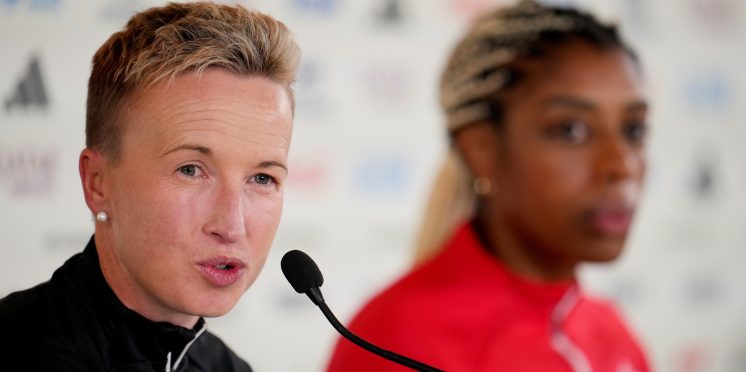 Bev Priestman delivers Jessie Fleming, Kadeisha Buchanan injury updates as Canada prepare to face 'horrible' Ireland
Wednesday is a pivotal day for the Canadian women's national team.
After the goalless draw against Nigeria which opened their 2023 Women's World Cup campaign, Bev Priestman's team come up against the Republic of Ireland knowing that a win makes everything alright again, a draw leaves them with a huge amount of work to do against co-hosts Australia in their final game, and a defeat… well, a defeat would be bad.
Undoubtedly, CanWNT will have to rise to the occasion to beat the Irish. Vera Pauw's side are World Cup debutants but ran Australia close in their first-ever WWC games last week, losing 1-0 after a display that has been called many things: spirited, defiant, physical, even aggressive.
Much of the line of questioning aimed at Priestman during her pre-match press conference on Tuesday revolved around these buzzwords. Even though the Matildas actually fouled the Irish more than the other way around, the notion has set in that Ireland are a physical team who may threaten their opponents' ankles as much as their opponents' goal.
Speaking to reporters, Priestman described Ireland as "a horrible team to play against," although it should be noted that she meant this as a compliment, also applying the description to her own side.
"What we saw from Ireland against Australia was everything we've scouted coming into the tournament," Priestman said. "Whenever they've played, we've seen that from them: that shape, that resilience, that doing-whatever-it-takes-not-to-concede mindset. They're a team full of heart, spirit, and passion. So when you compare that to Canada and what we're known for, it's going to make for a great game.
"We have to hope our quality shines through, but first and foremost, match that passion and hard work. [They are] a horrible team to play against and that's what we pride ourselves on, so we one million percent have to match that first. And Ireland know that about Canada too. It's probably a two-way street. Ultimately, we must stay with the process and what we think it will take to beat this Irish team. And stay clear-headed because there are parts of the Irish team where if you're not careful you can be drawn into that and it can take you down a route that can take you off-task… There's no way they're going to give us the three points easily."
So, it's fair to say it's clear that Priestman is expecting a battle at Perth Rectangular Stadium.
That kind of thinking was echoed by Ashley Lawrence, who sat alongside Priestman in front of reporters on Tuesday.
"We know we have to be ready for any battle out there," said the new Chelsea star. "We're going to match that physicality but also show our composure and confidence on the ball and hopefully get into the final third and create some chances."
Lawrence touching upon chance creation was no accident.
Against Nigeria, CanWNT struggled to make their possession and their sometimes-promising attacking build-up count. Aside from Christine Sinclair's saved penalty, clear-cut chances were hard to come by for the Canadians in Melbourne.
Lawrence knows that has to change if Canada are to secure three vital points on Wednesday. But she's confident that it won't take any great overhaul for it to happen.
"We need to continue playing the way we were," Lawrence added. "We created opportunities in those games in the final third and we do have the players with the ability to put the ball in the back of the net. So it's not a case of changing things, it's more continuing to believe in our style, trusting in the process.
"We showed the ability against Nigeria and also trusting our defensive spirit. There were positives and learnings. We trust our process. It's the small details and we will continue with that. Keeping a clean sheet is in our Canadian DNA. Walking away from that game, there were a lot of positives and learnings. This tournament is long and we've just to deal with those small details against Ireland."
Lawrence gave confident and considered responses to journalists' questions, as she always does. But she wasn't even supposed to be sat beside Priestman in front of a microphone. That role was intended for her new Chelsea teammate Kadeisha Buchanan.
But Buchanan was a conspicuous absence from not only the press conference but Canada training on Tuesday, missing from the portion of practice that was open to media. TSN's Claire Hanna reported that Canada Soccer said the centre-back didn't take part as a precautionary measure as she felt unwell on Tuesday.
"She had an illness today, so precautionary for tomorrow," Priestman said of Buchanan's absence. "We didn't want to train her because she was ill."
As for whether the defender will be able to play against Ireland on Wednesday? "I hope so. I think all signs are leading that way, for sure."
Another injury to an important player is the last thing Priestman and Canada need after the Jessie Fleming saga of the last week.
Buchanan and Lawrence's club teammate Fleming played no part in the stalemate against Nigeria due to injury, the first time she had even been out of the CanWNT starting XI in two years. However, the great news is that she has been training fully over the last few days.
Priestman is confident she will be ready to go on Wednesday, noting that the 25-year-old was in "a good space" on Tuesday and that the midfielder's injury has not been aggravated further, thanks partly due to being rested in Canada's opening game of the tournament.
"She looked great today in training," Priestman said on Monday. At Tuesday's press conference, she added that Fleming trained fully. "I expect her to be available tomorrow."
If Fleming is fit, she will surely start, such is her importance to Canada's midfield and entire on-field set-up. Whether Priestman makes any other changes remains to be seen. Cloé Lacasse and Evelyne Viens, both of whom have proven themselves prolific goalscorers in Europe, will be among those pushing for a start as Canada hunt for a cutting edge.
Priestman is expecting a hostile atmosphere. A near-sellout crowd is expected and, with the size and passion of the Irish following, she says Wednesday's high-stakes clash will feel like an away game and will be good preparation for Canada facing home nation Australia in their final group game — but her belief in her side is unwavering.
She added that after the disappointment and frustration of the draw against Nigeria, she showed her players a photo of Argentina hoisting the World Cup last winter.
"They lost their first game and won it," she noted.
Olympic champions CanWNT have confidence, experience, and a winning mentality. They'll need all of that to be on full display against Ireland on Wednesday.
Canada vs. Ireland is live on TSN on Wednesday at 8 a.m. ET / 5 a.m. PT.
---