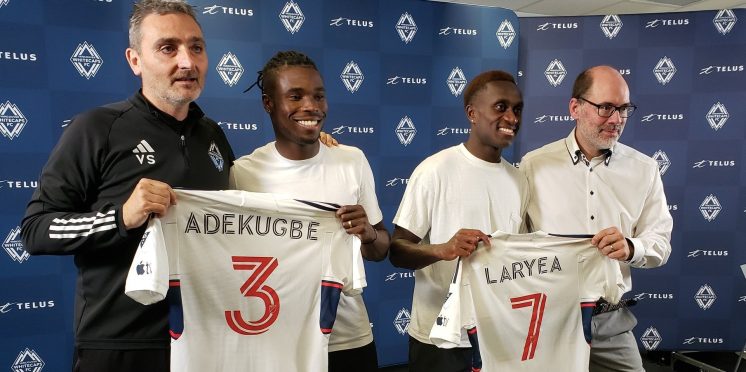 CanMNT pair Sam Adekugbe, Richie Laryea start training, meet media on first day with Vancouver Whitecaps
The Canadians have landed.
After the whirlwind excitement of last week's MLS transfer deadline day saw the Vancouver Whitecaps sign both CanMNT right-back Richie Laryea and left-back Sam Adekugbe, the pair of wing-backs took part in their first day of official training at the Whitecaps' National Soccer Development Centre training ground on Wednesday.
The duo, signed on deadline day from English Premier League club Nottingham Forest and Turkish side Hatayspor, respectively, took part in some light training exercises and generally made themselves at home on the practice field. There was no rush; after all, their new team don't play again until MLS action returns in 11 days' time.
They were also introduced to their new teammates by their beaming head coach Vanni Sartini, where they each announced themselves in typically modest fashion.
After the training session, Laryea and Adekugbe held a joint press conference where local and national reporters got their first chance to address the Canadian internationals as Whitecaps players.
In the media room, they were greeted with a classic Canadian welcome at the Whitecaps' training ground: plates full of (we presume?) Tim Hortons donuts. Sartini and Whitecaps sporting director Axel Schuster flanked the two new arrivals and both looked happy and relaxed. And why wouldn't they? What a week it's been for the club.
At the briefing, Laryea and Adekugbe outlined their reasoning for making their respective moves to BC Place, as well as their hopes and aspirations for the remainder of the 2023 season.
"It's always nice to be back where I started," said Adekugbe, per 'Caps club reporter Sarita Patel. Adekugbe previously began his professional soccer career as a homegrown player in Vancouver, making 23 appearances for the club before departing for Europe. He returns having just won the Turkish league while on loan with Galatasaray.
"I think it's important to play in a team where you feel comfortable where you can express your qualities," the left-back added. "I think that's the group that they have going right now, it allows us to do that… The time to come back is now."
Meanwhile, Laryea revealed he was delighted to find out his Canada teammate was joining the Whitecaps, and admitted that Adekugbe's decision played a role in his own choice to move out west.
"[Sam] told me he was coming, so I came," grinned the former Toronto FC man. "We speak to each other quite a lot. He's one of my closest friends on the national team."
Laryea also credited the influence of the duo's former CanMNT teammate Tosaint Ricketts, now working in a player liaison role with the Whitecaps. "He's been really influential in our careers," Laryea acknowledged. "He's almost a big brother."
Ultimately, the key takeaway from Wednesday was that the two Canadians are excited to be at the Whitecaps. Adekugbe will wear the No. 3 shirt while Laryea will don No. 7.
Laryea, who is in line to be made a Designated Player on a permanent contract once his initial loan expires at the end of the year, has his eyes set on a lofty target once he's up and running.
"I'm a competitor, I want to win and that's the vision I see for the club," Laryea added. "This team can go on and make a run into the playoff, MLS Cup, that's what my vision is for the club – it might sound ridiculous to some people but that's just the way I do business."
If the Whitecaps, who have arguably been one of the most entertaining teams to watch in MLS this year, can get anywhere near making that vision a reality, it will have been a thrilling end to their season. For now, though, fans can continue to bask in the fact that they are the Canadian club that made the biggest moves at the end of the transfer window, and they have two respected, likeable, and high-achieving Canadian stars to show for it.
---