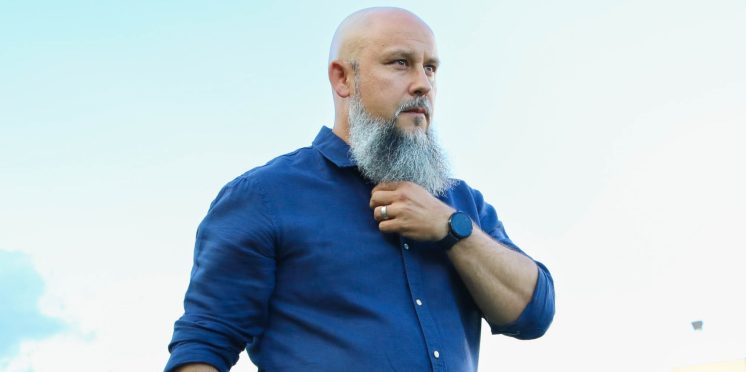 Forge FC's Bobby Smyrniotis could be a successful Toronto FC manager — if TFC allow him to be
Bobby Smyrniotis to Toronto FC? Canada's worst Major League Soccer team could do a whole lot worse.
The Forge FC head coach, sporting director, and technical director has reportedly been interviewed for the TFC job, along with other candidates including Canadian men's national team boss John Herdman and D.C. United assistant and former Vancouver Whitecaps head coach Carl Robinson.
His is a name that has been touted as a potential head coach for a Canadian MLS side before, and it's with good reason. He's more than proven himself as not only a capable coach, a smart tactician, and a motivator, but also as one of the most influential figures in Ontario and wider Canadian soccer over the last 15+ years.
From Smyrniotis' point of view, you can see why he would be interested, even with TFC the dumpster fire that they currently are. He has built the Canadian Premier League's first dynasty, a side who over the league's first four years proved almost infallible.
His Forge FC have never missed out on the CPL final and have won the league three times in its first four seasons. Under his all-encompassing rule, they also became the first Canadian club to feature in both the now-defunct CONCACAF League and then the CONCACAF Champions League.
They've also proven their worth in the Canadian Championship, pushing sides with far more resources and prestige to their limits and becoming the first CPL team to reach the final in 2020.
Smyrniotis is a winner and has built a team of winners, who often win even when they don't play well. It's not surprising that Forge tied him to a new four-year contract just three months ago that promoted him to sporting director. He said at that time that he was "looking forward to continuing to build on the winning culture we have set as a club."
But does he have anything left to prove in the CPL? No, not really. So, an important question for him becomes: where do you go from there? You move on, don't you? You test yourself, you try to raise your own already high ceiling, particularly when a golden opportunity arises.
As well as his success in the CPL, Smyrniotis is also widely renowned — but perhaps still not enough — as a leader in developing young Canadian talent. He co-founded the renowned Mississauga, Ontario-based Sigma FC academy system, where he helped to nurture the likes of future CanMNT stars Tajon Buchanan, Cyle Larin, and former Toronto FC favourite Richie Laryea. That's another feather in his cap when it comes to his suitability for the TFC job; while he has not coached in the MLS, he knows GTA soccer inside and out.
"Growing up, he was one of, I would say, very few coaches that actually knew what they were doing," Laryea told the Canadian Press' Neil Davidson back in 2020. "He was teaching me things I never even dreamt or thought about. He definitely took my game to a whole new level and it was really important for me to have him in my development that early in my career…
"He's a great person. All the guys who have gone through him have nothing but good things to say about him. He was a fatherly figure for all of really, I would say. He kept us all accountable… He just has a perfect way of reading his players."
Forge CEO Scott Mitchell said in May that Smyrniotis "has proven himself to be probably the most successful pro soccer coach in Canada over the last several decades." Why wouldn't you want a leader like that in charge of a Toronto FC that need both an on-field rebuild and a wider cultural reset?
It's worth noting that the 44-year-old doesn't just have Canadian experience, either, having worked with the Olympiacos Academy and AFC Ajax, too.
All this pedigree was recognized in the fact that there was talk that he had been considered for the CF Montréal job in the offseason but his status as a non-Francophone reportedly relegated him in the list of options.
Although he didn't get the job which ultimately went to former D.C. United head coach Hernán Losada, the fact this reported TFC job interview is the second solid interest from a Canadian MLS club in the space of a year says a whole lot about his considerable influence over Canadian football. Not to mention the fact that The Athletic's Josh Kloke reports that he was interviewed by TFC during their last head coaching search, at the end of which they ultimately appointed Bob Bradley in November 2021.
And so to the key questions.
Firstly, would Bill Manning and TFC give Smyrniotis the keys to the club, the remit that he has become accustomed to at first Sigma and then Forge to oversee the club from the first team to the grassroots youth? Would Manning give Smyrniotis the respect he deserves?
Smyrniotis told the Hamilton Spectator in May that while he anticipates future career opportunities may present themselves, "you always have to make sure you make the right steps in the right situation where you can not only do a good job but you can put your mentality and philosophy into those places… If there's a place that comes along in the future, that's one of the things you do look at: if you have a common idea of the game and a common philosophy of how to play."
Would he get that at TFC? If not, then this whole thing is likely a non-starter. If he does, then it could be an incredibly savvy long-term play from a club that has fallen far short of that kind of strategy in recent years.
Secondly, would Toronto fans have the patience to allow Smyrniotis, unquestionably a long-term project manager, to develop the talent, to ride the waves, and to build brick by brick?
Manning, and many TFC fans, will likely always clamour for a certain star power at the club, the effect of Jermain Defoe and Sebastian Giovinco and Lorenzo Insigne and Federico Bernardeschi — despite the fact that only one of those names has been a veritable success. Can that desire for bold statements and player prestige marry with Smyrniotis' ideology?
They are all valid questions. Sure, there's also the big question mark over Smyrniotis' lack of direct MLS experience. But, for TFC, going for proven MLS experience has failed dismally since Greg Vanney's departure and Smyrniotis brings multiple benefits that many other candidates wouldn't. If, like Toronto, you need a total reset and revamp on and off the field, Smyrniotis is as good a pick as any.
---