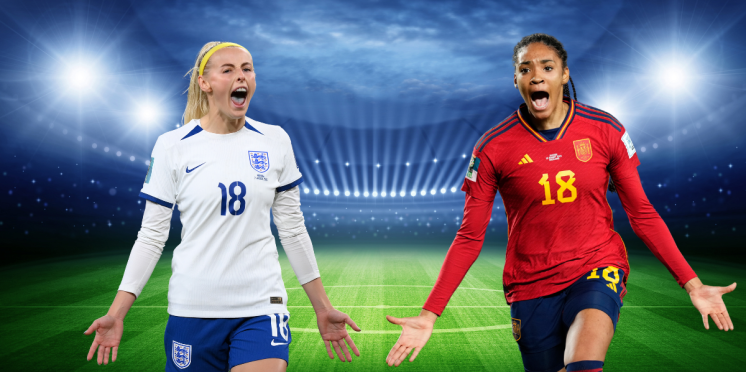 England and Spain set for historic Women's World Cup Final in Sydney
Finally, the wait is over and the moment every women's soccer fan has been waiting for is here.
The 2023 FIFA Women's World Cup final will make history at Stadium Australia. With every previous winner and runner-up dealing with sorrow after their World Cup exit, first-time finalists Spain and England will battle it out for the ultimate trophy in women's sport.
Spain's triumph to Sunday's final came by beating Scandinavian giants Sweden in the semi-finals, who once again are the bridesmaid but never the bride having fallen at the semi-final hurdle for the fourth time —and of course, settled for silver at the Tokyo Olympics two years ago in CanWNT's golden moment.
There are a few Canadians playing their club football in England that may have a rooting interest in the Lionesses. Arsenal's Lotte Wubben-Moy and Alessia Russo want to make sure it's coming home for England. CanWNT forward Cloé Lacasse will likely have a close eye on her new strike partner, Russo, hoping she might bring some World Cup magic back to Arsenal this WSL season.
Russo has stepped up massively in an England shirt, scoring goals in both the quarter-finals and semi-final. Canadian goalkeeper Sabrina D'Angelo spends plenty of time talking with defender Wubben-Moy on the pitch. Those exchanges may be a little different next season if LWM returns as a World Cup winner.
England and Spain were the betting favourites to reach the final with various outlets, including FIFA's own fan engagement poll. The European giants faced adversity getting to this stage, but champions always find a way to win.
Spain experienced one of their biggest losses to date, a 4-0 beat down by Japan in their second group stage game, despite having over 20 shot attempts and dominating 81 percent of possession. That night in Wellington, Spain just weren't clinical enough to find the back of the net. Overcommitting numbers on too many plays, Spain's backline were caught out of position and punished by Japanese precision.
But, here we are three weeks later and Japan were sent packing by Sweden in the quarter-finals. That loss in Wellington saw Spain finish as runners-up in Group C, ahead of Costa Rica and Zambia who bowed out. Spain were a different side in the knockout stages beating Group A winners Switzerland, 2019 World Cup finalists The Netherlands, and four-time World Cup semi-finalists Sweden.
La Roja's squad is made up of arguably some of the most successful players at club level. Included, is two-time Ballon d'Or winner, Alexia Putellas, who is making her return from an ACL injury that kept her sidelined for last summer's Euros. At the World Cup, her minutes have been limited and starts not guaranteed with injury management a key priority. But not to worry, magician Aitana Bonmati is the Xavi of this Spanish women's team, already scoring twice and assisting a brace.
Various Spanish players have been in a very public fight with their federation, voicing mistrust around current head coach Jorge Vilda. During his seven-year spell, this is the first time the Spaniards have advanced beyond the quarterfinal stage of a major competition. Whilst it has totally come down to the individual brilliance of many players, including 19-year-old Salma Paralluelo responsible for the 111th-minute quarter-final winning goal against the Dutch, the players are fighting for much more than a trophy on Saturday.
Putellas was one of the 15 players to initially step away from international duty when the protests began in October of 2022. She has not done any media obligations at this World Cup; no press conference appearances, no exclusive interviews, nothing. Unsurprisingly, the spotlight hasn't been directed at her as much as some fans may have expected this summer.
UEFA Women's Champions League winners Mapi Leon and Patri Guijaro declared themselves unavailable for the World Cup, refusing to make the trip as they stand on strike. Spain continues to win despite the turmoil with the Spanish federation, a storyline every single nation has had to deal with, or currently dealing with, in some similar capacity over the last few years. Though Spanish players haven't testified in front of federal Parliament, unlike the Canadian women's national team who won Olympic gold despite being historically underserved and let down by Canada Soccer, they have a lot in common.
Known to dominate possession, passing numbers, and most importantly, expected goals (xG), Spain have shown flare never displayed before. Paralluelo has been particularly used as a super sub and a clearly game-changing player. It is her direct work and productive attacking play that adds an extra gear for La Roja. Known for their fancy Tiki-Taka passing football, Spain have often lacked ruthlessness and a patient build-up play — the Japan game being a great example.
Both winning goals, in the quarter-final and semi-final rounds, were not 'pass it into the back of the net' tiki-taka goals. Paralluelo's winner against the Dutch was off a fast counterattack and shot from the side of the box. 23-year-old Olga Carmona's screamer from outside the box in the following game was a scene never even attempted under Vilda; an off-the-box layoff and top-shelf shot is Carmona's bread and butter at Real Madrid.
The players have tried out methods Vilda doesn't prefer to play with, and that individual brilliance molded from their club football experience is what has taken Spain to the final.
For the Lionesses, it wasn't a dream start to the tournament either. Outclassed in counterattacks and duels by debutants Haiti, it was a perfectly placed Georgia Stanway penalty that secured a razor-thin 1-0 victory for England. The European Champions took their time during the group stage to adjust certain things as they worked around the absences of three major players,
Euro 2022 golden boot winner Beth Mead along with captain Leah Williamson have missed out with ACL injuries. One of the best midfielders in today's era, Fran Kirby, continues to recover from a knee injury sustained during the WSL season. Sarina Wiegman mastered the first three games to attempt different plays and substitutions, as a lesson moving forward.
Riding their luck, the English were saved by the post against Denmark, took a challenging Nigeria side to penalties, and had to come back from behind versus Colombia. What Wiegman has shown is that it doesn't matter how the team wins, as long as they find a way to do so. After all, that's how tournament football works.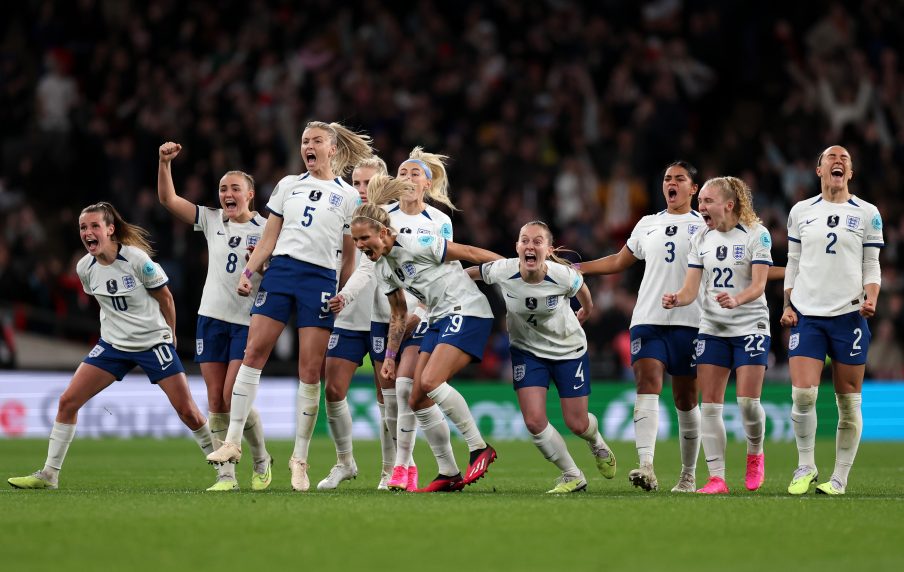 A courageous display against the Aussies and a tactical masterclass of positional excellence to secure a 3-1 victory is why England are in Saturday's final. Players on the frontline have stepped up when asked to. Lauren Hemp's work on the wings has terrorized full-backs, Ella Toone is a big-game player, and Chloe Kelly is getting more confident by the minute. Despite troubles in certain areas of the pitch across the last month, the backline of Jess Carter, Millie Bright, and Alex Greenwood has been outstanding. A high standard of discipline and bravery coupled with consistency has made it tough for the opposition to score.
A red card that came including a two-game suspension to their highest goal scorer Lauren James, as well as Keira Walsh's injury, called for squad rotation and a never tested before starting XI. Yet, in classic Wiegman fashion, they continue to go forward, against the odds.
The Dutch head coach has now made it to four consecutive major competition finals with two different nations. She won the 2017 Euros with The Netherlands and then last summer with the Lionesses, as well as making it to World Cup finals in the last two editions, failing against the USWNT in 2019. Many consider her one of the best minds in the women's game, but with a track record like this and the chance to bring it home for the first time since 1966, Sarina Wiegman should be considered one of the best head coaches in football.
The midfield battle between Aitana Bonmati and Walsh will have fans glued to their screens with eyes wide open. The duo rip apart other teams as they combine with each other at Barcelona. England beat Spain 2-1 in the quarter-final stage of last years European Championship. The Spanish were the first side to put England on the backfoot in the current Wiegman era, but poor game management allowed a home fan-fueled England a historic comeback. Will it be revenge in Sydney?
The history-changing tournament final will take place Sunday at 6 a.m. ET on TSN. This World Cup has broken every record in the history books by going beyond expectations. The slogan has been "Beyond Greatness," and it has been exactly that.
---