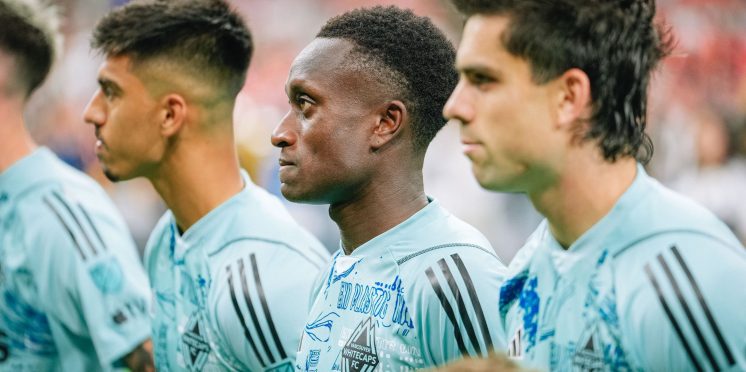 CanMNT stars Richie Laryea & Sam Adekugbe lose Vancouver Whitecaps debut to San Jose despite VWFC dominance
I've written it many times before and it's worth saying again that the Vancouver Whitecaps are the most entertaining Canadian Major League Soccer team to watch. You do have to score goals to win games, though, and the Caps couldn't do that Sunday night as MLS action resumed after a month-long Leagues Cup break.
Despite the highly anticipated debuts of Canadian internationals Richie Laryea and Sam Adekugbe, and dominating the visiting San Jose Earthquakes for the better part of the night, the Whitecaps couldn't find a breakthrough and suffered their ninth loss of the season to a team they're chasing in the MLS Cup Playoff race.
It was a frustrating way for the Whitecaps to lose despite 19-shot attempts to San Jose's four. But if you can't hit the back of the net, you're not going to come away with points. For San Jose, it was just their second road win of the season, but one that vaults the Quakes up to fifth place in the MLS Western Conference standings.
"Not the start I wanted results-wise, but [it was] the start I wanted in terms of the way we played," Whitecaps head coach Vanni Sartini said in his post-match press conference. "I think today, not only because we were at home, but we deserved three points. I think today, in terms of the volume of how we played and the way that we played, we should've won."
Both teams lost to Tigres in their last outing, but for the Quakes who didn't make it out of their Leagues Cup group with back-to-back losses, they had three weeks to prepare for Sartini's Whitecaps. This is a much different side than the one that lost to the Mexican giants in a penalty shootout two and a half weeks ago.
The surprising additions of CanMNT stars Laryea and Adekugbe on MLS Transfer Deadline day not only bolstered Vancouver's Canadian contingent, but raised the level of quality in a team that already plays a very offensive, and usually very entertaining, style of football.
Laryea wasted little time showing Whitecaps fans what the TFC faithful knows all too well; his dangerous runs down the right side, forcing defenders onto their back foot, and bad ankles.
The 28-year-old's first attempt on goal came just after the 10-minute mark when he stormed down the right side and cut in on a scrambled Miguel Trauco, unleashing a shot that San Jose keeper Daniel — if you couldn't guess, yes, he's a Brazilian footballer with just one name — couldn't handle, but Sergio Córdova nor Alessandro Schöpf could force it over the line.
"I think we need to take the positives out of this," Laryea said after his Whitecaps debut, while inferring he felt he should've scored at least twice on Sunday night. "There's no time to dwell on losing a game and yeah there's a bunch of road games coming up and that will test the character of the group. It's a great opportunity for all of us to step up."
The Whitecaps completely outplayed San Jose in the first half, but it was the visitors that walked into the change room at half-time with a 1-0 lead thanks to a perfectly executed counter-attack that left the Caps completely unprepared and unable to deal with San Jose's 4v2.
It was the only shot on target San Jose had all night.
Sartini went to his bench at halftime bringing on Adekugbe for his re-debut, replacing Laryea after an impressive 45-minute shift. For a guy that hasn't played a competitive game since playing for Canada at the Gold Cup on July 9, Laryea looked as pacey and as dangerous as we've grown to expect since breaking out at Toronto FC in 2019.
It was almost a dream second-stint debut for Adekugbe who hit an outstanding free kick in the 80th minute from just outside the box, that bent like a ball David Beckham and Roberto Carlos would be proud of, but hit the outside of the post and stayed out.
Since opening the faucet with his first Whitecaps goal after a 19-game drought, Designated Player Sergio Córdova has looked much better both on and off the ball. The Venezuelan had a handful of chances again on Sunday night, but was stymied by Daniel and several occasions. The Brazilian will head back to San Jose feeling like he deserves a pay raise after making eight stops on that awful-looking turf at BC Place.
It's easy to see why there's so much hype around San Jose star teenager Cade Cowell. The American made his USMNT debut at this summer's World Cup and looked like a force against Jamaica in the opening game of the Gold Cup at Soldier Field. He was undoubtedly the best player in an American shirt that night, and looked like a 10-year veteran against a hungry and star-studded Reggae Boyz side.
Cowell does also look like an American version of Canadian winger Jacob Shaffelburg with that trademark mullet, but like the guy that would be cast as the antagonist to Shaff in the high school movie about a football team that had no business winning the championship for a coach that has a drinking problem and a bad home situation. Am I alone on that?
The Quakes did an excellent job of not allowing balls to get behind their backline, while also not sitting too deep as so many other MLS teams do when trying to protect a lead against better opposition.
Ayo Akinola made his San Jose Earthquakes debut, coming on as a late substitute in the 85th minute for his first bit of action since being sent to the Bay Area on loan from Toronto FC.
It wouldn't be a bad night for the Whitecaps without Sartini picking up a yellow card which he did with the Caps pressing for a stoppage-time equalizer.
The Whitecaps now hit the road for seven straight games, which is daunting at any point in the season put particularly now for a team that has only won a single game away from home all season. Currently in eighth place, the Caps have just a one-point edge on 10th-place FC Dallas who — as long as they don't lose star striker Jesus Ferreira before the European and Saudi Pro League transfer windows close next month — should pick up a few points over their next seven games, four of which are at home in Frisco.
"It's going to be hard to the end. We need to win games," said Sartini. "Maybe one or two (away wins) would have been enough. Now maybe, it's two or three."
---