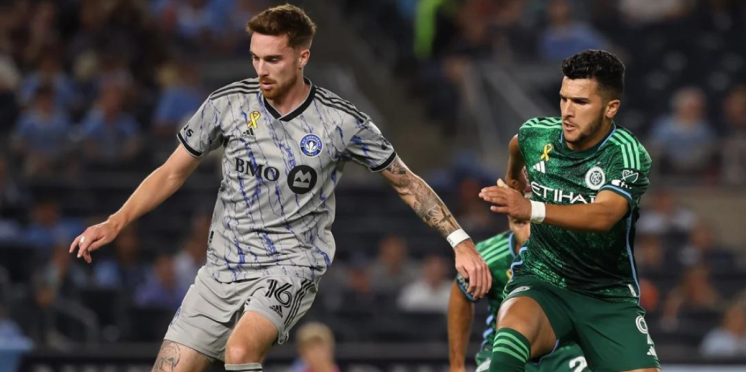 NYCFC continue to own CF Montréal, Hernán Losada's men can't buy a shot in the Bronx
Sometimes, it's just not your night. For CF Montréal, it never is against New York City FC.
Montréal saw their three-game winning streak come to an end in the Bronx losing 2-0 to the 13th place side in the Eastern Conference, powered by first-half goals from Andres Jasson and Monsef Bakrar.
It was the 12th time that NYCFC had beaten Montreal in 19 games, which includes the MLS Cup Playoff fixtures.
On Wednesday night, Hernán Losada's side looked like a shell of the team that followed up a 401 Derby win over Toronto FC in the first game back from the Leagues Cup break with a win over the New England Revolution last weekend. You'd never have known that CFM were the side nine points ahead in the standings coming into Wednesday's tilt. But there's nothing like the child-sized pitch at Yankee Stadium to really measure how a team stacks up against underperforming opposition.
"The Pigeons" has to be one of the worst nicknames in sports. I get why a New York City team would be called it, but it doesn't seem like a nickname they would want to stick. Although maybe Andres Cordero's repeated use of it on the Apple broadcast was his way of sticking it to the Manchester City majority-owned club.
NYCFC were the stronger side in the first half an hour. Losada's decision to start Bryce Duke on the bench was a puzzling one. Duke was a halftime substitution, but it felt too late as NYCFC were able to neutralize Duke and keep the ball away from him.
Montréal didn't force NYCFC goalkeeper Matt Freese to make a single save — although Lassi Lappalainen did rattle the crossbar and was unlucky not to see the ball dip in by six inches — and kept less than 35 percent of possession Wednesday night.
Why were New York wearing green kits? No, it had nothing to do with St. Patrick's Day, which New York sports teams seem to embrace wholeheartedly no matter the sport and no matter the time of year. The unique design, dubbed "The Parks Kit" is multi-green to celebrate and pay homage to the 1,700 parks across New York's five boroughs.
Up next for CF Montréal is a return home and a visit from the Columbus Crew. NYCFC continues a five-game homestand on Saturday as the red-hot Vancouver Whitecaps visit the Bronx.
---