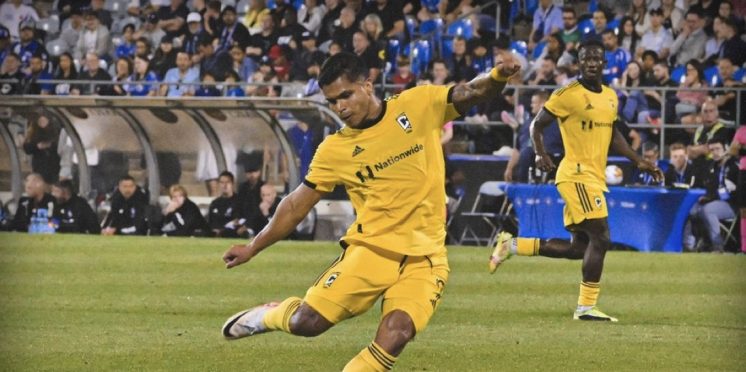 CF Montréal played off the pitch by former gaffer Wilfried Nancy's Columbus Crew
There's no denying that Wilfried Nancy left some big shoes to fill when he departed from CF Montréal this past offseason. He returned Saturday night and played his old team off the pitch with his high-flying brand of Columbus Crew football.
Montréal dug themselves a hole in the first half that they simply couldn't claw their way out of, conceding three first-half goals and finishing on the wrong end of a Cucho Hernandez hat-trick and a 4-2 loss.
Much like last Saturday night against New England, CFM started slow and looked out of sorts until the second half when they turned up the offence and began to threaten Columbus. The problem was, Nancy had them figured out, beat early, and unlike the Revolution, the Crew were not fazed by Montréal's second-half offensive uptick.
"This may have been our worst defensive game of the season, as a collective," said CF Montréal head coach Hernan Losada post-game. "They converted on their chances and made us pay for our mistakes, it's that simple."
It was an awful start for Montreal who had allowed just two goals in their last 10 games at Stade Saputo before conceding two in the first half to Columbus on Saturday, and the first was a self-inflicted Gabriele Corbo own goal.
Less than 10 minutes later Hernandez bagged his first goal of the night, on a great feed from Diego Rossi — a partnership that could take the Crew pretty far in the MLS Cup Playoffs this fall.
Bruised, Montréal didn't look beaten and did spring a few chances but couldn't beat Columbus goalkeeper Patrick Schulte. And then, Hernandez made the hosts pay for not doing so.
The home crowd booed their team off the pitch at the end of the first half. But, to Montréal's credit, they came out in the second half with a hunger their supporters had expected with the old boss and defender Rudy Camacho back in town.
Losada made two substitutions at half-time and the addition of Jules-Anthony Vilsaint brought an electricity and spark that Montréal were missing. Vilsaint's speed down the right side contributed to Kwadwo Opoku's second goal in a Montréal shirt and got the hosts on the board.
But 12 minutes later Columbus got a break that good teams often get when referee Filip Dujic was swooned by Hernandez's call for a penalty after VAR officials called him to the monitors after the Colombian sold a penalty after a challenge from Montréal defender George Campbell, who seemed embarrassed by Hernandez's reaction.
And just like that, the Crew's three-goal lead was restored.
Hernandez is the first MLS player to record 31 goal contributions in his first 36 MLS appearances since former Toronto FC Designated Player and MLS MVP Alejandro Pozuelo.
Vilsaint pulled one back for the hosts just minutes later, but it was as close as Montréal would get.
"The energy was very high for the whole game, but it's a lot harder to bring that energy when you're down 3-0 compared to the start of the game," said Losada. "That's why I'm very proud of the way the team came out in the second half.
"We have to play for our pride, our families and friends and we have to try and win the second half, which is something we did."
It seemed a real shame that Montréal native Mo Farsi got just five minutes on the pitch as a late second-half Columbus substitute. Play-by-play man Neil Sika said on the Apple TV broadcast that Farsi had about 15 family members in the stands. Not sure why Nancy didn't see Farsi in his plans in a game where Columbus maintained a two-goal advantage practically all night.
It was the first time since 2020 that Columbus scored four goals on the road. The Crew's third win in their last four matches vaulted them into fourth place in the Eastern Conference, turning the page on their midweek loss to Houston.
CF Montréal will not lose any players to international duty this month and are off until after the international break when the Chicago Fire visit Stade Saputo on September 16.
---