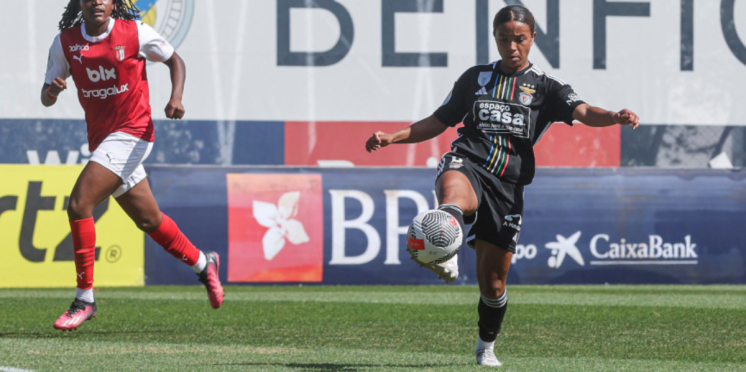 WoSo Canadians Abroad: no time for CanWNT stars to dwell on World Cup disappointment
How will Canadian players bounce back? What is their mentality now after such a short Women's World Cup in Australia? Does anything change at all? Those are just a handful of questions surrounding Canadian women's national team players as they pick up the pieces and return to club football.
Only a few days back into regular gameplay, we have some answers in impressive fashion. Goals, debuts, and a mixed bag of spirits is this week's theme for the return of WoSo Canadians abroad.
Goal of the Week: Marie-Yasmine Alidou, on her Benfica debut
It was one Canadian out, one Canadian in this summer for Portugal's reigning champions SL Benfica.
Cloé Lacasse left Lisbon for English giants Arsenal at the start of the transfer window, but 28-year-old Marie-Yasmine Alidou was a crucial reinforcement for the Portuguese club.
Looking to win their first silverware piece of the season, Benfica took on an improved SC Braga in the semi-finals of the Portuguese Super Cup — better known as the Supertaça in Portuguese circles.
Lining up in a 4-3-3, Alidou started in her Benfica debut and it did not take long to see what she can do.
Only two minutes in, the Canadian smashed a first-touch rocket from the edge of the 18-yard box after losing her marker through a body dip. This is a technique Alidou has shown often, especially with the national team. Drifting on the edge of the box and being an open option is a talent she has sharpened over the last three years, and it is no surprise to see her already making it a deadly weapon in Portugal.
The next 45 minutes were a nightmare for Benfica as they conceded three before the half. A sharper second half and equalizer from star Kiki Nazareth sent the game into extra time, and eventually an intense penalty shootout.
Alidou once again proved to be key, finishing her penalty and securing Benfica's ticket to the Supertaça final, where Benfica will face derby rivals Sporting CP on September 13. We could see another Canadian by the name of Olivia Smith make her debut, having joined the Lisbon giants in July from League1 Ontario's Toronto Nitros.
Alidou has had a long tour across Europe over the last decade and is finally getting to showcase herself at a top club that has many eyes on them. She might have missed the plane to Australia for this year's World Cup, but the off-season work is paying off and the 28-year-old is ready to make some real statements on the pitch.
Honourable Mention: Jordyn Huitema's match-winner for OL Reign
The pressure was on Canada's 22-year-old No. 9 for Canada this summer, and in some ways, Jordyn Huitema was not able to be the hero the CanWNT needed. Huitema returned to the NWSL and her OL Reign squad on August 19 against the Kansas City Current seeing her first few minutes following the World Cup and played the next game re-gaining match fitness.
On Sunday, Huitema started on the bench for the Seattle-based outfit but came on 10 minutes into the game against Orlando Pride, replacing an injured Bethany Balcer. Huitema used valuable energy in the Reign's attacking buildup. Early in the second half, Huitema was in the right place at the right time to capitalize off a rebound and fire a shot past Orlando backup goalkeeper Carly Nelson.
With a one-player advantage following Orlando starting goalkeeper Anna Moorhouse's third minute red card, the Reign kept the momentum and a clean sheet to bag all three points.
Low of the Week: Clarissa Larisey's injury
Clarissa Larisey fractured her ankle during a friendly against IFK Norrköping and missed the restart of the Swedish OBOS Damallsvenskan.
The injury was not as bad as initially thought and should everything go as planned, the Canadian is expected to be back for BK Häcken's UEFA Women's Champions League qualifiers, said her head coach, Christian Lundström. The second phase of UWCL qualifiers kicks off October 10/11, which will be determined through the draw on September 15th
This is both bad and good news for the young forward. The move to Sweden has been bright and full of game-time minutes, where many thought she deserved a plane ticket to the World Cup as one of the few healthy and fit wingers Bev Priestman had available. Larisey has a single UWCL appearance with Icelandic side Vlaur under her belt, and will be working hard to be fit for some important European nights.
The foot means Larisey will not be involved in Canada's Olympic qualifiers in September against Jamaica, but she should return before the end of the year, and with Canada Soccer planning to schedule a few more CanWNT fixtures before December 31, we could see Larisey rock the red and white again.
Game of the Week: Chelsea vs. AS Roma (friendly)
English Women's Super League champions Chelsea are known for a few things, one of which is participating in eventful friendlies before each season kicks off.
Serie A champions Roma had an incredibly busy transfer window with many outgoings, very much like Chelsea, which is why this predicting this friendly was such a toss-up. Chelsea's new summer signing Ashley Lawrence got her start alongside Canadian teammate and fellow Bramptonian Kadeisha Buchanan.
Lawrence looked extremely comfortable in the Chelsea system enjoying a more advanced role higher up the pitch. Known for being two-footed, able to calm the ball, and open runs for teammates, was exactly what she did on both wings. Alternating wingers in intervals is something head coach Emma Hayes does often. Buchanan played calm and collected in the back, working well with the different backline pairings she will be linking up with this season.
Jessie Fleming and Evelyne Viens came on later in the game for their respective teams. As anticipated, it didn't take long to see goals.
One Norweigan put Roma ahead, and another equalized for Chelsea in classic Guro Rietan fashion. The Italians hit back to take the lead, but the Lauren James hype train continued to grow after she found the net from outside the box to draw the two-level before halftime.
Viens came on the wing and was shifted into the No. 9 role shortly after, performing very well and dangerously across, even coming close to scoring a goal of her own. It was Chelsea's Agnes Beever-Jones who got the winner in the 90th minute through a smooth Felming assist.
Baby Reds action of the Week: Canada qualify for CONCACAF Women's U-17 Championship
Canada qualified for the Concacaf Women's Under-17 Championship after back-to-back wins over Dominica and Bermuda. An impressive 9-0 win over Bermuda on Wednesday meant the Canadians finished first in the three nation round-robin Group F series in the Dominican Republic from.
Ottawa's Annabelle Chukwu was named Player of the Match for her efforts, having scored a brace. The 16-year-old has scored seven and assisted three in the two games she's played this year.
Across the two qualifiers, Canada featured 19 different players including seven making their youth international debuts.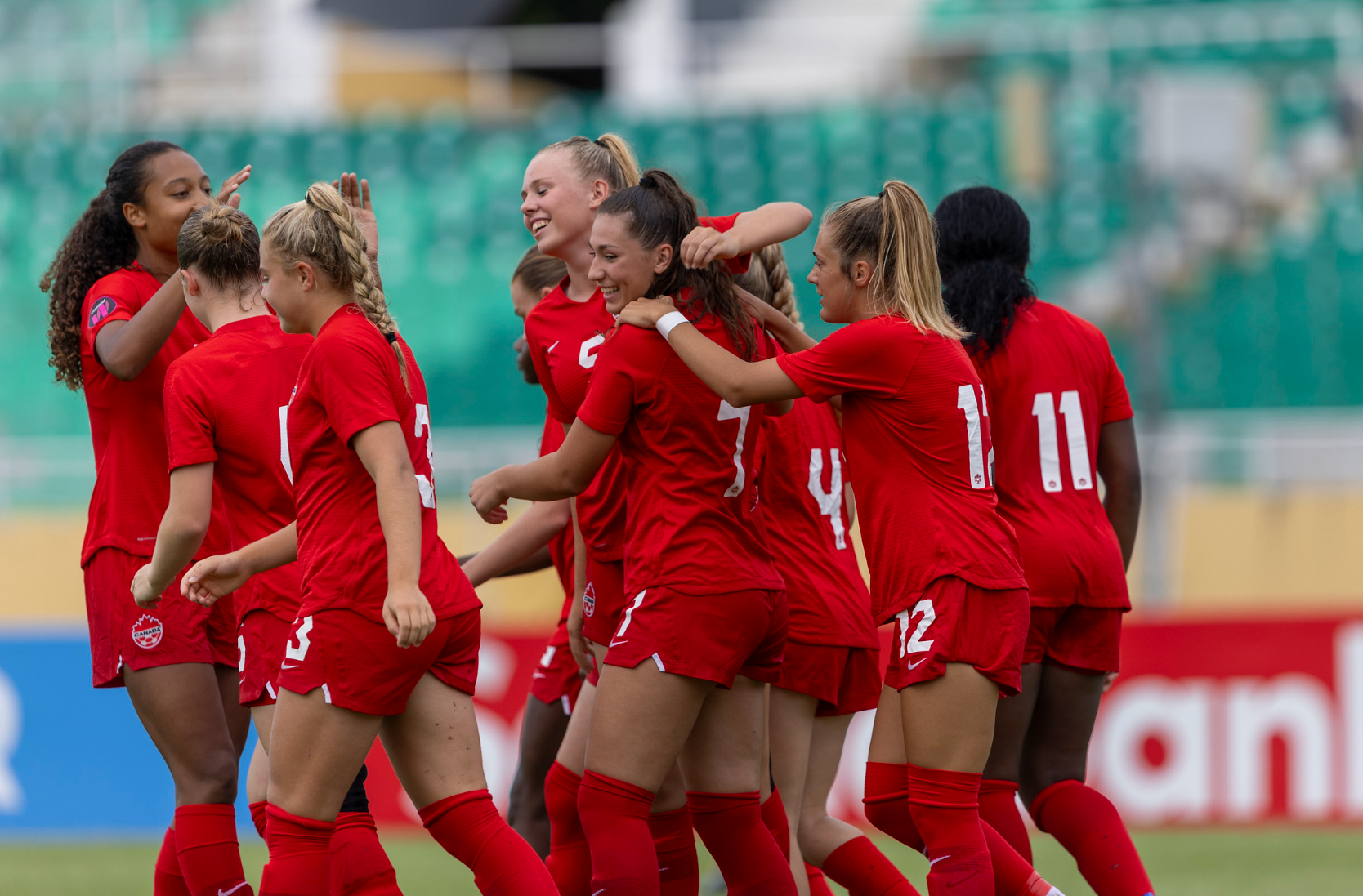 "We were able to start to form our team culture and identity across the camp and the players were able to start to form some partnerships which was nice to see. The squad is in a really good place ahead of the Concacaf Under-17 Championship in the new year," said Canada Women's U17 head coach Emma Humphries.
---