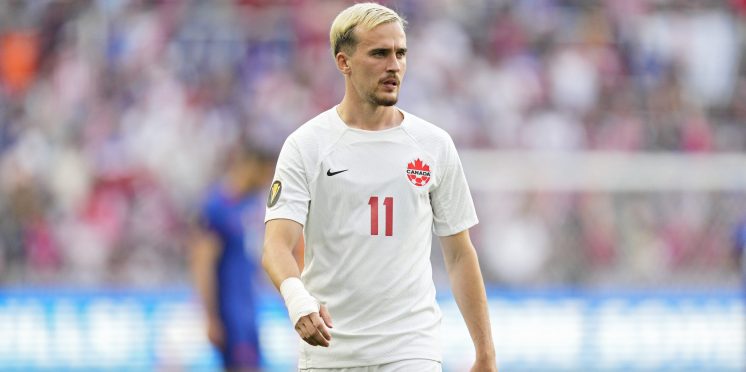 Canada's Liam Millar on moving on from Liverpool, John Herdman's CanMNT departure, and playing at the World Cup
Preston North End may have broken their transfer record with a deadline-day deal for Milutin Osmajić, but their other last-minute signing is who Canadian fans are looking out for.
Brampton native Liam Millar, secured a loan move to the Lilywhites for the 2023-24 season from FC Basel, marking his return to England for the first time since 2021.
Millar started his career in England at Liverpool FC's youth academy, before leaving permanently in 2021 with just one senior appearance for the Reds. But that one appearance made Canadian soccer history, thus making it a cherished memory.
"To play at Liverpool is obviously very prestigious and a very high level and something I'm forever grateful for," Millar said during an interview with OneSoccer's Alexandre Gangué-Ruzic and Josh Deming.
"It was a big thing, and it was an amazing experience. And then obviously to make my debut also, I think I was the first ever Canadian to play for Liverpool, so this was a big achievement for me."
But making history wasn't enough for Millar and his focus was on regular playing time, which he realized was unlikely at Liverpool. That's when Basel came calling.
"At some point in youth football, you have to realize, is there really a pathway for me?" Millar said. "Is there really a place for me to break into this first team? And at the time, Mané and Salah were two of the best players in the world. And it's so difficult to ever break through into this position. So I made the decision when Basel came knocking."
After two fruitful years with Basel, Millar became a Swiss army knife, and this versatility is what earned him a move to Preston North End. With the team currently sitting atop the English League Championship after five games, the 23-year-old could be a Premier League player next season if he impresses at PNE.
A move like this certainly comes with expectations, but as someone who earned his first international call-up as an 18-year-old, Millar is no stranger to dealing with expectations.
That call-up, back in March 2018, came during John Herdman's first rodeo with the national team. Millar still remembers the emotions when he saw his name on the roster and how that led to having a strong relationship with Herdman.
"I couldn't believe it," Millar revealed." I was in such disbelief at the time. It was John's first camp, new coach. I never met him before. I never spoke to him. I had no idea. I had nothing. And then he invited me to the camp, and I was like, wow, this is amazing. I'm so happy. I'm so excited.
"I went to the camp, and this is where my relationship with John really started. He said to me, 'Liam, you have nothing to lose here. Go play with absolute freedom, clarity. Just play your game.' And that's something I never forgot throughout the whole camp. I was myself. And I probably had my best two weeks in a row with Canada during this time, because I was playing with so much freedom, just being as creative as possible and doing everything."
Unsurprisingly, Millar admitted that he was upset when he found out about Herdman's move to Toronto FC. But he believes it won't change their relationship.
"I ran straight over to him and I gave him a little hug (after scoring against Cuba in the Gold Cup). He's a big person in my life. He gave me my debut for Canada, my debut at the World Cup. He was there for my first goal. Everything that's happened to me with the national team, he is a common factor in that.
"And when I saw the (TFC) news, I was obviously a little bit upset. And not that I was expecting it, I really didn't know anything that was happening. It's sad that he has to go, but I respect that he wants to take on a new challenge. I wish him nothing but the best and we'll probably stay in contact over the years."
Herdman may have handed him a debut in 2018, but it wasn't until July this year that Millar finally notched his first goal for Canada against Cuba in the Gold Cup. And that five-year wait wasn't easy for him.
"It was something that was hard for me, because everybody else has scored a goal, who came in when I came in, and I was the last one to score. Junior (Hoilett) was really helpful with me because (he said), 'I didn't score for my first 15 games for Canada, too. So don't worry, once one comes, they all start to come so don't worry about it. It's all good.'
"I was trying to be as patient as possible and wait for my moment. And when the ball went in the net (against Cuba), it was just such a surreal moment for me. I couldn't believe it. I think you saw the facial expressions. I ran over to the bench. It was just like such a surreal moment. To score for your country is such an amazing thing and I'm so happy that I got to experience that."
The goal will certainly be a memory to be cherished forever, but there's a good chance that the 2022 World Cup call-up will hold a higher value for Millar. He wasn't sure it would come, despite being a CanMNT regular.
"I think at the time I was a little bit concerned (about whether) I was going to make the squad or not. My first season at Basel, I was really good, and I played really well. And John gave me a couple of chances in that season, in the Costa Rica game, because of the way I was playing at my club. (But)… the whole of last season I wasn't really happy with the way I was playing.
"So it was probably some of the most nerve-wracking times of my life because it's such a big moment in Canadian history and such a big moment in my life also. And I was just hoping and praying that I would be coming. And when I found out that I was going, I almost started crying. I was so excited and so happy that I made it and that all my hard work paid off for that moment."
While he may not have had plenty of chances in Qatar, Millar was on the pitch for a late cameo against Belgium in the first game. And that was enough to make a lifelong dream come true.
"It was an amazing experience. It was amazing for (my family) to be there to see me play. My wife, my daughter, my dad, everybody to be there to see me play.
"When I was a kid growing up in Brampton, did I ever think I would play in a World Cup for Canada? If you had asked me that question, I probably would have said no. So the fact that it did happen, it was really such a dream come true because it's everything I wanted in my life."
---