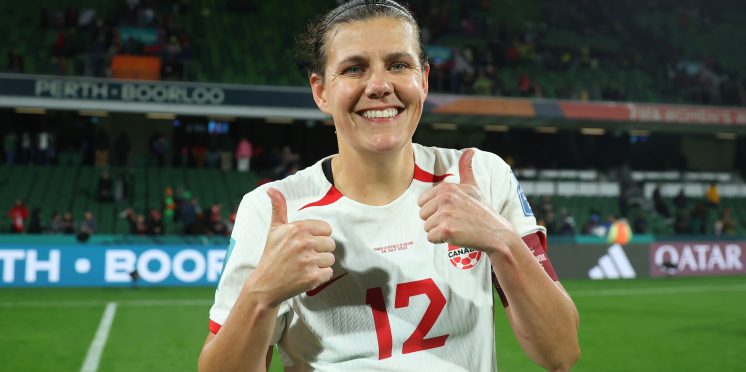 Christine Sinclair named in Canada's Olympic qualifier squad for first CanWNT window of post-Sophie Schmidt era
Published: September 8, 11:13 a.m. ET
Updated: September 8, 4:48 p.m. ET
Christine Sinclair isn't done yet.
The 40-year-old, whom it had been speculated may retire from Canadian women's national team duty after the 2023 Women's World Cup campaign, remains in the squad as captain of Bev Priestman's 25-player roster for this month's 2024 Olympic qualifier series against Jamaica.
Asked about Sinclair's future, after the World Cup, Priestman had said that she couldn't confirm whether Sinclair would play for Canada again, saying that "the reality is with Sinc is you only talk one game at a time… [That] you say 'Could this be Christine Sinclair's last game' breaks my heart."
Well, she's carrying on, meaning she will likely add to her Canadian-record 326 international caps and potentially also her all-time international soccer record of 190 goals.
However, veterans Sophie Schmidt and Desiree Scott are not included. Schmidt has retired, as she confirmed at the time of the World Cup, while Scott continues to recover from ongoing injury issues having just returned to training with the Kansas City Current.
Veteran full-back Allysha Chapman is also a notable absentee after missing out on the Houston Dash's last two NWSL games. Later on Friday, Priestman confirmed that Chapman is unavailable due to personal reasons.
Jade Rose, Sydney Collins, and Bianca St-Georges, who were all omitted from the World Cup group, are back in the mix. So, too, is Marie-Yasmine Alidou, who has begun life with Portuguese giants Benfica with back-to-back goals.
Deanne Rose is included on the same day that she signed for WSL side Leicester City.
Clarissa Larisey misses out after suffering a fractured foot this week.
"I'm excited to get this roster together and get after the next chapter for this team," said Priestman in a statement. "We all are itching to get back on the pitch and be together and want nothing more than to start our 2024 Olympic Journey and solidify that in front of a home crowd in Toronto."
Canada travel to play Jamaica in the first leg of a two-game aggregate qualifier playoff on Friday, September 22 before hosting the return leg at BMO Field on Tuesday, September 26.
Full squad
GK – Sabrina D'Angelo | ENG / Arsenal FC
GK – Lysianne Proulx | POR / SCU Torreense
GK – Kailen Sheridan | USA / San Diego Wave FC
CB – Kadeisha Buchanan | ENG / Chelsea FC
CB – Vanessa Gilles | FRA / FCF Olympique Lyonnais
CB – Shelina Zadorsky | ENG / Tottenham Hotspur
CB/FB – Sydney Collins | USA / NC Courage
CB/FB – Jade Rose | USA / Harvard University
FB – Gabrielle Carle | USA / Washington Spirit
FB – Ashley Lawrence | ENG / Chelsea FC
FB – Jayde Riviere | ENG / Manchester United FC
FB – Bianca St-Georges | USA / Chicago Red Stars
M – Marie-Yasmine Alidou D'Anjou | POR / SL Benfica
M – Simi Awujo | USA / University of Southern California
M – Jessie Fleming | ENG / Chelsea FC
M – Julia Grosso | ITA / Juventus FC
M – Quinn | USA / OL Reign
M/F – Olivia Smith | POR / Sporting CP
F – Jordyn Huitema | USA / OL Reign
F – Cloé Lacasse | ENG / Arsenal FC
F – Adriana Leon | ENG / Manchester United FC
F – Nichelle Prince | USA / Houston Dash
F – Deanne Rose | ENG / Leicester City FC
F – Christine Sinclair | USA / Portland Thorns FC
F – Evelyne Viens | ITA / AS Roma
---