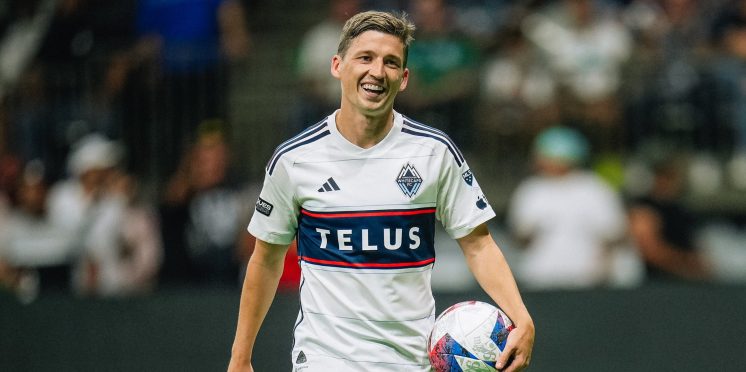 Ryan Gauld: The 'Scottish Messi' whose MVP-calibre form is driving the Vancouver Whitecaps' playoff charge
Ryan Gauld just might be the most underrated player in Major League Soccer right now.
This year, we at Canadian Soccer Daily have extolled the virtues of this Vancouver Whitecaps team numerous times. Watching them may require staying up late for east-coasters on Saturday nights. But more often than not, they're worth it. Vanni Sartini's side are always entertaining, often scintillating, and by some measure the best team in Canadian soccer this year.
This Whitecaps iteration has many attractions for Canadians, and more so now after the deadline-day additions of CanMNT full-backs Richie Laryea and Sam Adekugbe. But chief among its stars, the heartbeat of the side and the engine behind its progress, has been Ryan Gauld.
The man that many call "the Scottish Messi" — a moniker that the typically humble and team-oriented 27-year-old doesn't particularly care for — has hit an electric vein of form in the latter half of the season.
So good have his performances and impact been that his head coach Vanni Sartini said earlier this month that "in the last two months, you can put him in the same category of the MVP of the league."
Canadian Soccer Daily asked Sartini about Gauld this week at team practice.
"For the three seasons we've been together, he always gives his best from July onwards," Sartini told us. "It's something that's in his DNA to be kind of a diesel engine that is not going immediately 100 percent. He needs games under his belt and then goes at his best. The last three months, I think he's played like the top players in the league, like [Nashville SC's Hany] Mukhtar, [FC Cincinnati's Luciano] Acosta… Messi's a different category!"
The idea that Gauld has a ramp-up period has some credence; even the player himself admits it, telling the Canadian Press recently that "it took me a long time to get going."
In recent months, though, there's no denying his influence and his impact. If you're a Whitecaps fan reading this, you already know all about it, and you may be heartened to see Gauld finally being hailed as one of the elite creative players in the league by more than just BC natives. The Scotsman has had more than one season worthy of wider recognition, but his 2023 has been a different level entirely.
He may argue that the stats don't matter — "What matters is the team and obviously it's nice to get the goals and assists, but the most important thing is the team and that's always what comes first to me," he told the Canadian Press — but those stats certainly help to tell the story.
Gauld's 17 goal contributions since May 31 are the most in MLS, consisting of 10 goals and seven assists in his last 14 league appearances. After his latest goal, the equalizer from the penalty spot against New York City FC last weekend, he now has 11 goals and nine assists in his last 15 appearances in all competitions. Gauld not only scored the penalty but won it himself, too in a performance which saw him named to the MLS Team of the Matchday squad for the ninth time this season.
"From an individual standpoint it's good," Gauld said after that game. "The target I set myself every year is to get into double figures for goals, but this is the first time I've managed that."
The game before that, he had become the Whitecaps' all-time club leader in MLS assists with 23. Only Atlanta United's Argentinian World Cup winner Thiago Almada (13) and Houston Dynamo's Mexican star Héctor Herrera (nine) have more assists than Gauld's eight in MLS this year.
Another person within Whitecaps camp who appreciates Gauld for his league-leading attributes is his new teammate Laryea. The former Toronto FC man has only been working with Gauld for a couple of weeks since his deadline-day transfer, but he's already struck by the Scotsman's qualities.
Laryea told Canadian Soccer Daily this week: "I've been telling some of my close friends that he's underrated, man. He's not spoken about enough around the league.
"He's definitely MVP-calibre, a great player and an even better person. He helps this team so much. I'm happy to have a guy like here, it's easy to play with him."
Gauld's workhorse nature, that desire to be the best version of himself not for his own gain but for his team's, shines through week after week in his play. Unsurprisingly, it's one of the biggest things his manager loves about him — he's a head coach's dream, 'the working man's Designated Player,' the most selfless breed of footballer.
"What I like about him is he's a DP on both sides of the ball," Sartini told Canadian Soccer Daily. "Whether we have the ball or don't have the ball, he puts in the same effort. He's a team-oriented DP; whatever we ask him to do, he does. He's very keen on following all the tactical instructions. He's a true leader on the field."
Every leading star needs a partner in crime, a sidekick who boosts their own qualities and provides a dual threat.
For Gauld, that has been Brian White. The 27-year-old from New Jersey is having the best season of his career, and Gauld has played a large role in that. The Scot has set up the American to score on three occasions over the Caps' last six games, with White returning the favour twice.
"He's my favourite player," White said of his partner. "From Day 1 … we've had this connection on the field. I think it's only grown since, on and off the field. It's fun to play with him; we know each other's movements, we kind of understand where we're going to be without even really looking, so it makes the game really fun."
It's worked to devastating effect for Vancouver recently; every single one of the team's last eight MLS goals have been scored by either Gauld (five) or White (three), dating back to the LA Galaxy win on July 15 before the Leagues Cup break.
Vancouver-based journalist Har Johal asked White this week if he can catch 2022 MVP Mukhtar in this year's MLS Golden Boot race.
"He's one of the best players in the league, but he doesn't have Ryan Gauld," grinned White. That says it all, really.
As is customary, Gauld's surge in form has coincided with the Whitecaps surging up the table. Sartini's men have won four and lost just one of their last six MLS games, and have tasted defeat in the league just three times since late May. That run includes two wins and a draw in the first three games of their daunting road trip, a mammoth seven-game swing that many have opined will define the end to their regular season.
Well, it's going well so far, thanks largely to Gauld's match-winning or match-saving contributions. He's stepping up, as team (and league) MVPs do.
What it all means is that, thanks in no small part to Gauld, the Caps are in with a serious shout of recording their best season since at least 2017, when they finished third in the Western Conference and recorded their best-ever MLS playoffs result by reaching the Conference semi-finals. With eight games left of the regular season, they sit sixth in the West at the time of writing, just three points off their Cascadia Cup rivals the Seattle Sounders in second place in the conference and with a five-point playoff positioning cushion, plus a game in hand.
If Gauld keeps up his electrifying MVP-calibre form, the sky is the limit for this enthralling and entertaining team.
---