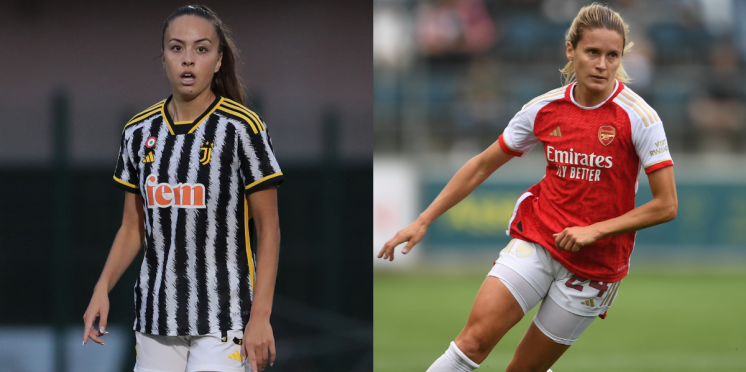 UWCL without CanWNT stars, Grosso's Juventus & Lacasse's Arsenal knocked out of Women's Champions League
Saturday morning brought some bad news for several Canadian women's internationals.
Just when it looked like it could be a banner year for Canadian internationals abroad, two of the biggest CanWNT stars plying their trade in Europe saw their clubs knocked out of the UEFA Women's Champions League in the first qualifying round.
Julia Grosso, Cloé Lacasse and Sabrina D'Angelo will be watching the UWCL on DAZN like the rest of us.
Canadian fans know all too well the joy of being on the right side of a penalty kick shootout, but being on the wrong side is an awful feeling, especially before the group stage proper.
Grosso, Canada's Olympic gold medal hero two years ago, saw her Juventus side dumped out in the UWCL qualifying stage on Saturday, losing to German club Eintracht Frankfurt in a penalty shootout. It continues Juve's downward trend in this competition since they reached the quarter-finals in 2021-22.
Juve were unable to hold their slim 1-0 lead after Sofia Cantore opens the scoring just two minutes into the second half. The Germans took control of the match after that, with Juve showing signs of fatigue, the downside to starting UWCL qualification so early in the club calendar.
Grosso started the match but was subbed off in the 72nd and did not play a part in Juventus' 5-4 shootout loss. For a team that spent the summer boosting the depth of the squad with European ambitions, this is a team built to compete in the Serie A and Europe. But they won't get the chance in Europe, or the income that would've come with it.
Frankfurt finished third behind Bayern Munich and last season's UWCL runner-up Wolfsburg in the 2022-23 Frauen-Bundesliga campaign.
Meanwhile, Arsenal came from 2-0 and 3-2 behind on Saturday to take Paris FC to a penalty shootout. Nigerian goalkeeper Chiamaka Nnadozie, who saved Christine Sinclair's penalty in Canada's opening match of the Women's World Cup, denied Arsenal's England striker Alessia Russo and Frida Maanum as Paris FC won 4-2 on spot-kicks.
Lacasse, who joined the Gunners in a high-profile move from Benfica this summer, started and played all 120 minutes. She may have been called upon to be Arsenal's fifth shooter, but they didn't get that far. D'Angelo was on the bench for the Champions League dream-crushing loss.
Lascasse and D'Angelo kick off their WSL season on October 1 when Arsenal face Liverpool.
It's a bitter blow for the CanWNT trio, particularly for Grosso and Lacasse, who each starred in the competition last season, progressing through qualifying with ease. Arsenal reached the semi-finals and fell to Wolfsburg.
A fourth Canadian, Marie-Yasmine Alidou, did see her side progress to the group stage. The 29-year-old was on the bench for Benfica's 4-0 thrashing of Riga. The Canadian didn't see action this weekend but should in the group stage as she looks to continue her superb start to life with the Lisbon giants.
---