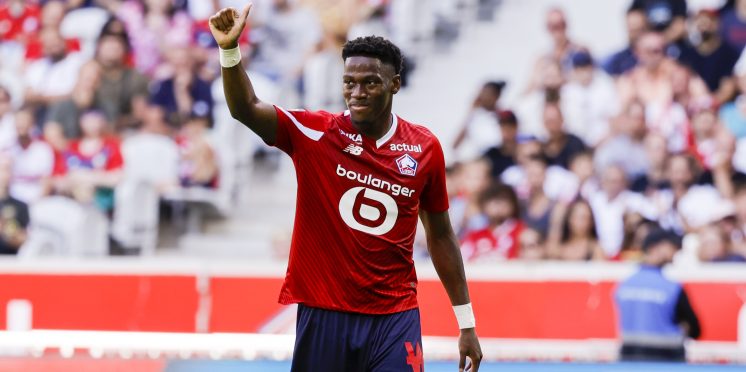 Canada star Jonathan David not surprised to still be at Lille this season
Lille maintained several times through the summer window that Jonathan David would only leave French Flanders if a) they got the right price, reportedly upwards of €60 million ($87 million CAD), and b) they had time to source a suitable replacement.
Despite continued reported interest from the likes of Tottenham Hotspur, neither of those things happened this summer. So, the Canada star is still at the club. He's not particularly surprised about that, either.
When asked at a press conference if he foresaw himself still being a Lille player once the summer transfer window was in the rearview mirror, he replied: "Of course, yes."
"Of course, there were a lot of rumours around my name, but I am under contract until 2025. So of course, today, it is not a surprise for me to be here."
David also insisted that the constant transfer speculation had not disrupted his summer training and his preparation for the new French season.
"No, because in my head, I was still here. So from then on, for me, it was quite simple."
David is entering the fourth year of a five-year contract in Lille, and the transfer talk is unlikely to die down given that his transfer market value will be lower next summer, when he will only have one year left on his deal.
He's already being linked away again, too.
AC Milan, who had a late loan bid for David rejected on the eve of the transfer deadline last week, fully intend on coming back in for the 23-year-old in the winter window, according to Italian media, as they look for a long-term successor to 36-year-old Olivier Giroud.
The Rossoneri are apparently ready to make a big investment in David and club officials Giorgio Furlani, Geoffrey Moncada, and Stefano Pioli discussed a move for him several times this summer. They're reportedly willing to allow the Canadian to finish the 2023-24 season in Lille if it means they can pre-sign him in January for next season.
Still, though, David is not interested in talking about his future. Why would he be, while being interviewed as a Lille player?
"The most important thing for me is to have a good season, to have a better season than the one I was able to have last year, then we'll see what happens," he added.
David has scored 61 goals in 142 matches for Lille and is the club's top goalscorer in the 21st century. David has started 2023-24 reasonably well, already notching three goals and an assist in his first six games, including the vital extra-time winner that ensured Lille will be playing European football until at least December.
---