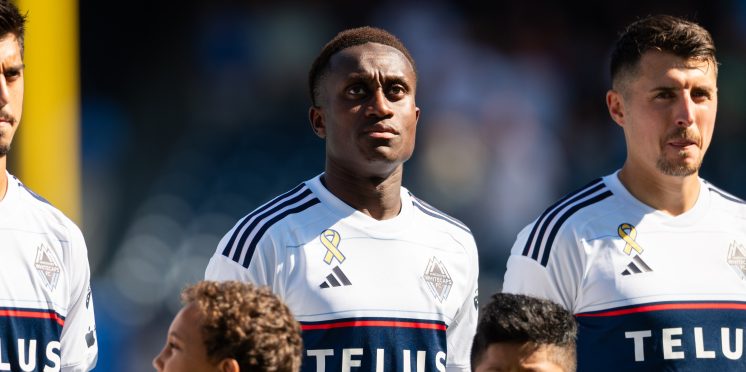 Vancouver Whitecaps look to keep rewarding road trip rolling at Richie Laryea's former team Toronto FC
Published: September 13, 10:00 a.m. ET
Updated: September 14, 3:43 p.m. ET
Toronto FC and the Vancouver Whitecaps are about to kick off their regular-season home stretch. Well, the Whitecaps are midway through what you might call the away leg of their home stretch, at least.
For TFC, whose preparations for this all-Canadian clash you can read more about over on our sister site Waking The Red, there's pretty much nothing but a semblance of pride and a good first impression for John Herdman to play for.
For the Caps, things are very different.
Vanni Sartini's men are in the midst of a high-octane playoff push, sitting sixth in the Western Conference but just three points off second place and with games in hand on every single team above them. What's more, they play all five of those teams during their run-in to the end of the regular season.
There's a very real chance that Vancouver, boasting possibly the best team it has ever had in the MLS era, including a star in bona fide MVP-calibre form in Ryan Gauld, can put together the best season in their MLS history if things go well over the next six weeks.
That quest all starts with a trip to BMO Field to face TFC on Saturday night in what is the first meeting between the two sides since last year's epic Canadian Championship final at BC Place. Despite TFC's recent rally from the depths of their 10-game losing run, you'd also have to label it one of the Whitecaps' softest remaining games on paper.
It's the first action in a fortnight for both Canadian sides after the international break. Vancouver haven't played since drawing 1-1 with New York City FC on Sept. 2; TFC have been on hiatus even longer, having last played in the 3-1 win against the Philadelphia Union on Aug. 30.
Sartini's men are in the midst of a potentially exhausting seven-game road trip, and doing pretty well to boot; they've taken seven points from a possible nine in that run so far, winning two and drawing one of the first three games on a trek that has taken them eastwards from Portland to Chicago to New York and now begins to swing westward again.
The Italian head coach told Canadian Soccer Daily last week at Whitecaps training that he thinks the long break from action in the middle of such an expansive away slate is a double-edged sword.
"It's been good because we've had so many days on the road so having 10 days to stay here in Vancouver is kind of a good thing," Sartini told us. "Of course, it breaks the rhythm because we've had three guys with their national team who will arrive back probably the day before Toronto and we don't know in what condition or whether they can play or not.
"We've been a little lucky that the Canadian national team didn't have a camp, because there would have been two or three guys away. But in the end, every team is in the same boat."
It doesn't get any easier for the Caps from here. After the Toronto clash, they move into a brutal run of tough games with barely any rest between them.
"We have five games in two weeks, Wednesday-Sunday-Wednesday-Sunday-Wednesday, and there's no time to train in those two weeks!" added Sartini. "We have this time now to train and work so everyone is deeply educated before that stretch."
Vancouver's Ontarians hope for home comforts
The Whitecaps might be far from their team home on Saturday at BMO Field, but that's not true for several of their players.
"We have a lot of Ontario boys," Sartini noted when we spoke to him. "Ali [Ahmed] is from Toronto, Ryan [Raposo] is from Hamilton, Rusty [Russell Teibert] is from Niagara Falls, Levonte [Johnson] is from Brampton. I hope the excitement to be home and show how good they are in front of the crowd is more important than sometimes over-playing or being a little bit too excited, because that can happen too."
There's also now Brampton's Junior Hoilett, signed on a short-term free agency deal on Thursday, although he won't be available for selection on Saturday.
Of course, the biggest homecoming isn't for any of those players, but one of their new teammates.
Naturally, a great deal of attention on this game will be given to former TFC favourite Richie Laryea's highly anticipated return to BMO Field. While fellow Canadian deadline day arrival Sam Adekugbe will not be fit to play, Laryea will line up on the opposing side at BMO Field for only the second time in his career, having previously faced TFC as an Orlando City substitute in 2018.
"It's going to be a lot of emotions," Sartini acknowledged. "He's from Toronto and he's been a legend for that team. First of all, I hope the fans will salute him in the right way so he can enjoy going home."
Surely, Laryea will get a warm reception from the Toronto faithful. He was arguably the team's highest-performing player before his loan from Nottingham Forest expired and Vancouver were simply able to offer him a more enticing deal and opportunity to return to Canada than TFC were.
"I think he will be very excited to play," added Sartini. "He's a fighter; normally, when you play against people you like or who know you very well, you want to show you're doing well. He's an experienced player, so I hope there's no risk that he wants to over-play the game."
For Sartini and co., TFC promise to be a stern test. They may have lost 10 games in a row in all competitions between the end of May and late August, but they have rediscovered their scoring touch and got one back in the win column since then, led by a return to fitness and form for Lorenzo Insigne and Federico Bernardeschi.
"Going to play against Insigne, Bernardeschi, players of that calibre, it's something that excites you," Sartini told us.
"When you play against very good players, I think it improves you as a coach. The league has improved a lot over the last six or seven years because we have better players… That's the way you get better and you always look forward to this type of challenge."
Toronto FC vs. Vancouver Whitecaps can be watched live from BMO Field on Saturday via AppleTV's MLS Season Pass from 7:30 p.m. ET / 4:30 p.m. PT.
---