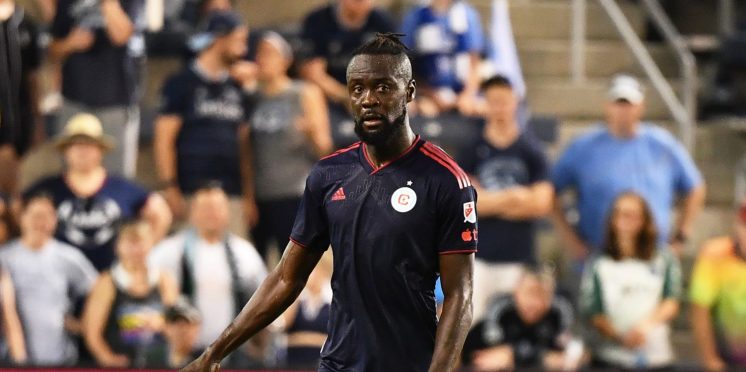 CF Montréal set to face former star Kei Kamara as Chicago Fire visit Stade Saputo
How different would this season be for CF Montréal if Kei Kamara didn't ask for a trade in pre-season? We'll never know.
Kamara returns to Stade Saputo as his Chicago Fire visit his old club Saturday night.
This season, the 39-year-old MLS journeyman has scored five goals for Chicago, which would make him CF Montréal's top scorer in 2023. CFM have the fourth-worst attack in MLS.
Kamara had a standout season with Montréal last year, scoring nine goals and seven assists. earning a Comeback Player of the Year award nomination. His trade demand came as a shock to CFM fans this winter, who watched stars Alistair Johnston, Ismaël Koné, Djordje Mihailovic and head coach Wilfried Nancy depart La Belle Province. Funny that the next game on the fixture list after losing to their old gaffer before the international break is a visit from their former big smiling goal scorer.
"If every time someone comes back here and we say this is a special or emotional game, we're going to have to talk about it every weekend," head coach Hernán Losada said on Friday. "It's a game like any other. All former players, coaches and people who have worked here are always welcome. It doesn't change anything for us."
Losing Kamara certainly did change things for Montréal's offence. Losada has been searching for solutions to improve their attacking play since he arrived, especially since the injury to Romell Quioto in mid-May. The team has relied heavily on young players like Kwadwo Opoku, Bryce Duke, Jules-Anthony Vilsaint, and Mathieu Choinière, who have shown promise despite facing some challenges.
Choinière has been Montréal's player of the season. That in part is why CFM are eighth place in the Eastern Conference. The other part is their poor play away from home. Montréal have won 27 of their 35 points at home this season. They are just two points ahead of the Fire in the playoff race and lost 3-0 in Chicago two months ago. CFM are walking a tightrope, holding onto their playoff position by a slim margin and are currently four points ahead of Charlotte FC, who sits in 11th place.
Scoring the opening goal has been a determining factor in Montreal's success this season. They have lost all 14 of their regular-season matches in which they conceded first, while their 10 victories have all come when they scored first.
"All the players can be better in attack, if we look at our statistics," said Losada. "Obviously, we need effective forwards, but we mustn't forget that we have very young offensive players. There are goals in training, so let's see if we can translate that into games."
Montréal's nine home wins this season match their total from last year. Another win this weekend would see them reach double digits in home victories for the first time since 2018.
Including Saturday's visit from Kamara and Co. four out of Montréal's remaining seven matches are at Saputo Stadium, where they have — with the exception of two weeks ago against Columbus — been solid defensively. In 11 of their last 12 home matches, Montréal has conceded one goal or less. But, they've struggled against teams with fewer points, losing seven out of 14 matches and failing to score in six of those losses.
On the other hand, the Chicago Fire haven't been great either. After winning three in a row before the Leagues Cup, they have now lost four straight MLS games. The losing streak matches their longest in the league since 2022. Another L this weekend would mark their longest winless run since 2018, when they lost eight in a row. They have only scored once in their last four matches while conceding 11.
Chicago have not won a regular-season match in Canada since July 2022, and their last win in Montreal dates back to 2017. In their last four visits to Saputo Stadium, they have come away empty-handed.
For Kamara, who admittedly enjoyed his time in Montréal, being the deciding factor for the Fire would make for a spicy Saturday night in Montréal.
---